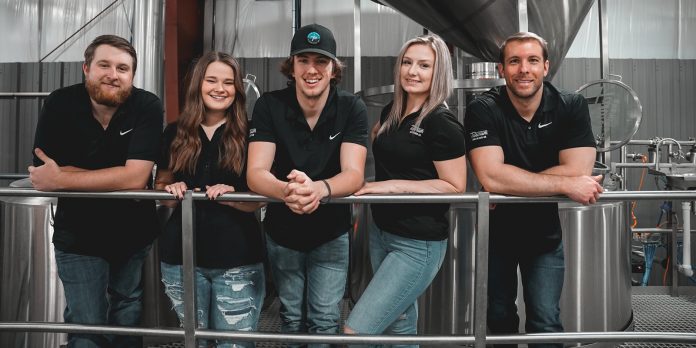 Located in the picturesque North Georgia mountains, Tantrum Brewing Company is passionate about making beer better while upholding the values of hard work, family and community.
By: Lizzy James | Photos by 180 Visuals
After a year and a half of working in the power industry and only two weeks away from closing on a house in Oklahoma, Tantrum Brewing Company CEO and White County native Ross Crumpton had a life-changing revelation. "I realized I absolutely hated my job," he says. "I called my parents and said there is no way I can buy a house out here. I can't do this." Instead, he headed back to Georgia with an engineering degree and an idea. That idea would eventually turn into Tantrum Brewing, a family owned and operated brewery located in the North Georgia mountains. We recently had a chance to catch up with Ross to learn more about how Tantrum is "making beer better" in the Georgia craft beer scene.
HOW DID YOU GET INVOLVED IN THE CRAFT BEER INDUSTRY?
Right after college I became super into homebrewing. I decided to buy some home brew equipment and basically just bought enough to get by with literally a kettle on a stove. As an engineering major from Georgia Tech, I really enjoyed the art and science behind everything. After working in Alabama and Oklahoma for a few years after college, I realized that the field I was in just wasn't something I was passionate about. I was only two weeks away from buying my house in Oklahoma when I finally realized this just wasn't something I wanted to do anymore. I ended up moving home to Cleveland, Georgia, and had this idea of opening a brewery. I basically wrote a business plan and convinced enough people in 2017 that it was a good idea. We found a location and broke ground in 2018 and officially opened the taproom in March of 2019.
WHAT MADE YOU DECIDE TO OPEN A BREWERY IN CLEVELAND?
Cleveland is my hometown and I love it here. This area is mainly known for its wineries and there are over a dozen of them in this area. I always thought it would be cool to have a brewery up here as well.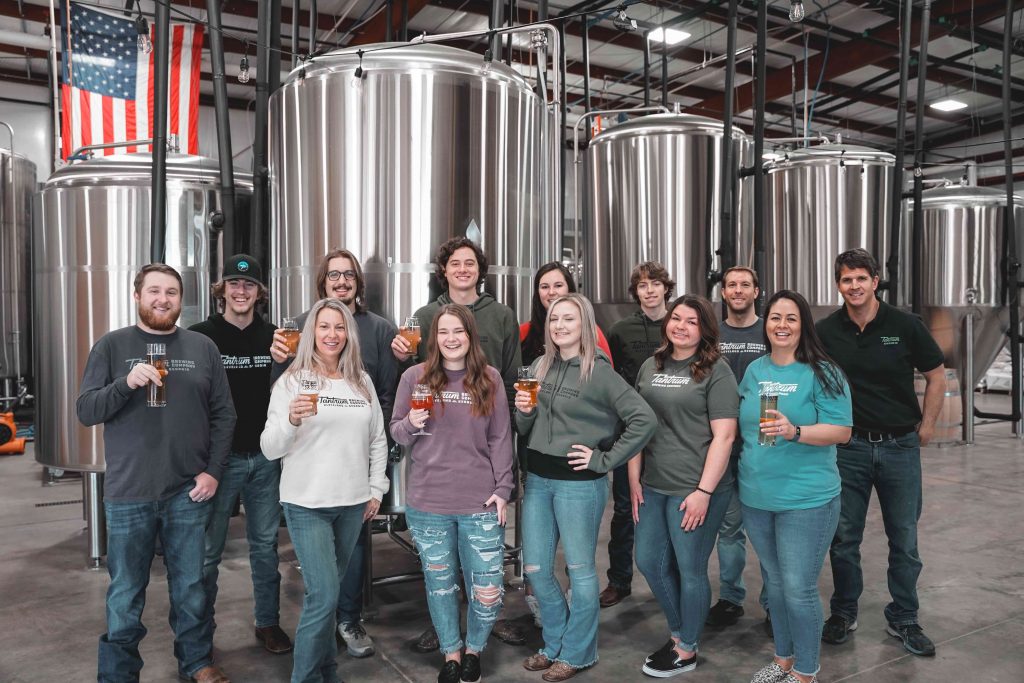 EXPLAIN THE STORY BEHIND THE NAME TANTRUM.
I always tell people that coming up with a good brewery name is tough. You never want to be too on the nose and oftentimes a lot of the names are already taken. We went through so many names that incorporated landmarks or "Southern" and none of them seemed to fit. It got to a point where I literally just started thinking of random names and Tantrum popped up. We have a family of all boys and it was just one of those things that kind of summed us up. We joked that there is always a lot of family feuding with us boys being boys and from there it just kind of stuck.
TELL US A LITTLE BIT ABOUT YOUR HEAD BREWER.
When we first opened we started out by hiring a head brewer and I would jokingly call myself the maintenance man since I built and maintained a lot of things myself. However, come 2020 I started taking over the brewery operations on my own. Today, we have myself and two other full-time production staff, Kylie Burns and Tim Casey, working in the brewhouse. We are a pretty small team in the back and I always joke that although we are small, we are a well-oiled team that gets things done.
WHAT SETS YOU APART FROM OTHER GEORGIA BREWERIES?
If I had to say just one thing, it would definitely be the location. It is hands down the number one thing people comment on when they visit the taproom. We are a great escape outside of the city with an incredible view of Yonah Mountain. We have about 5 acres in total, so there is plenty of outdoor space and grass space for people to spread out. When we first opened the taproom back up after COVID, we did outdoor seating only and having that much space and being able to keep everyone apart really gave us a leg up.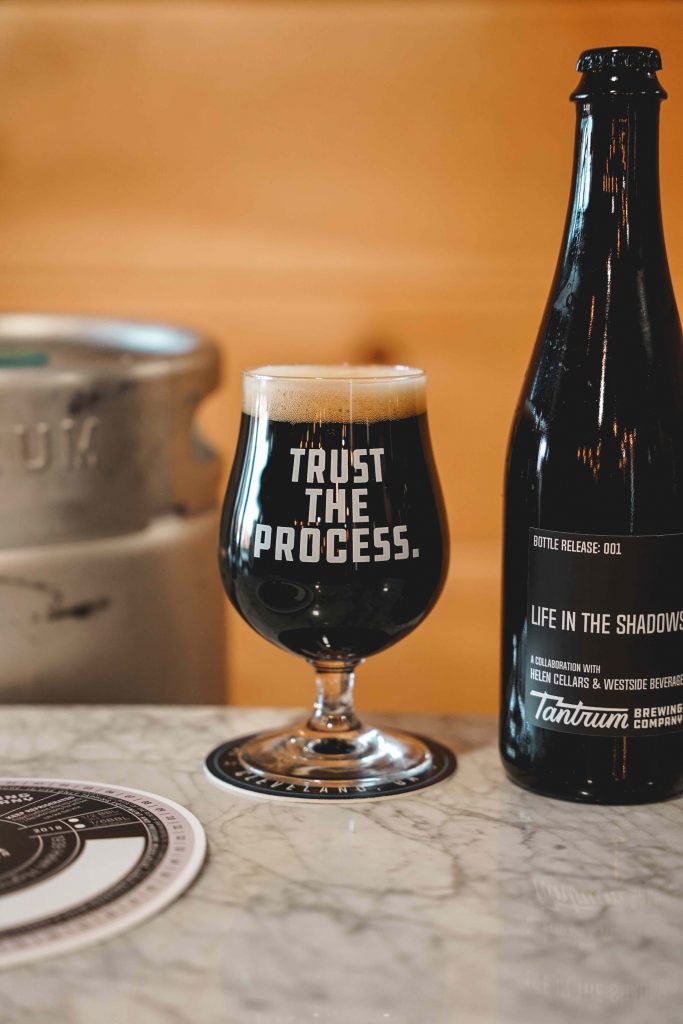 HOW HAS THE RESPONSE BEEN SINCE OPENING?
Overall, we continue to receive great support from the community, and we are super thankful for that. It is pretty cool because a lot of our customers aren't really hyperlocal. Cleveland is a small town, but we also get a lot of tourism from Helen. Our backyard is more expansive than your typical city brewery and includes people from Lumpkin, Habersham, and Hall counties because it isn't that far of a drive for them. They can drive 20-30 minutes to the brewery, which is really no different than them driving into Atlanta.
WHAT IS YOUR BIGGEST/BEST-SELLER IN THE TAPROOM?
We have 16 taps and try to brew a lot of different styles. We have four core beers that we can and distribute full time. These include our Folklore Hazy IPA, Lip Quencher Double IPA, Gypsy Queen Mexican Light Lager, and Poems at Midnight which is a raspberry and blackberry Berliner Weisse. If I had to pick one over another, it would definitely be Folklore. It is a really good, easy drinking IPA. HOW IS THE BREWERY INVOLVED IN THE LOCAL COMMUNITY? We try to do a ton of events and fundraiser-type deals. We usually do something at least once a month that supports a cause that we are passionate about. We have a really cool band called R&D that comes up and plays, and instead of taking payment they donate everything to a cause that we choose together. It is a really humbling thing to see people come together and support something whether it is the local food bank, animal shelters, etc. It is great to have a place like this in the community where people can come together.
IF YOU COULD RECOMMEND ONE SUMMER BEER THAT IS ON TAP, WHAT WOULD IT BE?
In the summer we do a lot of really light lagers and sours, and we are especially known for our fruited sours. One of the things that really puts our sours over the top is the fact that we use all real fruit, no extracts or flavorings or anything like that. For example, we use probably close to about 700 pounds of fruit puree in our Poems at Midnight Berliner Weisse. It is all real fruit, and the only two ingredients added are the raspberries and blackberries. By using real fruit you get a lot more sensory exposure to the style, taste and visual aspect.
CAN PEOPLE FIND YOUR BEER IN PLACES OTHER THAN THE BREWERY?
As of now, we are distributing within 27 counties in Northeast Georgia. We are in Ingles, Kroger, and almost every package store in the area. We are looking to expand our market down to the 285 perimeter and West Georgia within the next few months.
Tantrum Brewing Company is located at 1939 Helen Hwy. in Cleveland. For a complete beer list and to stay up to date on events, visit TantrumBeer.com or follow them on social media at @tantrumbeer.