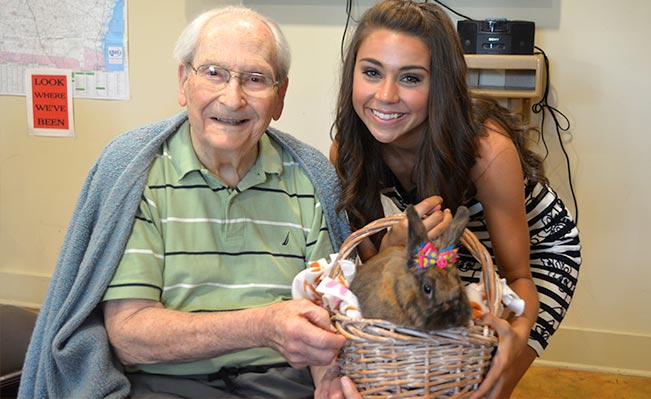 Bridging the gap between young adults and senior citizens
BY: Angela Veugeler
Noble Village is a senior living community located off of Satellite Blvd. in Suwanee. According to the website, Noble Village is "about independence when you want it and assistance when you need it. Live Young, Live Noble Village." Analise Kucera, a rising senior from North Gwinnett High School, has been helping the residents do just that. Since 2012, Kucera has visited Noble Village regularly, becoming close friends with many of the residents. Her Georgia non-profit organization, BridgeworX, works to "bridge the gap between young adults and senior citizens" through volunteerism with assisted living homes.
When visiting Noble Village, Kucera often brings Lola with her, a therapy rabbit, whom many of the residents look forward to seeing. In April of this year, Kucera put on her second "senior prom" at Noble Village, enlisting the help of about 28 North Gwinnett and Peachtree Ridge students to participate in the event. The prom took place in the atrium and included a disco ball, DJ, and decorations such as paper lanterns, tulle, and a balloon drop.
Kucera's mother, Pamela Kucera, has been very supportive in BridgeworX, and it has been a bonding experience for the mother and daughter. According to Pamela, many of the residents were looking forward to the senior prom all year. "They love getting dressed up, having the kids come in and interact with them." Pamela continued, "it has become so rewarding because of the relationships we are developing. And many of the students are coming back. They came to the prom last year, to the Valentine's tea (Kucera also put on), and to the prom again this year. They may start out with a fear of the unknown, but they go and it's fun. They are laughing and dancing and seeing the similarities between themselves and some of the residents, realizing they are just older."
Analise currently holds the title for Miss Capitol Cities Oustanding Teen and recently finished in the top 10 in Miss Georgia Outstanding Teen and won overall interview. The Miss America organization has helped inspire Analise to do something big, and has helped the idea of BridgeworX evolve. Analise shared, "I have always had a special place for seniors in my heart." She refers to one of her favorite residents as "my sweet Norm." Pamela shared of the Miss America organization, "I've watched her grow in the years she's been associated with the organization."
This year she has focused on studying, ballet, working out, and BridgeworX. Analise was diagnosed with Attention Deficit Disorder (ADD) while in 5th grade. Medicine did not work for her, but being in a structured environment with ballet helped her manage the disorder. She has always gotten B's and C's in school. After making the top 10 last year and meeting lots of girls from around the state with straight A's, Analise decided she was going to get straight A's this year. She made up her mind that she was going to do it and with lots of work, she did.
The week before the Kucera's left for the Miss Georgia competition, Noble Village hosted a send off party with cake and punch. Many of the residents expressed their excitement for Analise, and their appreciation for her and the senior prom BridgeworX puts on. According to one of the residents, Alwyn Carpenter, "when she had the senior prom we did something we hadn't done in a long time….we rocked!"
Another resident, Marie Ward, expressed to Analise "you're beautiful inside and out. We love you so much and are supporting you all the way." Karan Foster, Activities Director at Noble Village explained, "This year's Senior Prom was the biggest and best event we've had at Noble Village since we opened. The students were super involved with the seniors, smiling and laughing, dancing… they (the residents) still talk about it."
Analise hopes for BridgeworX to grow into a statewide and eventually nationwide organization. For more information on Noble Village, visit noblevillage-sugarloaf.com. For more information on BridgeworX and to find out how you can get involved or to donate, visit bridgeworx.org.■