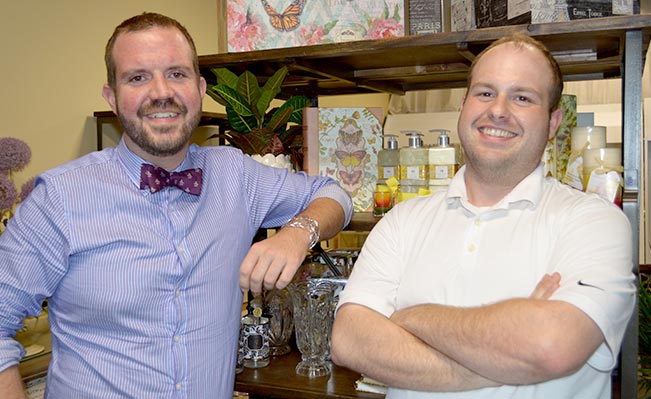 Floristique: A childhood dream Blooms
BY: Rachel Fasig
While it is relatively uncommon for twelve year old boys to dream of gardening and floral arrangements, it was an everyday occurrence for Daniel Tindol, Co-Owner of Floristique.
"I remember the exact moment when I considered floral as a career opportunity," Tindol confided, "I was sitting in the back seat between my two cousins in a burgundy (Oldsmobile) Cutlass and my Grandpa, Icall him Pa, turned to me and said, 'Have you ever thought about being a florist?'" At the age of twelve, Tindol had already collected a large number of magazines and books about flowers, gardening, home décor, and design.
Floristique is a family business, owned and operated by Tindol brothers, Daniel and Brian. You may recognize their name from Allgood Pest Solutions – a long-standing, award-winning, Georgia-based company, founded by the Tindol family generations ago. "Brian and I credit our success to both of our parents work ethic," Tindol said.
At University of Georgia, Daniel developed and fed his creative mind by pouring into Art History and a History degree, while Brian took a more scientific approach to the field, obtaining a Horticulture Degree, also at UGA. "We have all picked up a different love for the job," Tindol said. One might wonder why they didn't follow the family business of pest control, but their father encouraged them to pursue their own dreams, "He told me, 'you have a passion and talent – and now you have an opportunity, take it!'" Tindol explained. The opportunity that he was referring to was purchasing the original Floristique in January of 2014.
Earlier this year, they were able to purchase Floristique on Buford Highway. The flower shop has been in existence since 2001 and has become a Suwanee staple – therefore they decided to keep the original name intact. "There's a lot of what the previous owner did that we try to uphold and honor… and part of that was learning her customers and what they've come to expect," Tindol said. Original Floristique employee and current Floral Designer, Marc Oswald, has helped retain some of the integrity of a well-established business.
As soon as Daniel knew that they wanted to open up a flower shop, he knew it had to be in their hometown of Gwinnett County. But, little did he know just how much the community of Suwanee would impact him as a small business-owner. "I've been blown away by Suwanee in terms of how all the other business owners help each other out! We're constantly getting referrals from our peers."
Tindol acknowledged another well-established and well-known flower shop, also on on Buford Highway; pointing out that although they are technically competitors, they still help each other out. "During prom season when there are tons of orders, they started sending people to us for corsages…it was awesome." Tindol said. "The flower community is a dying breed and we're really trying to help bring each other up," he explained.
And, while they appreciate and honor tradition, Floristique's all-male team is constantly working on new ideas even allowing their competitive nature to come into play, "Sometimes we have design-offs in the store amongst each other," Tindol said. "I don't really want to have a signature style, every piece should be custom and based on the client…we don't ever want to be the shop that's complacent," he continued.
The shop has recently undergone a complete makeover and facelift and the Floristique team has big plans for it's future. Starting in August, they plan to offer classes similar to the popular "Sip n' Stroke" outings – where guests will have the opportunity to gather with friends over a bottle of wine while learning how to create custom floral arrangements that they will get to take home. With a heart for supporting other local businesses, they also plan to create a "Build Your Own Gift Basket" station with all local and Georgia-based products.
"The hardest part of our job is funerals," Tindol revealed, "but my first funeral was also the moment that I realized what we do actually means something! There were grandparents who scraped together $200 for their grandchild's funeral arrangement and were waiting for me to arrive, with tears in their eyes, at the front of the church…and that was the only flower arrangement there," he recalled, getting choked up.
"But, the best part is that I get to see the good in the world…the love that people have for one another," he continued. Tindol shared the story of a man who orders a new flower arrangement from them each month, "He changes up the order, except that it always has to include two roses in it – and he sends it to the woman that he's in love with who has Alzheimer's and lives in a nursing home."
Tindol is a firm believer that flowers can brighten anyone's day and that everybody in the world should be able to witness the joy on an old woman's face when she receives the gift of flowers. He said, "The journey of being a small business owner is a rollercoaster ride, but at the end of the day it's so rewarding." Floristique has captured the essence of a local small business – bringing joy to their customers, while helping their peers also grow and succeed in the community of Suwanee. ■