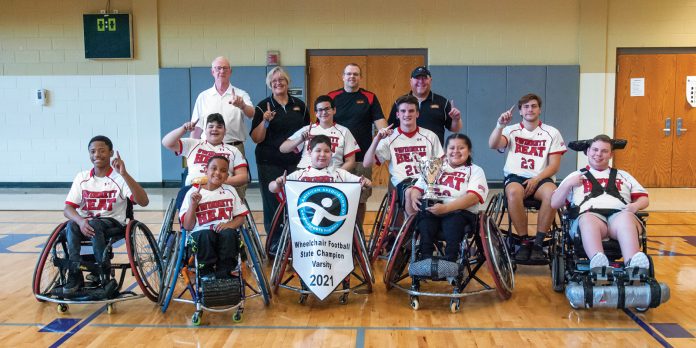 Gwinnett County's adaptive sports team Gwinnett Heat fosters personal growth and lasting friendships, all while winning state championships in the process.
By Alicia Carter | Photos Courtesy Gwinnett Heat
Gwinnett County's adaptive sports team, Gwinnett Heat, gives opportunity to students with physical disabilities where too often there are none. Open to students as young as third grade all the way to high school seniors, Gwinnett Heat is part of the American Association of Adapted Sports Programs (AAASP) and provides students with physical disabilities the opportunity to play football, basketball and handball in a team setting. As coach Len Boudreaux puts it, it gets students "off the couch and into the game." Considering many students with disabilities often feel as though they are left on the sidelines, Gwinnett Heat is an important inclusive program that encourages students to actively participate in sports while also nurturing personal growth and creating lasting friendships.
There are a wide range of disabilities that are included in the adaptive sports program, including physical disabilities like cerebral palsy, spina bifida, and spinal cord injury as well as other conditions such as asthma or sensory impairments. Interested students with a qualifying disability can reach out to the Heat's area coordinator for more information about the team. "If you have a disability then you're basically on the team," Len says. "You just need to want to come to practice, come to the games and be a part of the team. Our area coordinator Mike Phillips will go meet with the student and see if they're interested and how they would work with us. Then we get them out to practice and see if they like it or not." Not only does the Gwinnett Heat give an opportunity to students to participate in sports who otherwise may not have had that opportunity, it's also a really good team.
This year, the Gwinnett Heat took home the state championship in both basketball and football. A key to the team's success are the players who have grown up in the program. This year, the Gwinnett Heat will graduate five seniors: Seth Earley, Hunter Rewis, Will Millikan, Mary Garcia-Brake and Kathy Luna. Coach Len is incredibly proud of his team, and especially these seniors who are each going on to college in the fall. "They are such great kids; such great competitors," he says. "Seth is going to play basketball at the University of Alabama. Hunter will attend Georgia Tech on a scholarship. Will is attending a technical college. Mary will attend the University of Hartford, and Kathy is going to North Georgia."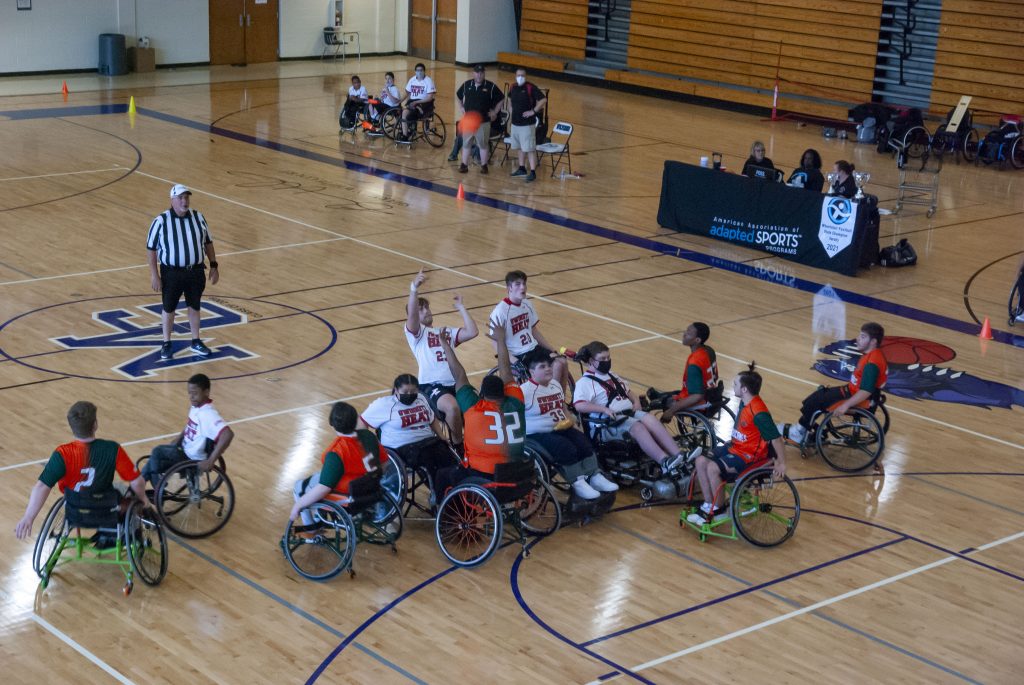 For students who are interested in joining the Heat, Len says "it's the greatest opportunity a parent could give their child. Maybe there are some things they need to work on. By being on a team, those things get worked on naturally. You naturally need to talk to the coaches. You naturally need to talk to your teammates. Communication, having respect for one another, understanding someone has a different disability than you — these are all key. I think it breaks down some walls, too. Some kids think they're alone like, 'I'm the only one who has this.' Then they realize, 'Hey wait a second. I have all these other people on the Heat who are similar to me.' They definitely bond over that."
Almost more important than the excitement of the sport itself, the Gwinnett Heat gives students who enter the program the chance to grow as individuals. The team not only teaches students the important lessons of teamwork, dedication and breaking barriers, it also fosters lifelong friendships and a sense of belonging. Or as Coach Len says, it creates a family.
"It's interesting to see how these kids who maybe haven't been too social or are shy or timid at the beginning of the season, and then as time rolls on all of sudden they're texting one another, they're calling one another, they're supporting one another and they become really close friends," he says. "Our alumni, the kids who have moved on to college or have jobs, they still come back and watch our games. They still feel connected. And that's the way I want it to be. I want it to be a family. Once you come into the Gwinnett Heat you're always part of the Heat."