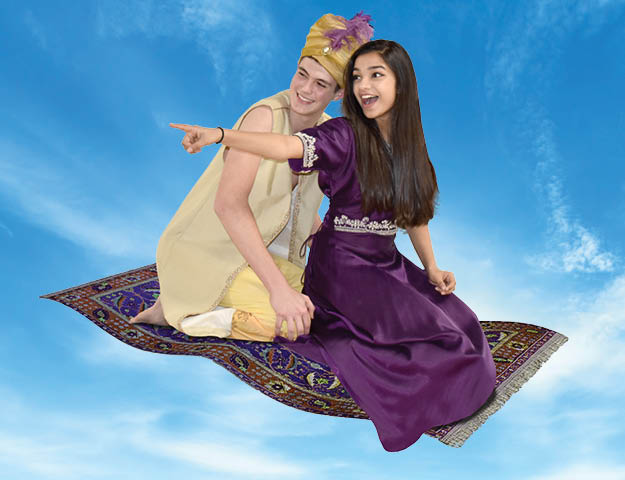 Suwanee Performing Arts (SPA) brings back Disney's Aladdin Jr. for its 12th annual production, taking place July 27-28 in Suwanee Town Center Park. SPA will also produce the opening show, Ali Baba and the Forty Thieves, a fun-filled original one-act musical.
Based on the 1992 Academy Award-winning film and the 2014 hit Broadway show, Disney's Aladdin Jr. is about a "diamond in the rough" street rat named Aladdin, played by Ryan Cruz, who learns his true worth lies within him. The story many know and love has been given the royal treatment with expanded characters, new songs, and more thrills.
"The last time we performed these shows was back in 2008, and this year's production features new characters and music from the Broadway production," says director Patty Etherton. "We are thrilled to bring all of the swashbuckling, magic, and adventure to the Suwanee community for two thrilling Arabian nights!"
Suwanee Performing Arts is excited to showcase the creative output of talented local high school students, in addition to featuring the amazing performers found in local middle and elementary schools.
This energetic, family-friendly, free event is scheduled to begin at 7 p.m. on July 27 and 28. Admission to the shows is free, but plan to arrive early to claim seats on the lawn and dine at local restaurants. Reserved premium seating is available for a tax-deductible donation to SPA, and general admission "sitting-room only" space will also be available for sale. More details can be found at SuwaneePerformingArts.org or by calling 678-482-6333.
Additionally, SPA will once again sponsor the annual Broadway in the Park 5K and Fun Run on Saturday, July 21. New this year will be an option for "virtual runners" as well as a 1-mile timed run for younger runners. Participants at the 5K and Fun Run will be greeted by characters from the upcoming shows, and are encouraged to embrace the spirit of those shows by dressing in costumes themselves. This event will serve as a fundraiser for the performance groups supported by SPA as well as the community kick-off for a week of show preparation at Suwanee Town Center.