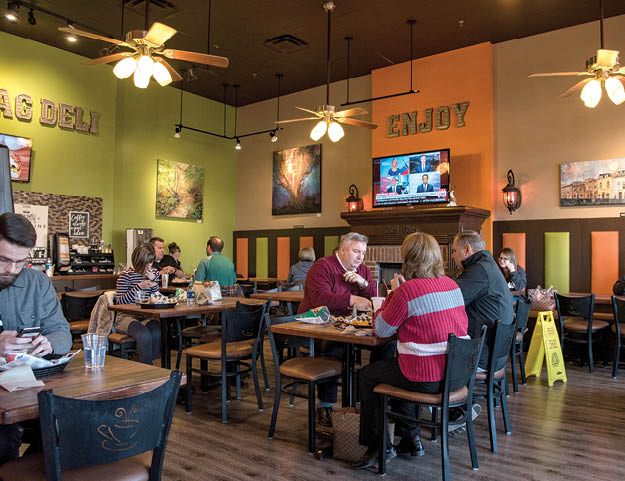 Located in the heart of Suwanee Town Center, Brown Bag Deli & Café has been serving up delicious breakfast sandwiches, soups, salads, sandwiches, desserts, coffee, beer, wine and more since 2011.
By: Rachel Pillow | Photos by Karl Lamb
Owned by Dave and Rita Patel, Brown Bag Deli serves as the community coffee shop and lunch cafe for many Suwanee residents. It's where early morning bagel runs are made, professional lunch meetings are held, where moms running errands stop with their kids and where evening study groups occur. But, maybe most importantly, it's also where beer and wine can be purchased to go! Effective last year, The City of Suwanee allows patrons to purchase a drink from any business in Town Center Park and walk around with it on any given day. So, if somebody would like to have a picnic in the park, they can do so – complete with their adult beverage of choice. During special events, they also set up a second outdoor pop-up bar on their patio to serve from.
On nice days their patio serves as the local hangout spot for Suwanee's furriest friends. "We are dog-friendly here. We always have a fresh bowl of water outside and added hooks on our fence to tie leashes," said Rita.
Brown Bag Deli remains steadfast in their community-oriented approach. "Our customers have shaped this place," said Rita. "For instance, we had several requests for gluten-free bread, so now it is a staple here and available for any sandwich," she continued. And when special catering requests started coming in, they decided to make that part of their regular business plan. "A lot of times if you order a sandwich platter from somewhere you can get a set number of sandwiches and only select options are available. We are offering more customization, so if you only have 17 people you aren't forced to purchase a 20 sandwich tray that will go to waste," explained Dave. They also offer free delivery on catering orders to schools in the area.
In another effort to serve the community, they often extend their hours depending on what's going on in the park. For example, opening early on a race day for vendors/ staff who might be at the park early setting up for an event. Regular hours are Mon-Sat, 7am-8pm and Sunday, 8am-7pm.
With highchairs available, a kid's menu and customizable food options, they are also dedicated to maintaining a family-friendly environment. "We have seen so many kids grow up here," Rita said about some of her regular, younger customers. "There was a little girl in here today that is in the third grade now and I have seen her coming in here with her parents since she was a baby."
When Rita and Dave opened Brown Bag seven years ago, they were rookies in the restaurant industry, but pro veterans in hospitality – and that level of customer service is what really counts in the long run. "You have to be a people person to do this. I love talking to and meeting my customers," said Dave. Of course, it also helps that the menu is delicious!
After seven years of successful business in Town Center Park, Dave and Rita plan on opening a second franchised location in metro Atlanta. They aren't entirely sure where yet, but do know one thing they're looking for: a community as supportive as the City of Suwanee has been. To which we say: good luck!