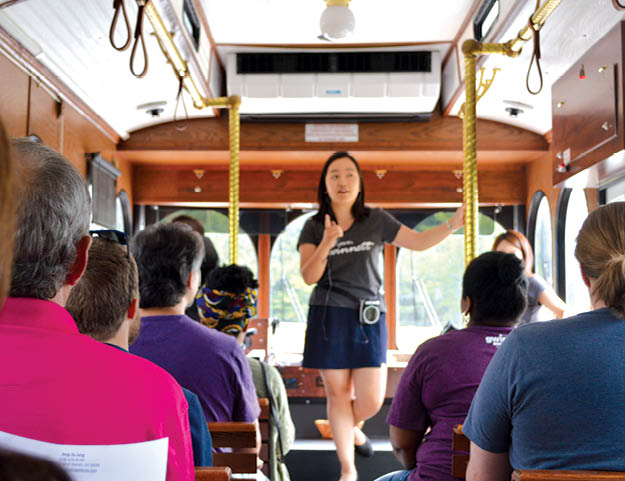 Mark your calendars now because Explore Gwinnett's Seoul of the South Food Tour is back! The 2018 tour dates are May 12th, June 16th, August 18th and September 29th. A few of us had the opportunity last year to jump on the Seoul Train (actually, it was an old-fashioned trolley, which is even cooler) and experience this one-of-a-kind Korean food tour through Gwinnett.
Story and Photos By: Rachel Pillow
All aboard! A group of about 30 local foodies met at Explore Gwinnett's office on Sugarloaf Parkway in Duluth where we checked in and received a goody bag stuffed with Korean snacks, candy, coffee mix, knick-knacks and beer to kick off the day. We then climbed aboard the authentic, historic trolley to head out to four different restaurants that were already excitedly preparing plates upon plates of delicious food for us.
Our tour guide for the day was the energetic, fun and knowledgeable Sarah Park, Explore Gwinnett's International Marketing Coordinator. Park is native to Korea and very passionate about sharing parts of her culture and especially the foods that she grew up with. In fact, that is why Explore Gwinnett started the Seoul of the South food tour two years ago: in order to support the local Korean community and introduce others in the area to foods and restaurants that they might drive by every single day but might not otherwise try. "My wife Cassie studied abroad in South Korea and really enjoys the food. I wanted to try something new but never would have thought of going to these particular restaurants before, but am glad we did," said participant, Clarke Glidewell.
En route to the restaurants, Park shared interesting tidbits of information about the Korean community in Gwinnett, as well as personal stories about being a transplant in the area. Gwinnett County is a huge draw for the 120,000+ Koreans who live in Georgia. In fact, it boasts the largest Korean community in the Southeast U.S. And, while many Gwinnettians are proud to live in such a diverse area, there is also a tendency for people to stay within their "comfort zones." But, we were about to dive in headfirst.
1. Jang Su Jang
3645 Satellite Blvd., Duluth GA 30096
As soon as the trolley rolled up to Jang Su Jang we were excitedly greeted by the owner You Lee and the servers. On the menu was Haemul Pajeon – a seafood scallion pancake, Sonndubu Jjigae – soft tofu stew, Bossam – boiled pork belly wraps and Satae Jjim – braised beef shank. Jang Su Jang turned out to be a favorite for many and set the tone for what was about to be a very satisfying day. "After experiencing Jang Su Jang on the tour we later took my family back there to celebrate my brother's birthday," said Glidewell.
2. Seo Ra Beol
3040 Steve Reynolds Blvd., Duluth GA 30096
Seo Ra Beol is a traditional Korean BBQ style restaurant that is open 24 hours a day – perfect for when the late night munchies hit but you don't feel like fast food. On our menu was: Galbi – beef short rib, Galbi-tang – beef short rib soup, Japchae – stir fried glass noodles and vegetables and Gyeran-Jjim – a traditional steamed egg dish which Park explained is a favorite comfort food for many Koreans "like how chicken noodle soup is for Americans."
3. Harue Korean Chicken Snack Bar
585 Peachtree Industrial Blvd., Suite 122, Duluth GA 30096
When most people think of KFC they think of Kentucky fried chicken. But, in Korea (and in Gwinnett) it also means Korean fried chicken. Harue served traditional "bar food" or "snack food" or what I liked to call deep-fried goodness. On our menu was: Tteok-bokki – spicy stir-fried rice cake, Korean Fried Chicken – half spicy, half sweet & sour, Gimbap – seaweed rice rolls and Twigim – tempura (a very popular street food for students in Korea).
4. Café Rothem
3585 Peachtree Industrial Blvd., Suite 128, Duluth GA 30096
One of the best parts of this food tour was the large variety of foods, including our last stop to a Korean coffee house. There we tried: Yuja- cha tea or citron tea, a green plum tea slushy, Misugaru – a traditional drink made from grain powder, Korean pastries and waffles with red bean filling and classic coffee made using an old-fashioned siphon drip, right at our tables. A highlight of Café Rothem was a special surprise performance from In-Hong Cha, a wheelchair sport gold medalist and famous violinist.
Four restaurants and four hours later, a new group of Korean food enthusiasts emerged. On Explore Gwinnett's website, Park eloquently explains the purpose of the tour: "In Gwinnett County, there's a different kind of soul. Not so much deep fried as marinated…It's the Seoul kind of soul, Korean food, and it's swinging with Atlanta's Southern culinary scene in a song that's being sung all over our county… It's about seeing two cultures start to understand and appreciate one another. Cuisine is just the starting point for what I hope will be better cultural understanding and more open dialogue." And, along with very full, very satisfied bellies, that is exactly what the day achieved for us: an understanding of and appreciation for our neighbors.
For more information and to purchase tickets for this year visit: https://www.exploregwinnett.org/seoulofthesouth