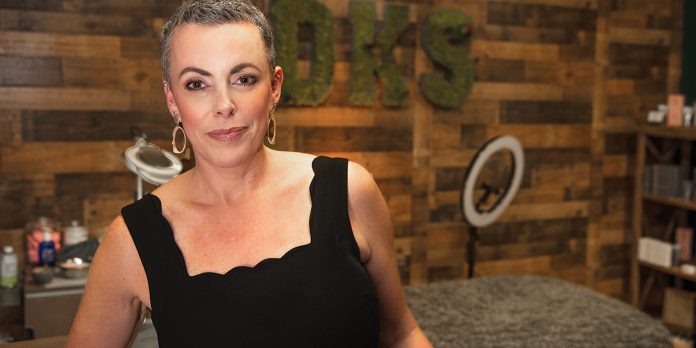 Suwanee's DKS Esthetics is a one-stop beauty shop that offers signature facials, advanced skin care treatments, peels, waxing and other specialized services for men, women and teens with all skin types.
By: Alicia Carter | Photos by Karl Lamb
Denise Gray is a standout business owner in our community. As a hardworking, self-made female entrepreneur, Gray's story is one of grassroots determination and a passion for health that took her from serving in the military to opening her own business right here in Suwanee.
Gray grew up in the small town of Barstow, California, and from a young age she knew she wanted to help people. In high school, Gray was awarded a small nursing scholarship but it wasn't enough to pay for college, so at 17 years old she joined the Navy. "My mom was a single parent and joining the Navy was the best option to get out of that little town," Gray says. "I was a medic in the Navy for over 10 years. When I got out I went back to California and I challenged the California State Board of Vocational Nursing, and by challenging the state board I was accepted and passed all the exams and became a licensed vocational nurse out there."
As a practicing nurse, Gray decided to go back to school to get her RN degree. From there, she segued into healthcare administration and began climbing the corporate ladder, which landed her in Georgia as a regional manager for a large orthopedic bracing company. After finding success in both the medical and dental fields, Gray took on the role of COO at a company in Johns Creek. However, just nine days before Christmas in 2016, Gray was laid off.
"I thought I was at the peak of my career — I thought everything was great," she says. "It hit me hard. I didn't know what to do with myself." After some soul searching, she realized she had strayed from what she originally sought out to do: help people. "I thought, 'What can I do so that I'm still on the entrepreneurial side but also able to take care of people?' I decided to go back to school to become an esthetician."
Gray excelled at school and graduated top of her class with honors from Paul Mitchell the School of Esan in 2018. The following year she opened DKS Esthetics, an appointment-only solo spa where she focuses on clinical esthetics, addressing aging skin, acne, hyperpigmentation, sun damage and sensitive skin for all skin types for men, women and teens.
When choosing a name, Gray was drawn to the three generations of women she treats and pulled the initials from the names of her mother, herself and her daughter to form DKS. "I treat all three of those generations of women," she says. "I think that it's important that as we age we find confidence and comfort in continuing our skin care education."
Individualized Service
Located in a nondescript building off of Suwanee Dam Road, DKS Esthetics is an intimate solo spa that provides individualized service without the revolving-door feel of a big-box chain. As part of her services, Gray doesn't just treat clients, she also dedicates a lot of her time to educating them, which really sets DKS apart.
"I listen to my clients but then I educate them, so it's not a quick sell," she says. "If anyone comes to see me I always tell them to bring whatever they use at home. I don't just sell them products because they could have great products at home that may or may not be right for their skin type or what they are looking to achieve. I like to fill in the gaps."
As a one-stop beauty shop DKS Esthetics offers a number of specialized services, including signature facials, advanced skin care treatments, peels, waxing and services for men such as beard facials. One of Gray's main focuses, however, is anti-aging.
"Anti-aging is a huge part of my business and a lot of my treatments are focused around that such as micro-needling and dermaplaning," she says. Together micro-needling and dermaplaning treat uneven skin tone and texture, large pores, fine lines, unwanted facial hair and acne scars. By dermaplaning before micro-needling, topical products are better able to penetrate deeper into the skin layers, allowing clients to achieve the most desirable outcome.
Although most spa services are thought of as relaxing, Gray customizes her services to each client so they are therapeutic as well. "I want to ensure that when my client leaves, I've made a positive difference for them, whether enhancing their skin or building a long-term regiment for a specific goal they have in mind, even collaborating with other small businesses to achieve this so we really work on the 'whole' person," she says.
A Community-Centered Business
Gray says that the most rewarding part of opening DKS Esthetics is that she's been able to connect with so many people in the community. "It has truly given me a community of friends I would have never imagined having," she says. "The wealth of knowledge I've gained personally and professionally has been priceless."
Gray takes great pride in being a female business owner, especially in a community that she has grown to love. "I enjoy being based in Suwanee and being part of the Gwinnett business community," she says. "As a disabled woman veteran, I'm incredibly honored to stand here and say I came from a very small town in California that had nothing, was able to faithfully serve my country for 10 years and now feel privileged to be able to serve my community. I'm passionate about what I do and the support of my community is amazing."
DKS Esthetics is located at 4411 Suwanee Dam Road, Suite 635 in Suwanee. For more information or to schedule a free consultation, call 678-249-9493 or visit DKSEsthetics.com.