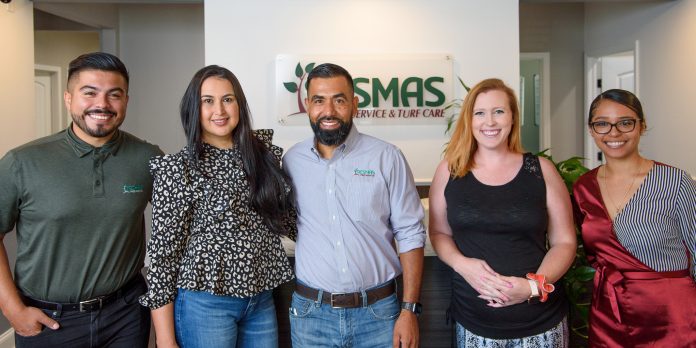 Sesmas Tree Service is a local, family-run tree removal business that helps homeowners and businesses get to the root of the problem.
By Jessica Dacey | Photos by Karl Lamb
Georgia is known for beautiful, towering oak trees. While stunning to look at and to admire, sometimes they can impose issues on your home or business. Sesmas Tree Service has been trimming, pruning, and removing trees for residential and commercial properties around the metro Atlanta area since 2005. Noel Sesmas, president and owner of Sesmas Tree Service, operates his business based on core principles and creating long-term customer relationships. When asked what sets Sesmas apart from other tree service companies, Noel emphasized their certifications and customer service. As a familyowned business, Sesmas exudes family values, including ethics, respect, fun, safety, training, quality, and dependability. These values are the driving force behind Sesmas' services and the promise that "The job is not done until you're happy."
Certified Local Arborist and Safety Professionals
The health of your trees and shrubs is an essential part of keeping your yard looking its best, which is why it is important to turn to an ISA Certified Arborist, such as Noel at Sesmas. There is more to trees than their color-changing leaves and sprawling branches. So much so that there is an entire field dedicated to the study and research of their biology, identification, and care. Being a certified arborist is a key distinction between many of the tree service companies in the area. ISA Certified Arborists undergo training, testing, and additional experience in the field in order to achieve that level of certification.
ISA isn't the only certification Noel has under his tool belt. As the owner of Sesmas Tree Service, he implements the company's safety practices and procedures, which is why he became a Certified Safety Professional. In fact, Noel also hosts weekly safety meetings with his crew to ensure a high level of dedication to safety procedures.
"Safety starts with me," Noel says. "As the owner/president of the company, I have to lead by example, so safety is a big player in the operations of the company."
Wearing Many (Hard) Hats
Sesmas Tree Service truly is your one-stop shop for all things tree, shrub, and plant care. As a full-service tree care company that is arborist-certified, Sesmas is efficiently able to assess problems that you may not be aware of by performing in-depth risk assessments, soil conditions, root analysis, structural stability and more. Sesmas also provides tree planting and replacement, emergency tree services, trimming, removal, mulch supply, and stump grinding all while taking a holistic approach by offering green waste disposal and recycling services. Sometimes the removal of a tree is absolutely necessary, whether it be a safety hazard, or due to storm activity, so why not turn the remains of your tree into mulch to "spruce" up your yard?
If you're looking for a reliable and knowledgeable tree service company to do more than cut down and haul off your trees and that is also local and family-run, Sesmas Tree Service is here to help you meet your dream yard. With 35 well-trained employees and services ranging from emergency tree removals to purely aesthetic, such as planting a vibrant blossoming tree in your front yard, Sesmas has you covered.
Sesmas Tree Service is located at 1530 Purcell Road in Lawrenceville. For more information, call 678-896-8352 or visit SesmasTreeService.com.