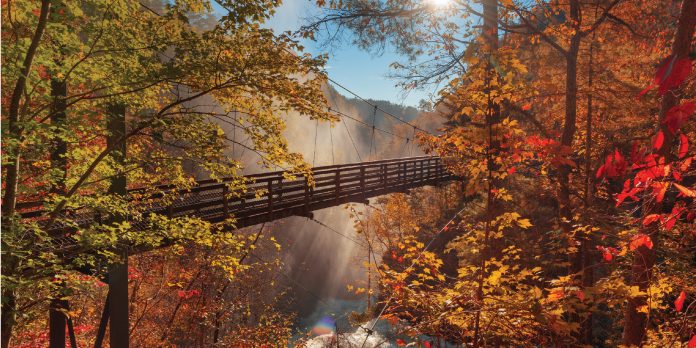 10 way to celebrate the season with family and friends.
By Alicia Carter
1. Schedule a family photo shoot
Fall is the perfect time to schedule a family photo shoot. The air is crisp and the colors are rich, making for the perfect backdrop to those beloved memories captured on film — or memory card. We love Prospect Farms in Lawrenceville, a 21-acre family owned and operated farm that is home to a beautiful sunflower field that blooms in August, September and October, making for a truly picturesque background. They have a plethora of other backdrop options, including an apple truck, pumpkin truck, spooky Halloween piano, tailgate photo sessions, fall-themed VW bus, and a new pumpkin wall. While you're there, stop by the pumpkin patch or snap a photo with the Scottish Highland cows. Contact them via Facebook to schedule a photo session appointment. 1839 Prospect Road, Lawrenceville, Facebook.com/theprospectfarms
2. Go apple picking
Gather the kids for a fun trip to the farm to pick apples together! They will come in handy for all the delicious treats sure to fill your table this fall, including apple pie, apple cider, apple turnovers, apple strudels and good old-fashioned baked apples — see a theme here? Visit nearby Jaemor Farms where u-pick apple orchards are open on select days (5340 Cornelia Hwy., Alto) or make the trek to Ellijay to visit Hillcrest Orchards, where the u-pick season begins September 3 (9696 Highway 52 East, Ellijay).
3. Watch a movie at a drive-in theater
Fall is the perfect time to cuddle up and watch a movie — perhaps a scary movie to really get into the spirit of the season! So why not take it up a notch and head out to a drive-in movie theater for an old-school movie experience? Atlanta's Starlight Drive-In, located at 2000 Moreland Ave. S.E., is open seven days a week and tickets are only $10 for adults and $1 for kids ages 5-9. There's also the Swan Drive-In in Blue Ridge, located at 651 Summit St.
4. Make s'mores
Put on your favorite worn-in sweatshirt, charge up the bluetooth speaker, and make family memories around the fire pit in the backyard as you gather the trifecta of fall flavors: marshmallows, chocolate and graham crackers. The littles will love toasting the marshmallows over the fire, but we can all agree that eating the gooey sandwiches is the best part.
5. Roast pumpkin seeds
Whether you choose to go the old-school route with a set of plastic carving tools and a traceable design or pull out all the stops and decorate your gourd with paints, glitter and other supplies, nothing beats gathering together as a family to carve pumpkins during the Halloween season. But don't waste those seeds! After you finish carving, rinse the pumpkin seeds and then roast them in the oven for a tasty fall treat.
6. Take a fall foliage tour through North Georgia
Hop in the car and make your way north to take in the visual splendor of the North Georgia mountains during the fall season, when the leaves change into deep shades of red, orange and golden yellows. As you take in the fall beauty, be sure to stop to snap photos and maybe even plan a pit stop at a country store along the way. Prime spots for foliage rides include the Blue Ridge Parkway, Vogel State Park, and Tallulah Gorge State Park, among others.
7. Hike to a water fall
Located just north of Dawsonville, Amicalola Falls State Park is a fun day trip for the family, especially in the fall, when the surrounding trees turn to the brilliant shades of the season. Spend your morning hiking the trails before you make your way to the stunning Amicalola Falls, Georgia's tallest waterfall that spills 720 feet down a towering, mossy bluff. Make a day of it by visiting the nearby Burt's Pumpkin Farm afterward.
8. Visit a farmers market
Beginning October 8, head over to Suwanee Town Center for the Winter Farmers Market and load up on seasonal produce and other goodies from local farmers. The market takes place from 9-11 a.m. on select Saturdays, and is a fun morning for the family as you go from stall to stall picking out all the ingredients for the perfect family dinner. For a complete market schedule, visit Suwanee.com.
9. Go on a train ride
Step back in time with the Blue Ridge Scenic Railway as you and your family enjoy a railway excursion along the Toccoa River from Blue Ridge to McCaysville. During your layover in the mountain town of McCaysville, treat yourself to lunch and then take a walk across the "Blue Line" on the street, which is the line that separates Georgia and Tennessee. You can actually stand in two states at once if you have one foot on the Georgia side and the other on the Tennessee side. (The kids will love it.) The train ride is four hours in total: a two-hour, 26-mile round trip, with a two-hour layover to explore. BRScenic.com
10. Host a tailgate
Okay, okay… we've talked about fall leaves and pumpkins and spooky season, but you didn't think we'd forget about football season, did you? Nothing screams fall time in America quite like football, so get in the spirit by inviting family and friends over for one of our most time-honored traditions: a tailgate party! Fill up the cooler with your favorite drinks, light up the grill, and dust off the cornhole boards as you cheer on your favorite team surrounded by your favorite people.