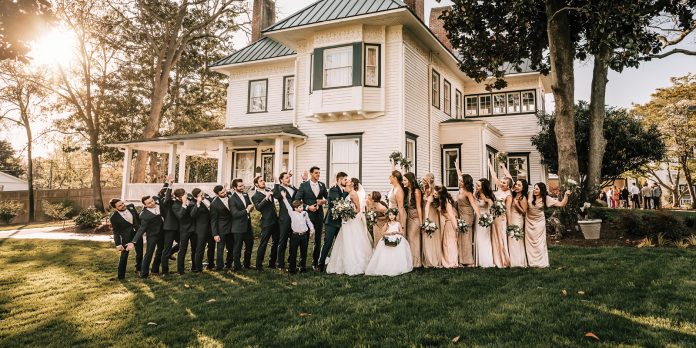 Downtown Buford's newest wedding and events venue, Stonehedge House, embodies the sophistication and charm of its rich history.
By: Alicia Carter | Photos by Renee VanderWal
Tucked away off Main Street in downtown Buford sits a striking two-story home with a wrap-around porch that seems plucked straight from the script of a classic Southern movie. Part Steel Magnolias and part The Notebook, the beautiful Stonehedge House occupies more than two acres of lush natural landscaping with native Georgia plants decorating the grounds, including hydrangeas, magnolias, camellias, and other flowering perennials. According to the Museum of Buford, Stonehedge's rich history dates back to 1904 and Bona Allen Sr., who founded the booming tannery business in Buford in the late 1800s. Stonehedge House was believed to be a wedding present from Bona to his only daughter, Kate, and her husband, Burl Shadburn. Photos of the couple and their lineage are on display in the house and document the family history beginning with the wedding photo of Kate and her bridal party posing in front of one of seven original fireplaces in the home. The beautiful estate still stands on Shadburn Avenue, and over the years has evolved with its different owners, including Maria and Alan Turk, a master gardener who planted many of the plants still seen on the property. Maria often hosted smaller weddings on the grounds of Stonehedge, the last of which was held in June 2013. Now, Stonehedge House is once again hosting weddings and events under new ownership.
Stonehedge House hosted its first event in April of this year, kicking off what Facility Director Susan Lewis hopes will be a schedule filled with events that celebrate love, family and joy. Lewis' background in project management provides her ample experience to oversee Stonehedge House in its newest venture. "We're one of the few Southern estates in the area that is open to public use," she says. "We're near a booming and revitalized downtown area and close to the Mall of Georgia, providing abundant resources and accommodations for our guests. We're excited to grow into the area's go-to venue for weddings, holiday parties, family reunions, quinceañeras and other special events."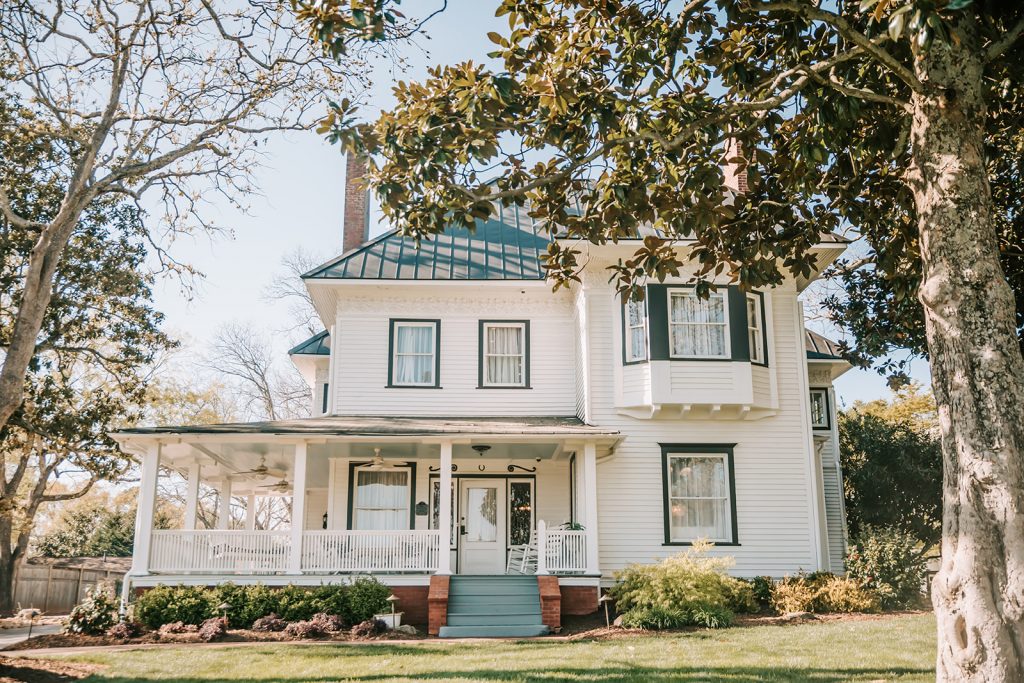 A Fairy-Tale Setting
Stonehedge is a photographer's dream with meticulously cared for landscaping, picturesque balconies, and other natural elements, such as a Champion Japanese Maple tree, that create the perfect backdrop for your big day. The Southern estate also boasts multiple ceremony sites that can accommodate up to 200 guests, including a gazebo on the front lawn, a large stone patio, and a long, majestic lawn under a canopy of trees that date back hundreds of years. No matter when an event is held throughout the year, the landscape beautifully translates every season. The first level of the main house has been historically restored and features a 2,000-square-foot bridal suite, separate groom's lounge, indoor sitting rooms, fully renovated chef's kitchen and a fire pit area.
A separate 4,000-square-foot building was added in 2017 with an adjacent stone patio and open-air space. This new reception area complements the historic setting with what Lewis describes as "industrial chic charm." The wrought iron, crystal chandeliers and exposed ceiling draw your eyes upward, providing a feeling of openness and height as guests wine and dine. The large windows and natural sunlight accentuate the beauty of the space, giving guests a touch of modern elegance alongside the classically romantic setting.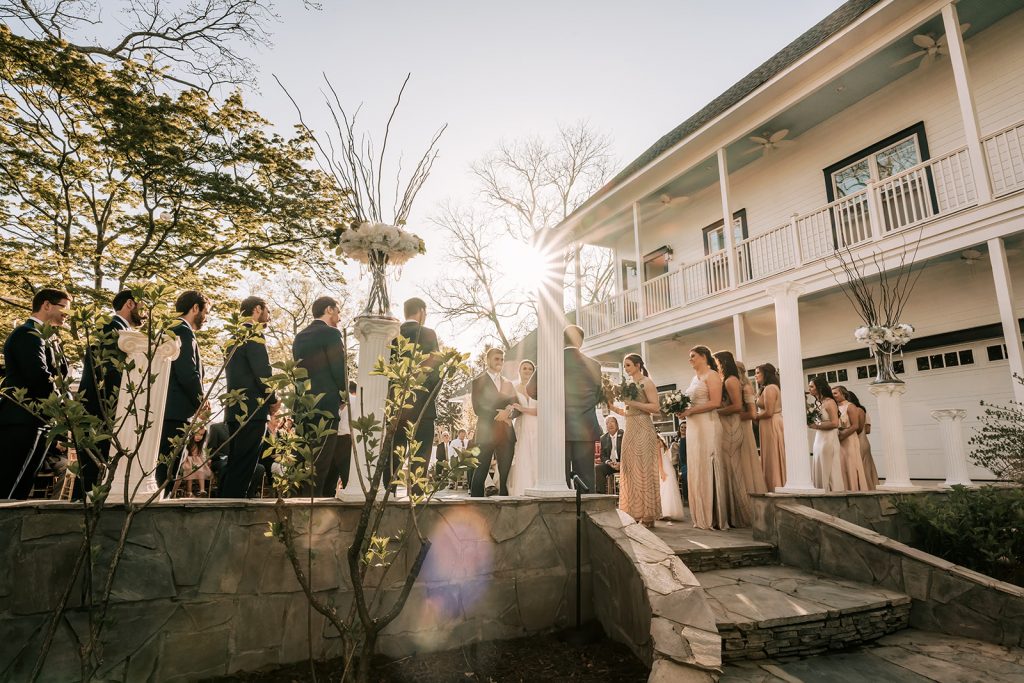 There are no wrong choices at Stonehedge. Whether you opt for a quaint springtime ceremony inside a flower-filled gazebo or a more traditional celebration on the stone patio surrounded by autumn hues, every nook of Stonehedge is filled with charm and history, and the hospitable staff will ensure your event goes off without a hitch. From providing a list of preferred vendors and top- notch caterers to working with event planners, the staff at Stonehedge has done their research to make sure their events are affordable and of the highest quality.
If you're ready to plan your event, Lewis suggests taking advantage of the investment calculator located on their website. The calculator is a useful tool to determine if Stonehedge House is a good fit for your event and helps to break down the cost of a wedding, from venue rental fees and photography to catering, seating, the dress and more. "Our free online calculator for budgeting is helpful for brides because every venue has different pricing methods from a la carte with food and beverage minimums to all-inclusive events," Lewis says. "We feel this tool will help brides see how affordable we are."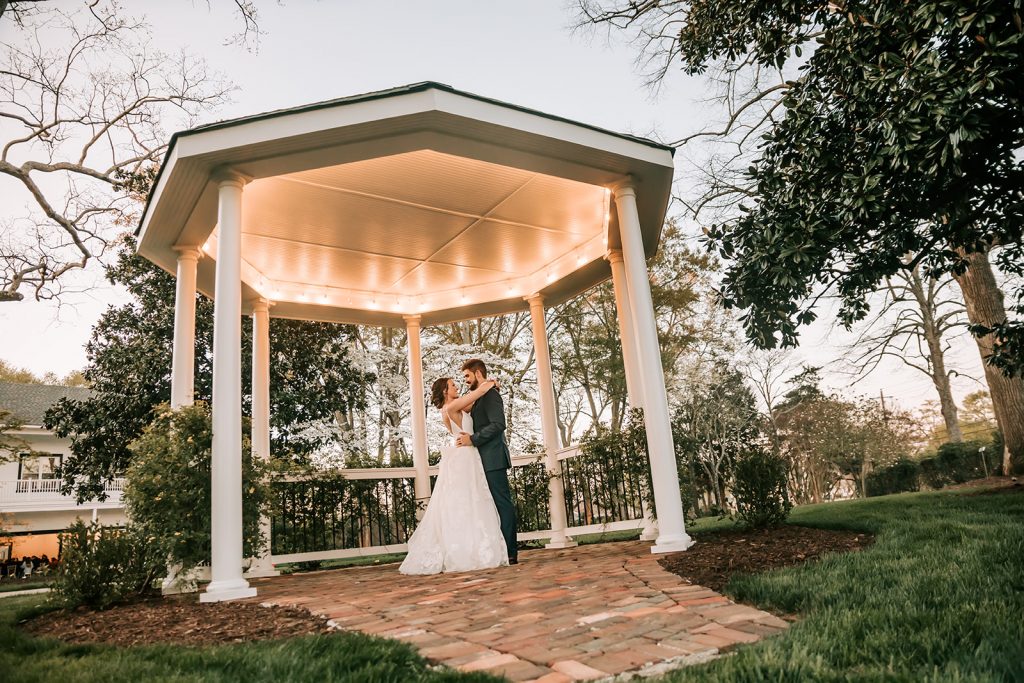 During our interview, Lewis was still elated after completing her first successful event. "It was amazing!" she shared. Lewis had recently received feedback from the mother of the bride, and pulled up the email to share her first glowing review. "Overall, it was a beautiful day and a magical wedding that I know Ellyse and Micah will have amazing memories of," it read. "I would whole-heartedly recommend your venue to anyone!"
From its start as a grand wedding present from a father to a daughter, the historic estate has now come full circle to host weddings of its own. "We are open to hosting any event that celebrates love and joy," Lewis says. And that's exactly what it provides: a fairy-tale setting to write your own love story.
Stonehedge House is now booking events with limited dates still available for 2021. It is located at 406 E. Shadburn Ave. in Buford. For more information call 404-647-4705 or visit StonehedgeHouse.com.