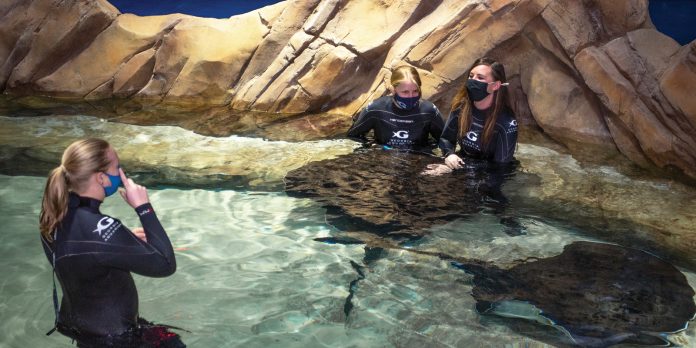 Sharks, rays and wet suits … oh my! All the details on my recent adventure with some of the ocean's most notorious predators.
By: Lizzy James | Photos by Karl Lamb
For a girl from Suwanee, Georgia, getting face to face with some of the greatest predators on earth was something I thought I'd never do (or live to tell the tale of!). So, when given the chance to participate in Georgia Aquarium's new SHARKS! encounter, I was a little unsure but I figured someone had to do it. I arrived at the aquarium (a little nervous, but definitely excited), and made my way through behind- the-scenes corridors until arriving at the dark, and somewhat intimidating, SHARKS! encounter entrance. Upon arrival, I was warmly greeted by several Georgia Aquarium trainers as they ran through their roles at the aquarium, the guidelines of the encounter, and what we had to look forward to. As we entered the exhibit and made our way to the locker rooms to grab a wetsuit, I caught a glimpse of what looked like massive fins swimming on top of the water in the main pool. Looking over the railing and into the pool, my eyes locked with the aquarium's largest female tiger shark, and I swear it felt like she was looking into my soul. Now a little anxious, I entered the locker rooms where they had my wetsuit laid out. I quickly zipped it up and made my way back out to the immersion pool. Accompanied by two of the trainers, I waded into the 76 degree pool (which keep in mind was just feet away from the main exhibit and the tiger shark that was eyeing me) and was introduced to three of the aquarium's female zebra sharks and three of the aquarium's rays.
First up was Lavender, a female zebra shark who gets her name from the slight purple coloration on her tail. The trainer brought her right across my lap and I was immediately surprised by how not- slimy she felt. Almost sand-paper like, the trainers informed me that zebra sharks spend most of their time resting on the seafloor and can grow anywhere from 8 to 11 feet long. After the initial nerves were gone, I was able to settle in and truly appreciate how incredibly intelligent these creatures are. Each of the three zebra sharks have been trained to know their own individual symbol, and when the trainers show their symbol, the sharks know it is their turn to interact with the guests (i.e., get rewarded with plenty of crab meat). For 30 minutes, the three sharks took turns swimming across my lap as the trainers educated me on how their long tails allow them to be more agile in the water, how their patterns change with age, and that they only bite if they are angered or annoyed. After the sharks were done showing off, next came the ray's turn.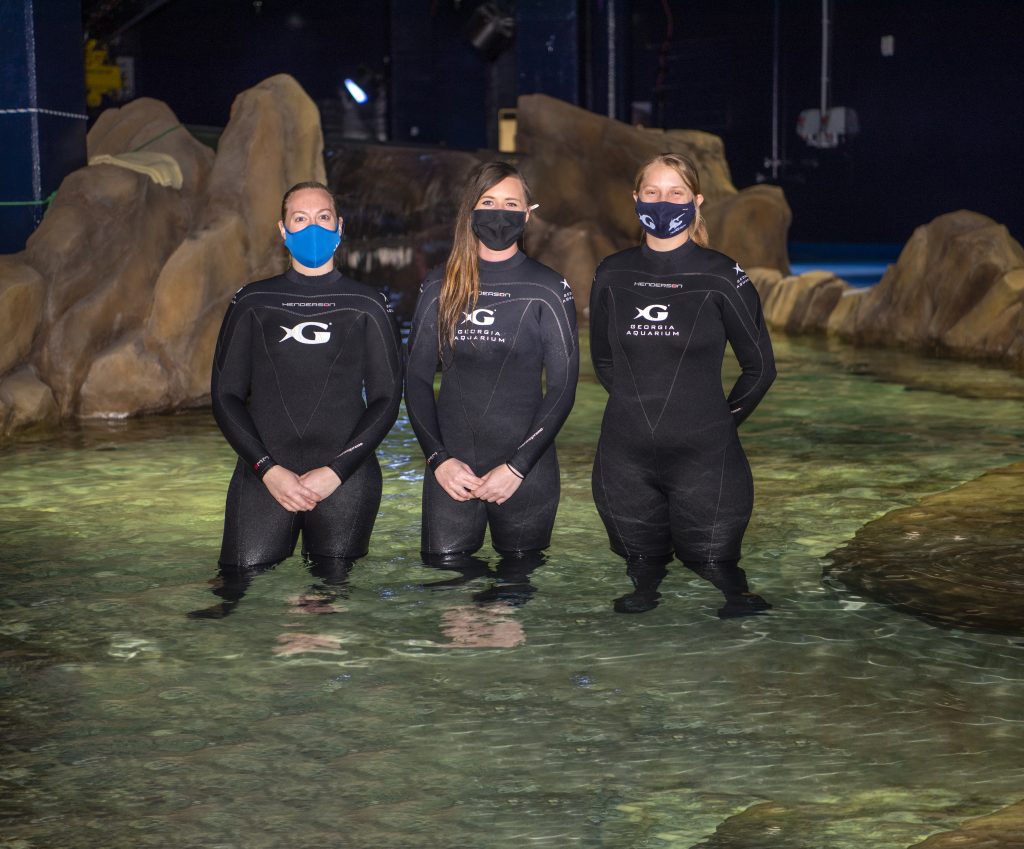 What felt quite like a weighted blanket across my lap, the rays were about 4 feet wide and weighed a couple hundred pounds. This may sound large, but in reality these rays are still babies and on average grow to be between 6 and a half to 7 and a half feet and clock in anywhere from 600-700 pounds. Just like the zebra sharks, the rays have also been trained to know their symbols. However, it seemed as if they were a little more impatient to get their food. At any given time, I would have a ray across my lap as well as at my feet waiting for their next piece of crab meat. Perhaps my favorite thing about these creatures were their personalities. Eager for their reward, I spent the last 30 minutes fascinated as they followed commands such as "sit" on the bottom of the exhibit floor and even popped out of the water to show me their "smiles."
After my time with the rays was up, it came time once again to get up close and personal with my friend the tiger shark. Like I mentioned before, the immersion pool is connected to the main pool, with only a small piece of acrylic glass separating the two. The trainers encouraged me to get as close to the glass as possible and wait. Within little to no time, I was suddenly face to face with a large hammerhead. I was immediately enthralled by its gracefulness as it swam just feet in front of me. Following shortly behind was my tiger shark pal from earlier. As she swam past the glass, you could see that she was intent on keeping eye contact with us the entire time. After staring in complete fascination for a few minutes, my immersion time came to an end and it was time to hit the showers.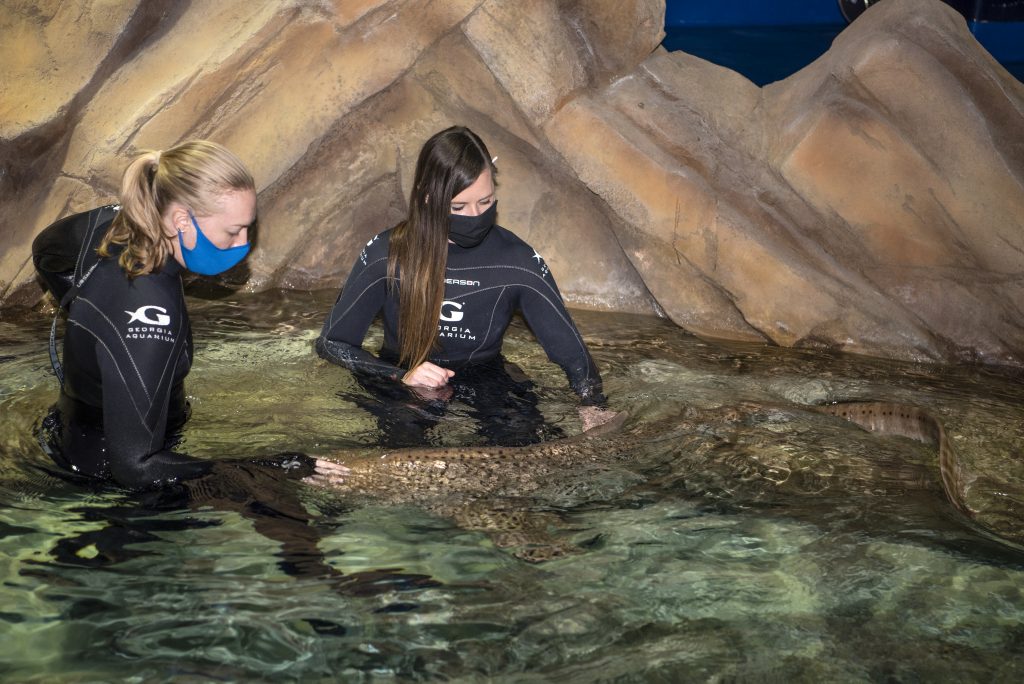 In total, I got to live out my marine biology dreams for about two hours. I walked away from the experience with a newfound appreciation for the predators of the deep as well as appreciation for the work that the Georgia Aquarium team is putting in to protect and spread awareness for these creatures. Behind the scenes, researchers throughout the aquarium and in the field are learning more about marine life and making efforts to protect our oceans every day. Proceeds from programs like this SHARKS! encounter ensure that the aquarium can continue its research and conservation endeavors in the future.
In addition to the SHARKS! encounter, aquarium visitors can also get waist-deep with the beluga whales, help feed the dolphins, swim with the whale sharks, pet a penguin, and get up close to other aquarium residents, like the sea lions and sea otters. These types of encounters not only allow visitors to meet these amazing animals, but it also humanizes the experiences many of them face in their natural habitat, which helps the aquarium to spread its message of conservation to more and more people. Getting a hug from a ray is just the cherry on top.
If you're interested in learning more about their conservation efforts, visiting the aquarium, or participating in an encounter, visit GeorgiaAquarium.org.