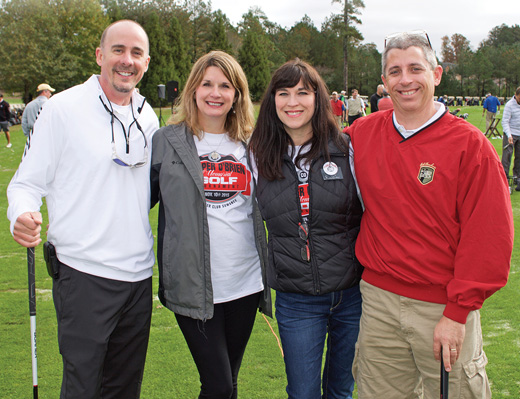 Organized by Cooper's Crew, the Cooper O'Brien Memorial Golf Tournament is a fun-filled, community-oriented day in memory and honor of Cooper O'Brien who lost his battle to a rare form of cancer called Clear Cell Sarcoma in July of 2014, at the young age of 14. Proceeds from this golf tournament will go directly to Cooper's Crew Fund and the Cooper O'Brien Scholarship Fund. Cooper's Crew Fund provides funding for research and development to help find a cure for childhood cancers. They have recently partnered with CURE Childhood Cancer and were awarded a $150,000 grant to help fund research projects specific to Sarcoma cancers.
In previous years, the Cooper O'Brien Scholarship Fund has granted two
scholarships, but thanks to the success of last year's golf tournament and other various fundraising efforts throughout the community, they were honored and humbled to grant three $2,500 scholarships to graduating seniors from North Gwinnett High School. They are hoping to do the same or possibly even more next year.
Cooper's Crew is dedicated to ensuring that Cooper O'Brien's light and legacy lives on through events such as the Memorial Golf Tournament. "We are so grateful and humbled by the continued support of the Suwanee community and look forward to a day of golf followed by an evening of fellowship, reflection and celebration," said Cooper's father, Kevin O'Brien. This event is meant to be a celebration of his life and something that everyone in the community can enjoy. After the golf tournament there will be a family-friendly dinner with live music, a cash bar and silent auction in The River Club clubhouse. Complimentary dinner tickets are included for all golfers; but non-golfers are invited to join as well by purchasing dinner tickets online at cooperscrew.org.
All golfers will also receive complimentary food and adult beverages on the course, a golfer gift bag and the opportunity to participate in a variety of unique and fun fundraising opportunities throughout the course. The popular Super Ticket package will be available to all golfers for a chance to participate in all contests, mulligans, hole-in-one, putting contest, longest drive, etc. But, new to this year's event is the addition of a thrilling competition. If you've always wanted to shoot a golf ball through an AR-15 rifle, now's the chance! Every golfer will have their chance to launch their own 400+ yard shot on one of the par 4 or 5 holes, to see who can get closest to the pin.
Getting the chance to play golf at the nationally renowned River Club is a dream come true for many golfers, but getting the chance to play in this specific tournament is also something even the most experienced golfers will never forget. The energy on the course at the Cooper O'Brien Memorial Golf Tournament is unlike that of other charity golf tournaments. It truly is a reflection of the generous and tight-knit community of Suwanee and the camaraderie we share, as we continue to lift up a family who experienced great loss and help them celebrate the joy and life of their son, Cooper O'Brien.
Registration and information is available at cooperscrew.org.*