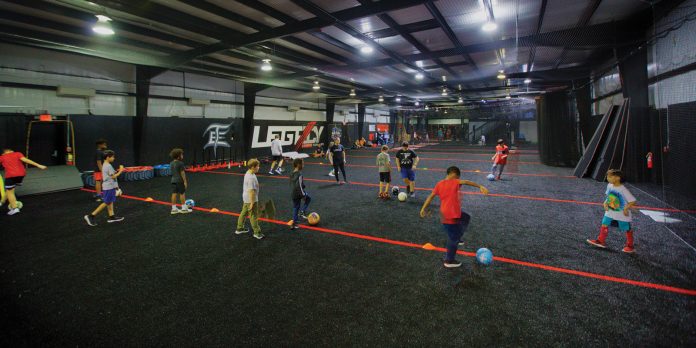 New state-of-the-art facility for sports and fitness training opens in Suwanee.
By Angela Vegueler | Photos by Paul Perdue
Legacy Sports Complex opened its doors in December 2022 with the goal of offering a five-star sports and fitness experience to area families. Owners Dustin and Amber Chovanic and Jonny and Viviana Venters share the same vision for Legacy: to create a place in Suwanee that offers high- quality training and amenities for competitive athletes, while also being a fit for younger kids and a place where the whole family feels at home working out or hanging out. Both the Chovanic and Venters families have children and live in the Suwanee area. Dustin and Jonny know what it feels like to compete at the highest level — Dustin as a professional MMA and Muay Thai fighter, National Karate Champion and kickboxer, and Jonny as an MLB player for the Atlanta Braves, Tampa Bay Rays, and Washington Nationals.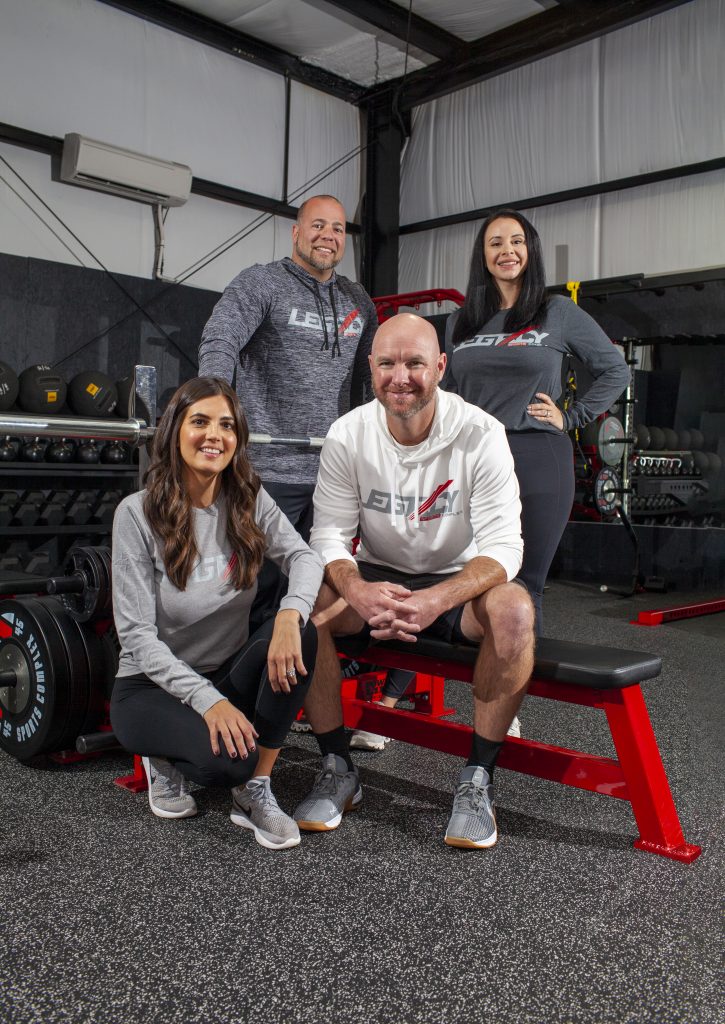 The Chovanics also own and operate Legacy MMA, a martial arts after-school and summer camp program with five locations in the area. Prior to starting Legacy, Dustin was a partner
in Georgia Fitness and opened the Pro Center inside the facility, where high school athletes from several Gwinnett County schools trained. Years later, he wanted to recreate what they had in the Pro Center but take it to the next level. And, Suwanee was the place he wanted to do it.
"I grew up on a karate floor and in a gym," Dustin says. "I got into training and opened gyms around the country which led me here. Atlanta was a really big nest for fighting. I'd come up here to train with some of the top fighters in the area. I fell in love with the Suwanee/Buford/ Sugar Hill area. I've never felt at home anywhere before this community. Suwanee is everything to me. I want these kids to be able to come in and have mentorship that helps them succeed in life."
Jonny grew up in Florida loving sports and spent most of his time in the gym and on the field. "I was fortunate enough to play professional baseball for 15 or 16 years," he says. "We moved to Georgia my rookie year with the Braves. We fell in love with Georgia and the Suwanee area; it's such an awesome place."
Both families saw the need for a facility like Legacy in the Suwanee area. "The main thing for us was the location," Viviana says. "We and other families have been driving kids everywhere for training — there was nowhere in our backyard like this. Now there is somewhere for families to go in Suwanee."
"We wanted to create a facility with the integrity of where we live," Dustin says. "We wanted to match the culture and intensity. We don't live in a place that lacks championships. That's why the quality here is second to none. We want to create a championship culture here. My passion is really the kids. I wanted this facility built with the younger kids in mind, not just the middle or high schoolers. We want to give all our athletes the ability to have the experiences of college and pro athletes right here in Suwanee."
Specialized Sports Training
Legacy offers group training, private training, an adult boot camp, batting cages, golf simulators, sports medicine and physical therapy. Specialized training is available for baseball, softball, soccer, football, wrestling and lacrosse, with plans to add additional sports such as basketball. They have memberships for individuals, families, and teams and memberships are customizable depending on a client's needs. The regular memberships include strength training and speed and agility classes as well as some specialized sports training.
"We have everything from individual training and team training to travel ball teams, which is a mixture of athletes from different areas," Dustin says. "For baseball, for example, some kids are coming in for individual training and some come in with their team. They may want to use the batting cages or the turf because it's raining outside. A particular kid might want to work on hitting and another work on pitching. Some want speed and agility; some just want strength. We have built programs that allow us to work at different levels. Whether your kid is just learning baseball, playing travel ball, getting ready to play at the collegiate level, or is a professional player and wants some time to train, we want to service what your needs are and offer different levels of the sport you are looking for."
Several local teams already use the facility to train. "It's a huge thing for coaches in the area if they have a kid and something is bothering them that they know they can send them here and get good care and training, get stronger, get physical therapy and work at whatever sport they are playing," Jonny says. "I think it's such an invaluable thing to have it all in one place. That's why I drove an hour to train because some days something would bother me and I would go get it treated and also get my workout. Having it here in Suwanee is invaluable to local athletes. Kids can work with trainers on how to get back to the sport."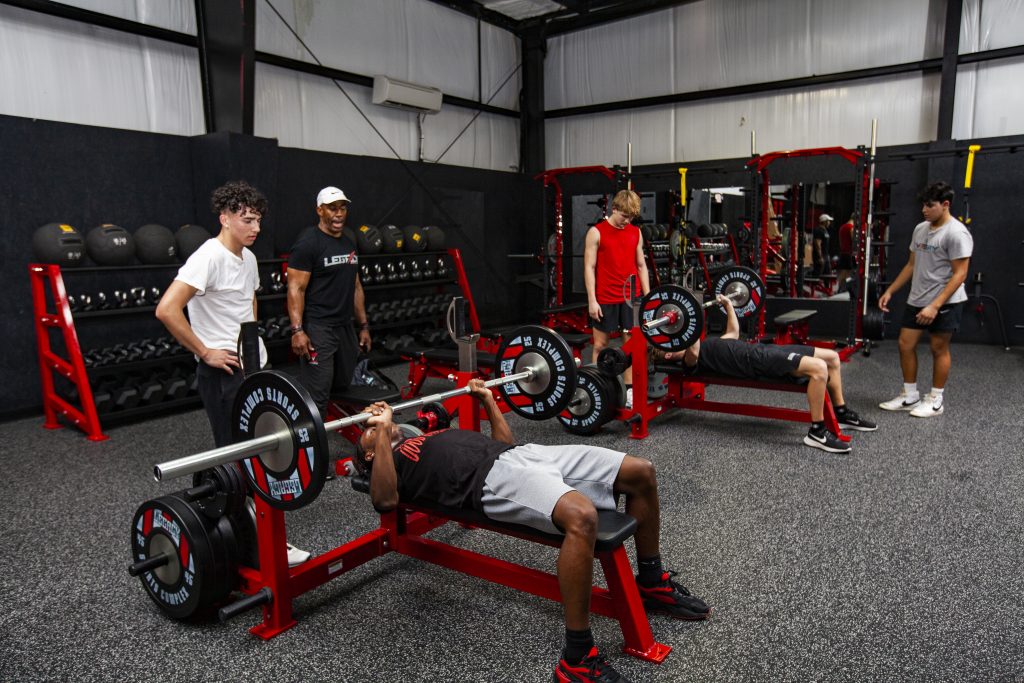 Amenities & Recovery
According to Amber, the complex was "designed by family for family." Dustin continues, "We want to make it comfortable for the moms and families and also offer a five-star experience. The facility is temperature controlled with a parent viewing area upstairs. Our equipment is second to none; it is the highest-grade equipment. We wanted to make sure the athletes were safe and protected with what they were training on, so we installed a professional caliber beadless turf. We have a full arena netting system so it will stop a baseball, golf ball or football. Outside we have the basketball courts, the sand pits, and the pull-up stations."
Knowing that injuries and therapies are a part of sports, Legacy also has a physical therapist on-site and offers cryo chambers as well as hyperbaric chambers, and is working to have a full professional lab.
Legacy Sports Complex invites the public to come check out the facility for the grand opening on January 21. Professional athletes will be on-site signing autographs, there will be three $10,000 cash prize contests, food trucks, a DJ and more.
"We feel so fortunate to be here and to be part of this," Jonny says. "When we walked in the doors and saw this place and heard Dustin explain his vision, we were blown away. When you hear Dustin talk, he talks about the kids and the community and those are things that are important to us. We want to be here spending time with the kids and being part of this community, and we are excited to see where it goes from here."
Legacy Sports Complex is located at 4305 Brogdon Exchange in Suwanee. For more information call 678-541-5054. LegacySportComplex.com