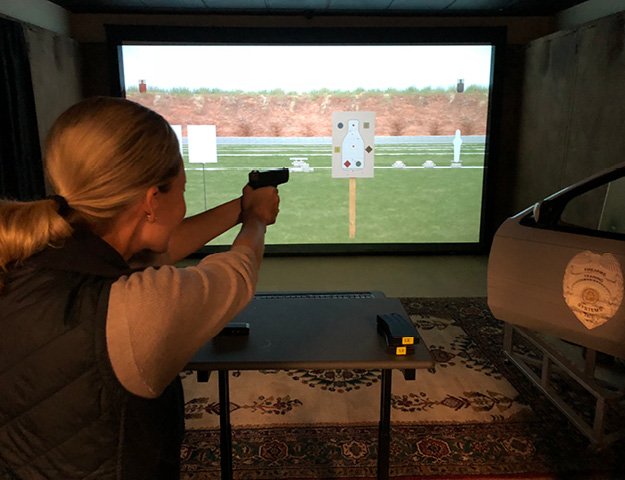 With recent partnerships with the Suwanee and Gwinnett County Sheriff's Office, Meggitt Training Systems is helping to make a giant impact on law enforcement in the local community and beyond.
By: Lizzy Kidney
Located in a 235,000-square-foot building just off of Brogdon Road in Suwanee, Meggitt Training Systems is the leading supplier of integrated live-fire and virtual weapons training systems in the world.
With over 13,000 live-fire ranges and 5,100 virtual systems fielded internationally, the company's virtual simulators and ranges are used to provide judgmental, situational awareness and marksmanship training to law enforcement, the armed forces and other security organizations around the world.
"At a time when law enforcement training has never been more important and under greater scrutiny, Meggitt Training Systems is uniquely positioned to help police officers safely enforce local laws." states Andrea Czop, Vice President for strategy, sales and marketing at Meggitt Training Systems.
The custom-built facility in Suwanee acts as headquarters for support functions, development and manufacturing. The blue-fire weapons that are produced here maintain a 10% balance and weight of an actual weapon and can be used along with virtual training simulations to improve an officer's motor skills, aim, and reactions within certain scenarios.
"We wanted to develop a more immersive training program that helps law enforcement adjust to dynamic environments that are more prominent in today's society," states Meggitt President Jeff Murphy, "For example if an officer's gun doesn't fire, he has to know how to react in a life-threatening situation."
The virtual law enforcement systems allow instructors to change scenarios to see how officers handle situations such as active shooters, verbal de-escalation tactics, use of force, and cultural diversity. Each system is equipped with a lookback camera that allows the officers to go back and watch how they handled a certain situation, and in turn how they can make improvements.
Meggitt Training Systems recently partnered with the Gwinnett County Sheriff's Office to offer the FATS 300LE system to officers, which provides a 300-degree immersive training environment that includes high-definition and 5.1 surround sound, providing realistic, engaging training.
"Our end goal is to make training as realistic as possible," states Gwinnett County Corporal Sheriff Nathan Friddle, "this immersive capability helps to make the officers feel that they are in a real- life situation, and not that they are simply in a simulation."
Since the facility is located right here in Suwanee, the Suwanee Police Department also has the unique opportunity to take advantage of Meggitt's blue-fire weapons and simulators to train their officers.
"We are very fortunate that Meggitt is in our city. Our guys use the simulation training at least once a month," says Richard Pope, Suwanee Police Department's Community Relations Training Officer, "Our goal is to help the Suwanee community feel safe while they are out enjoying what makes Suwanee so special."
Aside from local law enforcement, Meggitt supplies training systems and blue fire weapons to the Department of Homeland Security, the FBI, the U.S. Army, U.S. Marshall's Service, Federal Reserve Banks, the L.A. County Sheriff's Department, U.S. Postal Service, NYPD, and many more.
Meggitt's ability to deliver an immersive training system has helped law enforcement departments across the country and around the world improve marksmanship and judgmental decision-making.