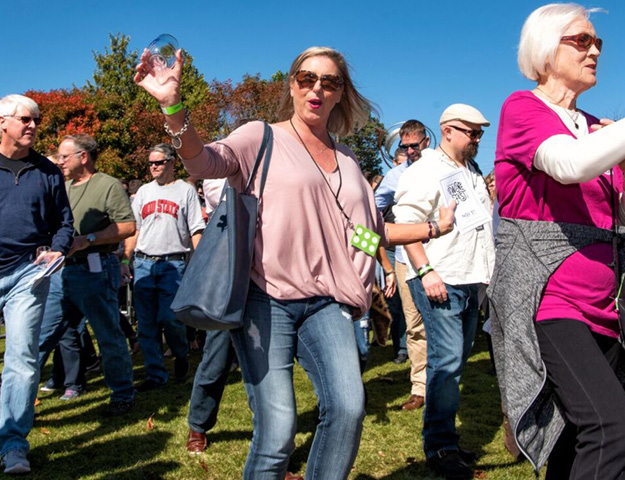 With fall right around the corner, we're finally getting a reprieve from the hot Georgia summer days. Along with the crisper air, fall brings with it back-to-school shopping, hot lattes, football, and one of the best times of the year: fall festival season! We've compiled a list of some of the best festivals in the metro area — from the beloved annual Suwanee Wine Fest to local fairs, food fests and more, our annual guide to local fall fun is jam-packed with ways to fill your calendar all season long.
By: Madison Coats and Lizzy James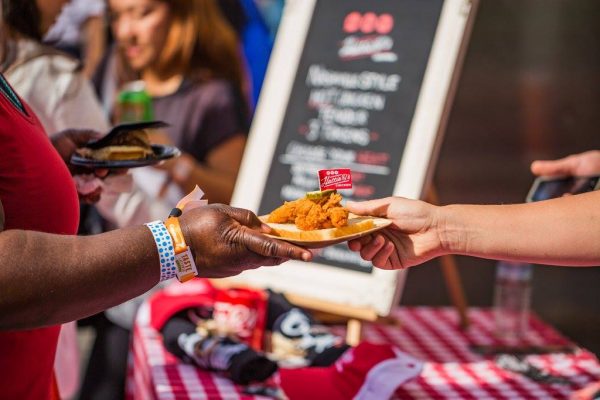 Taste of Atlanta 2019
Starting October 18, thousands of hungry food aficionados will swarm Historic Fourth Ward Park to eat their way through the Taste of Atlanta Festival. Celebrating its 18th year, Taste of Atlanta is the city's premier food and drink festival showcasing the local restaurant scene and attracting food lovers from the region and beyond. From live music to amazing food, fun workshops and much more, Taste of Atlanta is a one-of-a-kind experience not to be missed. Throughout three days of bites and bevs, more than 100 of Atlanta's favorite restaurants will show off their most craveable dishes alongside live onstage cooking demos from top chefs, the 11th annual Bartender Competition, and an Opening Night Party on Friday with outstanding food and music. Food lovers of all ages are invited to join in celebrating the dynamic energy and variety of the local restaurant scene while savoring what makes Atlanta the food capital of the South!
General Admission tickets start at $25 and get you 10 Taste Points to be redeemed at any station. One bite costs 1-3 points, but your wristband can easily be reloaded at multiple stations throughout the festival. For the true foodie, there is the VIP tasting experience, where for $75 attendees get 20 Taste Points, main festival access, and entry into the Grand Tasting Experience tents for tastes from additional restaurants served alongside beer, wine and specialty cocktails.
Opening Night Party (October 18): 7:30-11 p.m.; Main Tasting Events (October 19-20): General Admission: 11 a.m.-4 p.m.; VIP Experience: 11 a.m.-3 p.m. Saturday night concert featuring Yacht Rock Review (October 19): 7-11 p.m. For more information and to buy tickets, visit tasteofatlanta.com.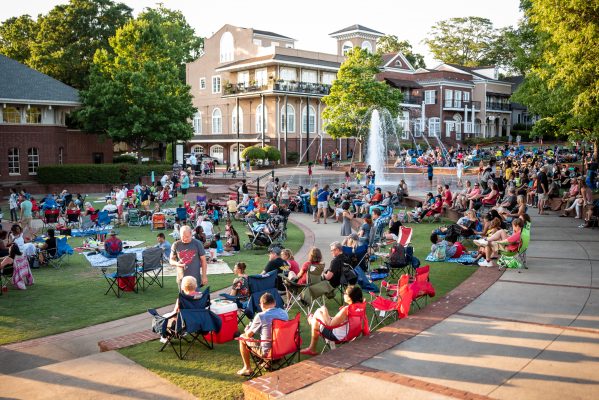 Duluth Fall Festival
The largest festival in the Southeast with no paid staff and more than 400 volunteers, the Duluth Fall Festival has won numerous awards including Best of Gwinnett and Reader's Choice this year. The festivities kick off on Saturday, September 28th in downtown Duluth with a huge parade (10 a.m.), followed by more than 350 booths of arts and crafts, food, and sponsors, plus Man's Corner, entertainment on two stages and more. There is a full-fledged carnival, which is also open Thursday and Friday nights, 6-10 p.m. Sunday begins with a Peachtree-qualifying road race at 8 a.m., followed by Worship on the Green by Duluth First United Methodist Church, then there is entertainment, booth shopping and food. Plan to ride one of the free 12 large shuttle buses from three area schools so you won't have to worry about parking. September 28-29. Saturday: 9 a.m.-10 p.m.; Sunday: 8 a.m.-5 p.m. duluthfallfestival.org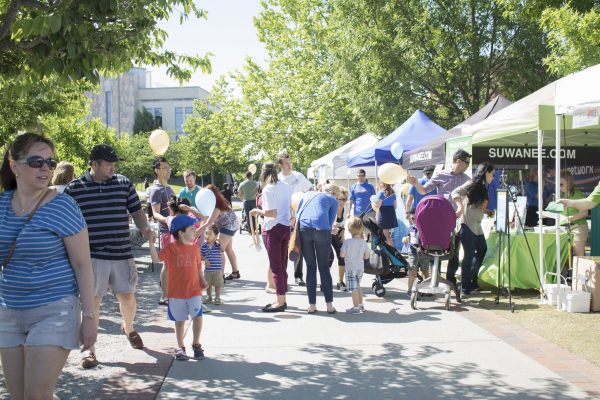 Suwanee Fine Arts Festival
Savor the flair d'art at the Suwanee Fine Arts Festival. With a bit of a French twist, enjoy the unexpected at every turn — fine artists showing and demonstrating their works, mouth-watering food, wine and craft beer, buskers milling through the crowd, an emerging artists tent, the Huddle Up Hub for the Georgia/Tennessee game, and plenty of hands-on projects, like the now famous Chalk Walk! C'est la Vie! October 5 (10 a.m.-6 p.m.) and October 6 (noon-5 p.m.). For more details, sponsor information, and a chalk walk application, head to ngaa4arts.com/fineartsfest.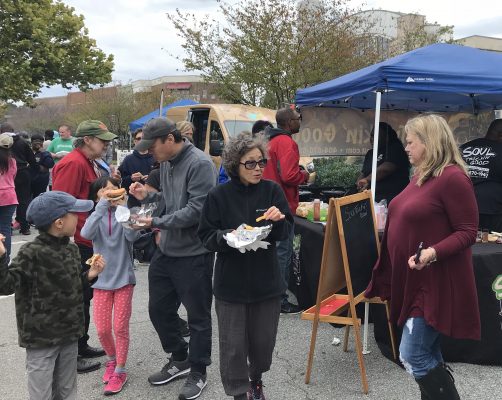 Suwanee Taste of BBQ Festival
Suwanee Taste of BBQ Festival returns to Town Center Park for its third year on October 12. Suwanee Taste of BBQ Festival, formerly the Alive! Festival, is a community event featuring local vendors, an artist market, live music by local and regional up-and-coming artists (sponsored by ARN – All Right Now Entertainment), a Family Fun Zone with activities for children of all ages, and of course, a Taste of BBQ! At the Taste of BBQ area, you'll be able to buy sample tickets for food purchase at all participating vendors. This year's bands include Riot Band, Vintage Vixens, Big Foot Rooster, Jeff Robinson and Friends, South Rock, The Way Back Band and Rival. The festival is free to attend and is a fundraiser for Project Green, a local kids charity that sponsors kids to summer camps. October 12, 10 a.m.-6 p.m. For more information about being a sponsor or vendor please contact: 770-806-7492 or kim@aliveexpo.com. AliveExpo.com/alive_festival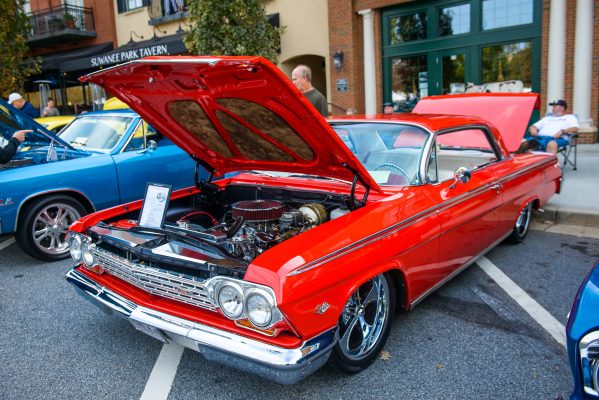 Suwanee Classic Car Show
This favorite Suwanee event showcases more than 150 classic cars lining the entire Suwanee Town Center parking lot and more! Come paint-a-wreck, join artists in a speed paint-out plein air, take your chance at a 50/50 raffle, and place your bid for the silent auction for some great finds. Take part in a moving ceremony with a special Master of Ceremonies to honor soldiers from the Georgia State Defense Force and veterans from around North Atlanta. Admission is free to the public. To register a car the cost is $25 per vehicle which can be done online at ngaa4arts. com or on the day of the event. This is a rain or shine event. Trophies will be awarded for Best Paint, Engine, BPOC, Chevy, Ford, Exotic, Import, Mopar, Muscle, Orphan, Street Rod, Truck, Top 20, Mayor's Pick, Best in Show, and People's Choice. Sunday, November 10, 10 a.m.-3 p.m.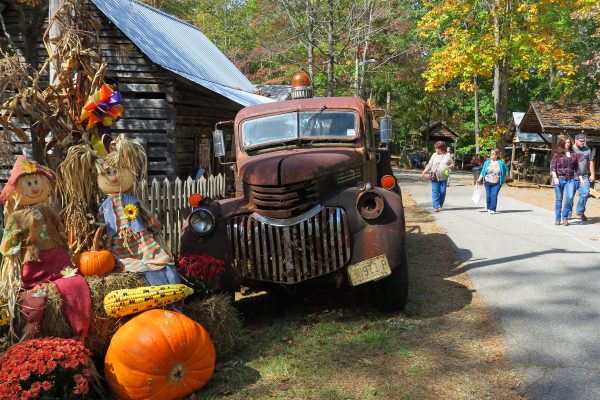 Georgia Mountain Fall Festival
With its mild temperatures and beautiful scenery there is no better place to be than the North Georgia mountains in the fall. Each October, the nine-day Georgia Mountain Fall Festival features exciting musical performances, arts and craft vendors, educational demonstrations, a flower show, and the ever-popular Georgia's Official State Fiddlers' Convention. October 11-19, hours vary by day. For more information or to purchase tickets, visit georgiamountainfairgrounds.com.

Georgia State Fair
The Georgia State Fair is back at Atlanta Motor-Speedway in Hampton with good old fashioned family fun. There will be rides for everyone in your family as well as a variety of animals, including a petting zoo, camel and pony rides, a white tiger display and even a butterfly exhibit. Not into rides? Enjoy a wide range of entertainment and endless fair food. September 2-October 6, hours vary each day. georgiastatefair.org

Yellow Daisy Festival
The Yellow Daisy Festival is a four-day event that features hundreds of artists and crafters with tons of unique items at Stone Mountain Park. Enjoy live entertainment and fantastic food as you browse vendors and watch craft demonstrations. There is also a Children's Corner, with activities that your kiddos are sure to enjoy. Vehicle entry into Stone Mountain Park during this festival will be $20 (unless you have an annual permit), which includes access to the festival. Check out the website for details on early bird pricing and more. September 5-8, hours vary each day. stonemountainpark.com/Events/ Yellow-Daisy-Festival
4th Annual Taste of the Ridge
Peachtree Ridge High School brings local restaurants and vendors to its common area to participate in Taste of the Ridge. This year's vendors include Tequila Mama Taqueria, Marlow's, Arena Tavern, The Meat House, and Chick-Fil-A, among others! Tickets are $10 at the door or can be purchased from band students; this ticket will provide admission, as well as samples from the participating restaurants. This annual fundraiser is hosted by the PRHS Athletic Department and Band Program. September 7, 11:00 a.m.-2 p.m.
Rock N' Ribville
The City of Lawrenceville hosts various "car-b-ques" and brews on the Lawrenceville Lawn every year for the Rock N' Ribville festival. The festival brings together live entertainment and delicious Southern food, along with fun games, classic cars, and various vendors as Lawrenceville continues to promote local businesses and encourage community engagement. September 14, 1-8 p.m. rocknribville.com
Gwinnett County Fair
The Gwinnett County Fair is packed with fun events for the whole family including free concerts, pageants, rides, food vendors, arts and crafts, vendors of all kinds, various competitions and much more. The Gwinnett County Livestock and Fair Association will also provide different experiences with livestock as it educates people of all ages on agriculture and its future. September 12-22, hours vary each day. gwinnettcountyfair.com
Stone Mountain Pumpkin Festival
The Stone Mountain Pumpkin Festival is back this year with new immersive areas, brighter themed displays, and a family-friendly nighttime experience! During the day, enjoy games, park attractions, character meet and greets, a variety of live shows, food, and beautiful autumn colors throughout the park. The "Glow by Night Experience" will begin at dusk and continue until 9 p.m. Don't forget to wear your costume for up to $10 off an All-Attractions Pass. September 21-November 3, hours vary each day. stonemountainpark.com/Events/Pumpkin-Festival
Suwanee Trek or Treat
Suwanee's annual Trek or Treat offers a fun afternoon filled with Halloween-themed events and festivities for children. The event takes place at Sims Lake Park and is geared toward children ages 10 and younger. Families are encouraged to dress up in costumes and can participate in fall-themed games, contests, music, inflatables and more. October 27, 2 p.m.
Bridge the Gap 5K
This family-friendly run/walk supports organizations that help to "bridge the gap" for individuals with special needs as they transition out of the school system and into adult services. The 5K starts at Suwanee Town Center Park. All of the proceeds from this event will go directly to one of the three groups: The Exceptional Foundation of Atlanta, Friends U Need Club, Inc., and The YALLS Group of Special Needs School. Each organization offers day program services in a safe and supported environment where adults with developmental disabilities have opportunities for socialization, recreation and community service. Bridge the Gap 5K is a Peachtree Road Race qualifying event! October 19. Registration: 8 a.m.; race starts at 9 a.m. runsignup.com/bridgethegapga
Oktoberfest in Helen
Helen's 49th annual Oktoberfest brings people together from all over the country and is listed as one of the top Oktoberfest events in the U.S. because of its authentic atmosphere. This festival is all about German traditions with German-style bands from around the country along with authentic food, drinks and dancing fun for the whole family. This Oktoberfest is the longest running in the United States. Thursday-Sunday throughout September and daily from September 26 to October 27, hours and prices vary each day. helenchamber.com/OktoberFest.html
Cumming County Fair and Festival
This year the Cumming County Fair and Festival celebrates its 25th year! Stop by this 11-day event full of exciting attractions, shows, live music, fair food, carnival rides, historic heritage, and family fun. Check out the website for a list of rates, discount days, and ride specials. October 3-13, hours vary each day. cummingfair. squarespace.com
Ride Away Music Fest
A day filled with live music, food, a pet costume contest/parade, a jam tent/drum circle, Imagination Station and face painting, among other activities in Suwanee Town Center Park! Ride Away Music Fest was created in honor of Parker Killian Moore, who was tragically killed while working at a restaurant. The family of Parker wishes to remember him in a positive light by hosting this event and awarding scholarships for the areas of Photography, Vet Tech and Nursing. October 19, 2-10 p.m. rideawaymusic.com
Duluth Beer and Wine Festival
The Duluth Beer and Wine Festival will take place at Duluth Town Green with samples of more than 75 craft beers and more than 25 wines, featuring many local breweries and wineries. There will also be live local music, food trucks, a variety of vendors and artists, and an adult game zone. This is a 21+ event. October 6, noon-5 p.m. duluthbeerandwinefest.com
Good Taste Gwinnett
Foodies, grab a friend or make it a date night for dinner, demos, drinks and more at Good Taste Gwinnett, a cooking showcase taking place October 17 at Infinite Energy Forum in Duluth. Enjoy restaurant tastings from local establishments to fill you up, live chef cooking demos to entertain, drink tastings with Slow Pour Brewing Co., a free swag bag full of goodies, vendors, giveaways and more. Presented by the Gwinnett Daily Post and Powered by Jackson EMC. October 17, 6-9 p.m. goodtastegwinnett.com
Lift Up Atlanta's 2019 Fun Fall Festival
Lift Up is a family-oriented festival with a petting zoo, magic show, live entertainment, games for all ages, kids' zone, vendor shopping, arts and crafts, and of course, food! This festival will be held at the Gwinnett County Fairgrounds with free entry and parking; all proceeds from the booths within the festival will be used to help the low-income families and the homeless in the metro Atlanta area. October 19, 10 a.m.- 4 p.m. liftupatlanta.org

Duluth Howl on the Green
This event is meant for the whole family — even your dogs — and will be filled with lots of entertainment, food, and sweet treats! As it gets dark, watch for fire dancers, mystical creatures, and even breakdancing werewolves. October 25, 6-10 p.m.; https://www.duluthga.net/community/howl_on_the_green.php

Jonny & Xena 5K & Free Pet Adoptions
Jonny and Xena are committed to making a difference in our community with their fifth annual 5K fun run and free pet adoptions at Suwanee Town Center. The event supports autism programs and animal rescue, and features numerous pet-related vendors, food trucks, and live music. All pet adoptions must have an approved application, visit their website to view this application. October 26, check-in begins at 8 a.m. xenathewarriorpuppy.com/#row-jonnyxena5k