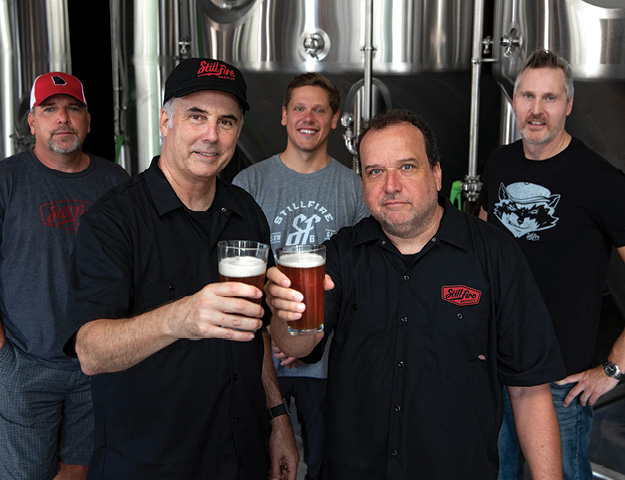 Suwanee's first brewery sets its sights on building an iconic craft beer brand that is synonymous with quality, loyalty, and community in the heart of downtown Suwanee.
By: Lizzy James | Photos by Karl Lamb
There's a new reason to say "cheers" in Suwanee. The much anticipated debut of Suwanee's new hometown brewery, StillFire Brewing, is set for the end of September. The grand opening celebration will feature a selection of 18 original craft beers on tap and an outdoor stone patio where patrons can play games and enjoy live music. There will be food and fun for everyone!
The StillFire Brewing team officially announced their plans to open in Suwanee back in March, and the 20-barrel brewery and taproom has been under construction ever since. Beer lovers got a first taste of what StillFire Brewing will have to offer at the 2019 Suwanee Beer Fest, and as the tanks arrived and the hiring signs went up, the anticipation from the community only continued to grow.
The brewery will feature 18 beers on tap with a wide selection of offerings ranging from IPAs and traditional styles to barrel aged, fruit and sour beers. With Brewmaster Phil Farrell manning the tanks, patrons are sure to find their new favorite beer at StillFire Brewing. The world-class brewer is excited to bring his brewing expertise and creativity to the residents of Suwanee.
"Preparing our beer lineup is like preparing for the Super Bowl," says Farrell. "We have scripted our first 18 beers, but we want the others to be community-driven, and hope that people aren't afraid to offer us feedback on new beers they want to see here."
The brewing team, which includes head brewer, Walt Wooden, will kick off the brewery with a lineup of thoroughly good beers, including their aptly named Thoroughly Good Scotch Ale (which made its debut in the VIP tent at the 2019 Suwanee Beer Fest and recently won a gold medal at the 2019 Can Can Awards in Atlanta) and Midnight Voyage, a cuban coffee stout that offers an intense espresso-like flavor of roasted coffee balanced by chocolate with just the right amount of sweetness to make you crave more. Tropical Dropout IPA has delicious citrus flavors and aromas as well as a complex array of exotic guava and passion fruit notes. Other standouts include Orange Diva, a blood orange wheat beer, and Bingo Mango Bongo, a mango tart ale.
"Eighteen taps plus canned beer for purchase through our to-go window gives us a lot of room to experiment. All of our brewers have that creative spark and enthusiasm for creating unique offerings. With literally thousands of fruits and spices as well as hundreds of hop varieties to choose from, we will never rest. No beer we brew will ever stagnate at 'that's good enough.' Making small batches allows for those one-of-a-kind beers that are both surprising and delicious. In the first year you can expect to see a chocolate cherry porter, a baked apple glutenfree beer, a coconut cream stout, a honey nut ale, and barrel-aged anything you can imagine," says Farrell.
By developing a portfolio of the world's most innovative craft beers and offering a customer-centric destination, the team's goal is to become more than just a resident watering hole, but instead, a treasured local institution.
Ahead of the grand opening, we've highlighted everything you need to know about Suwanee's new hometown brewery:

Enjoy local food truck offerings or have food delivered to the taproom
Food trucks will be a staple at StillFire and will be on-site to serve up pizza, tacos, BBQ, and more. The trucks will be parked alongside the building and the taproom will feature a garage door that can open to allow patrons to stay inside to order. The food schedule will vary, offering something new to try almost every week. The brewery has also partnered with neighboring restaurants to offer an abundance of delivery options. The best part? Guests can call in their order at the brewery and have their food delivered straight to them!
Take a beer to-go
Located at the front of the brewery, the to-go window will be open to walk-up customers who are looking to grab a beer and take advantage of the city's open container policy. Package beer and swag will also be available to purchase. There will be an additional serving window located on the outdoor patio side of the brewery for patrons who are spending time out by the fire pits or in the adjoining green space.
Enjoy live music
Music and beer are the perfect combination, so it makes total sense that StillFire will host local bands on its outdoor patio almost every weekend. Local artists can submit their bands for a shot to play at the brewery by visiting stillfirebrewing.com/book-your-band.
B.Y.O.P. (Bring Your Own Pup)
If you are planning for a fun night out, but don't want to leave your pup at home, StillFire is dog-friendly not only outside, but also inside its large taproom. The swag shop will even be stocked with apparel for both you and your four-legged friends!
Book an event
StillFire's event spaces offer an ideal venue for corporate outings, birthdays, holiday parties, and more. From renting out the taproom to hosting an event on the patio and adjoining green space, there are several different options that can be catered to fit your specific needs. You can learn more about booking an event by visiting: stillfirebrewing.com/book-an-event.
Choose to spend time indoors or outdoors
Whether you're looking to spend some time outside or wanting to escape a rainy day, StillFire will serve as a perfect hang-out spot for you and your crew. StillFire will offer an assortment of games both inside and outside the brewery. Nothing beats a nice sunny day playing outdoor games with an ice-cold beer in hand. Grab a friend and play a board game or giant connect four under the outdoor umbrellas or take the party inside for a game of shuffleboard!
---
5 Must-Try Beers at StillFire Brewing
The Fightin' 13
Red IPA
7.13% ABV
To show appreciation for the many men and women who have served the community, StillFire Brewing is dedicating their first beer ever brewed on the property to the Firefighters of Station 13. Titled the "Fightin' 13," this Red IPA honors their service and harkens back to the original craft brewers. A hint of caramel without being sweet makes it red in hue (fire engine red would be crazy), and uses 13 additions of Centennial hops for that classic "C-Hop" pine, resin, and grapefruit.

Thoroughly Good Scotch Ale
Bourbon Barrel Aged Scotch Ale
12.0% ABV
Bringing home a gold medal at the 2019 Can Can Awards, this delicious Scotch Ale is taken to another level from the time it spends on bourbon-soaked toasted white oak. It is everything you could ever ask for in a beer, hops not included. You will spend so much time enjoying the aroma of vanilla, caramel, bourbon, sherry, and dark fruit you might forget to take a sip. The sweet, complex malt will explode on your palate, present a wide array of flavors, and warm your soul. Your experience will confirm that the inspiration was spot on: One Bourbon, One Scotch, One Beer.

Why Georgia Rye
Pale Ale
6.1% ABV
This Pale Ale has a very pleasing orange citrus, floral and pine aroma, and the flavor doesn't disappoint. A delicious balance of malt and spicy rye as well as lemon, orange, and grapefruit citrus reward you from start to a very pleasing finish. As you ponder the next sip, a slight caramel reminder tells you there is more where that came from.
Glory Haze
Hazy IPA
6.9% ABV
A favorite of many Suwanee Beer Fest attendees, this Hazy IPA offers a huge aroma of citrus, passion fruit, guava, and even lime that carries over into an explosion of juicy deliciousness. The aromas and flavors overlay a delicious malt base amplified by the creamy and silky texture that only an addition of oats can deliver. This is still an evolving style, and unlike more traditional IPAs, the bitterness is intentionally subdued and smooth, rather than firm or even biting. If classic IPAs have let you down, this new twist will surprise and delight you!
Orange Diva
Blood Orange Wit
5.3% ABV
This beer is a nod to a classic, starting with the original revival base of white wheat, Pilsner malt, and oats. Curacao orange peel and coriander are lightly added for complexity, and a Belgian yeast completes the profile for a fragrant, delicate, refreshing summer beer. StillFire's twist is the addition of Blood Orange in just the right amount to amplify and add to the delicious orange character in a very pleasant way.