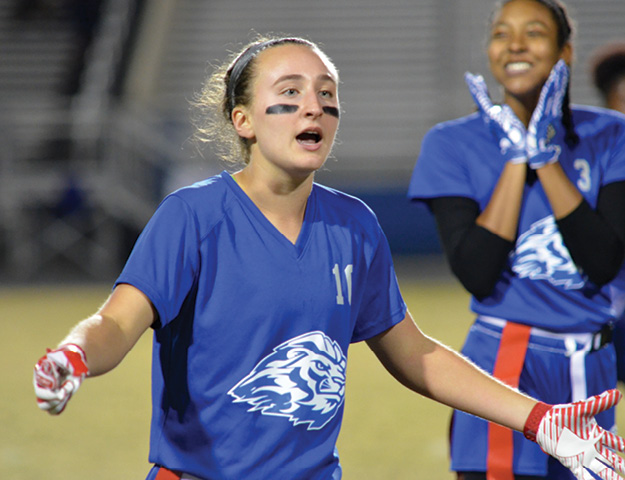 We reached out to local high schools to shine a light on some of the MVPs of their under-the-radar sports and activities.
By: Lizzy James and Madison Coats
Basketball, football, baseball — oh my! These universally known sports tend to dominate conversations surrounding high school extracurriculars, but what about the hundreds of other after-school activities offered at schools in and around Gwinnett County? With the arrival of fall — and with it the inevitable football coverage — we decided to change the game by featuring sports and activities at local high schools that may not be as well known, but are equally worth talking about. We reached out to coaches and sponsors from local high schools to interview them and students of their choice to gain more insight into these off-the-radar activities. From North Gwinnett's Equestrian Club to Peachtree Ridge's championship girls flag football team, we hope you are inspired to take up a new hobby … or at least attend a new event.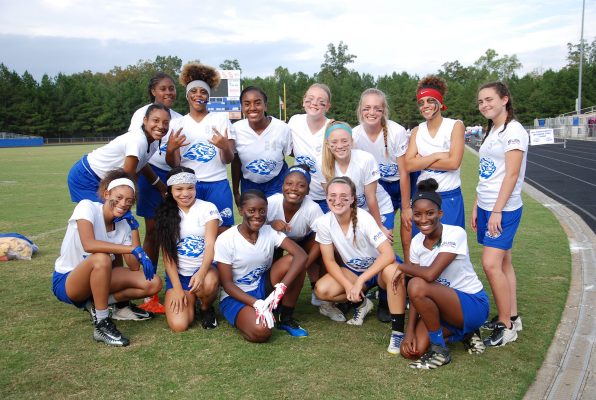 Peachtree Ridge High School Girls Flag Football
Women in sports have always had an uphill battle, but times are changing, and female athletes in Gwinnett County are leading the pack and breaking down gender barriers on the high school football field. Gwinnett County Public Schools announced last year that it would team up with the Atlanta Falcons and the Arthur Blank Foundation to provide a flag football league for female students in their school district. Last fall, the program provided female students the opportunity to participate in what is historically known as a male-dominated sport in an effort to increase their interest in football. Marking the first school district in the state to offer a sponsored female flag football program, Gwinnett County set itself up to be a model for other NFL cities, as well as other groups who wish to lobby the Georgia High School Association to sanction flag football as a sport in Georgia.
"This partnership provides an opportunity for our female students to play flag football," Steve Flynt, GCPS associate superintendent for school improvements and operations said. "The NFL has wanted the opportunity for females to get involved in football in a number of ways in their NFL cities. The Falcons wanted to get out in front of this and wanted Gwinnett County Public Schools to be a part of it."
At the end of last year's successful inaugural season, the girls flag football championship was held at Mercede-Benz Stadium in the form of a final four tournament. Teams from North Gwinnett, Peachtree Ridge, Collins Hill, and Grayson competed to bring home the season's first championship, which marks a historic step forward in the way of local female athletics. In the end, the Peachtree Ridge Lions brought home the 2018 championship title. All of the girls flag football teams of Gwinnett have inspired other counties in the state to petition to get a female flag football league brought to their school, and we're excited by the momentum the sport has gained at home.
We recently had the chance to catch up with head coach, Ashley Douglas, and senior Maddy Bondon about what this experience has meant for the team.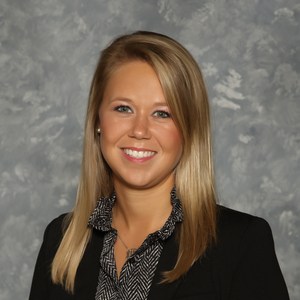 Ashley Douglas, Head Coach
How did the flag football league get started?
Arthur Blank decided that he wanted to fund a female flag football league in Gwinnett County and have it serve as a pilot for other school districts. Right now, it is a club sport that is hosted by the Arthur Blank Foundation and the Atlanta Falcons throughout the season. They wanted a way to get girls involved in football and we all believed this was a great way to reach out to the community and start that.
What made you want to coach girls flag football?
I am one of two girls in my family, and I grew up going to football games with my dad. I then went on to marry a football coach and when this opportunity arose, it was a dream come true. I had the chance to get involved in a sport I loved but was only able to watch from the sidelines before. Once the season began, seeing the girls' passion was something you couldn't help but be drawn to and want to get behind.
How does flag football differ from traditional football?
We only have seven girls on the field at a time. The games are super fast-paced with no time stoppage. There is also no tackling, and the girls are not supposed to do any pushing or be overly physical. The field is shorter and narrower and a lot of specifics, like passing rules, are a little different. The only equipment the girls need is cleats and flags, so there are no pads or helmets.
What was it like winning the inaugural championship?
By the time we got to the final four, everything was still brand-new to all of us, so we weren't really sure what was going to happen. We knew we were going to be playing at the Mercedes-Benz Stadium, and that really amped up the girls. Our first game in the tournament was against Grayson, and they had beat us earlier in the season. When we went on to get redemption, I think the girls realized that they could win this. We played an undefeated North Gwinnett in the final game, and the girls really rallied together to bring home a championship. At the time, Nike was also doing a documentary on girls sports and had been following us throughout the final four. Seeing the positive attention they were getting along with having the support of their friends and family was incredible. Coming home, they just couldn't stop talking about it. They were calling each other and hanging out and they formed such a bond. It really was more than just a championship.
Do you have any stand-out players returning this season?
All of our girls shine in their own way. Maddy Bondon is a returning senior and is committed to Auburn to play soccer. She is one of our girls that plays both offense and defense, and is definitely one to watch. We also have lots of younger girls stepping up into bigger roles so we are really excited to see what this season holds.
What type of goals do you have for this season?
I think the bar has been set so high after last season. The goal is always going to be to defend that title. We want to find girls who can love and support each other because without that nothing is going to be possible. My goal as a coach is to find girls who can be supportive and love each other throughout the process.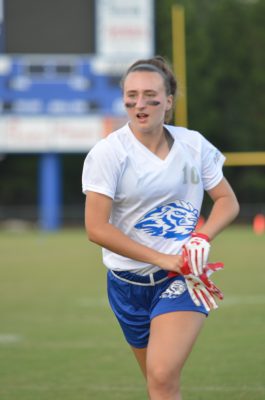 Maddy Bondon, Senior Wide Receiver, Rusher
What made you want to start playing flag football?
I have always been interested in football growing up and I really wanted to be a part of a family-style team. I actually wanted to try out to be a kicker for the boys football team my freshman year, so I was so excited when they announced they were adding a girls team in Gwinnett County.
How did it feel to win the championship game last year?
We knew that if we advanced to the final four we would have the chance to play in the Benz. Our team had gotten really close and our coach had a big emphasis on how we needed to be playing for each other. As the season went on, we became more serious and we never even thought about losing. We went into the championship knowing that we were going to play our hearts out and win no matter what. We are a diverse team and for us to come together and win something so significant was pretty insane. It was incredible to bring home a championship in a brand-new sport.
How do you feel about playing a traditionally male sport?
It has been amazing. You watch all these girls do well in other sports like track, lacrosse, soccer, cheerleading, etc., and here we are now playing a traditionally male sport and excelling at it. It proves to not only ourselves, but for other women as well that we can do anything guys can do.
What advice do you have for other girls who may be on the fence about participating?
I would say definitely go for it and strive to accomplish your goals. Prove to yourself you aren't who everyone defines you as. A group of girls can do what they want to do when it comes to athletics. You just have to get out there and take a risk, because without that risk there are no rewards.
---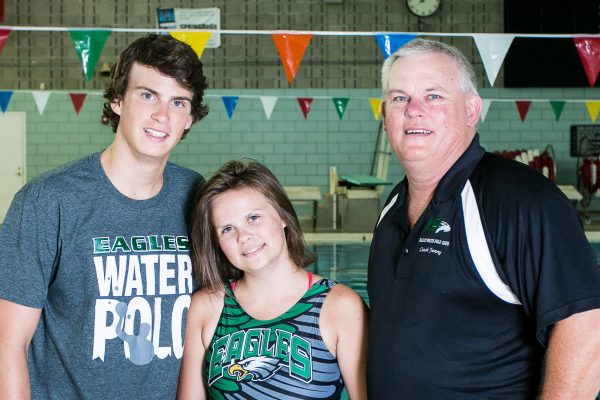 Collin's Hill High School / Water Polo
Georgia High School water polo had a slow start in popularity, but has since grown exponentially. Over the last 14 years, it has become a recognized club sport in many high schools.
We caught up with Paul Jenny Jr., head coach of Collins Hill's boys water polo team, along with senior player Hunter Hall to learn more about the sport and the team's upcoming season.
Paul Jenny Jr., Head Coach
Tell us a little about the game of water polo.
Water polo is a fast-paced game played in an all-deep pool. It is kind of a cross between swimming, soccer, and wrestling. There are six field players and a goalie in the pool at a time for each team and only the goalie is allowed to have both hands on the ball at once. In Georgia we play four seven-minute quarters, each quarter is started by a swim-off for the ball, which is basically a race from each side of the pool to see which team can get to the ball first and pass it to another player.
How long have you been coaching and why did you decide to coach this group?
I moved to Atlanta in 2010 from Florida, and I spent that season going to a couple of games to see what the competition was like and how each team was coached. I went to several games and each time Collins Hill was playing I had parents telling me hello and asking me questions about myself and my family. They even went over to get Coach Jenny Weaver to come talk to me when they found out I had a son moving up the next year. They showed that they had a family atmosphere and that's why we chose to play for them. I started out the 2011 season taking stats for the team, then in 2012 I offered to help Brian Collins, head coach at the time, as an assistant coach. In 2015 Brian moved to California and I was asked to take over. Since 2010, our two teams have grown into five (Girls A & B, Boys A, B, & C), yet the family atmosphere still exists.
How do you prepare your team for games?
The biggest thing we need to do as coaches for water polo is make sure the team is in great condition. Standing or hanging on the wall in the games is not allowed, so you have to be ready to swim. I spend my off time going to clinics and camps, and watching videos to learn new drills that I can use to teach my team. I've also been known to go scout upcoming opponents to see what we need to do defensively to shut down their best player or play. One of the biggest things I tell my team at practice is that I can give them the tools, but they are in the pool without me when it is game time and they need to know when to use what tool based on what the opponent is trying to do.
Is there a try-out process students have to go through?
No, we do not have tryouts or cuts like a high school team would, however, we do use practices to assess which team the students will be on. Anyone in middle and high school who is interested in playing is more than welcome to hop in the pool with us and try it out once or twice. I also do youth classes in the spring at CHAC for 10- to 14-year-old kids who want to come and try the sport. These classes are three to four weeks long and give you an overview of the game. We have had several players move right from these classes to the club team.
Hunter Hall, Senior Driver
What made you start playing water polo?
I started competitively swimming when I was 9 and a lot of my older friends on the team played water polo. I thought water polo was a very unique sport that would challenge me.
What does a typical day of practice look like?
Our practices are two hours long. The first hour we do very intense conditioning, focusing on our legs, then we do passing and shooting drills for the last hour. I have played nearly every sport and water polo practice is by far the most challenging.
What gear do you have to bring with you daily?
One of my favorite things about water polo is that all I have to bring is a swimsuit and a towel. Balls and caps are provided to us at practices and games.
What does a normal game look like?
We typically have two to four games every weekend, each one consists of four seven-minute quarters. The gameplay is most similar to soccer with the constant movement and passing, but it is far more physical underwater where the referees can't see.
What has your experience on this team taught you?
It has taught me that I have to be dedicated, how to overcome adversity, how to be a team player, and how to handle pressure. These are traits that I will carry with me for the rest of my life.
---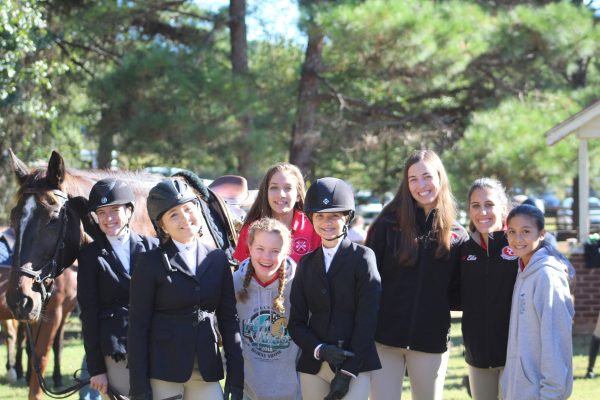 North Gwinnett High School / Equestrian Team
North Gwinnett High School students in grades 9-12 can pursue their love for horses by joining the equestrian team. From learning the proper care of their horses to correct form, jumping and a variety of exercises, students get hands-on experience and foster a lifelong love of not only the sport, but also of the majestic animals.
We met up with the North Gwinnett Equestrian Team's head coach, Sarah Dubois, and senior rider Claire Matheny to learn more about the dedication and care it takes to be a part of the team.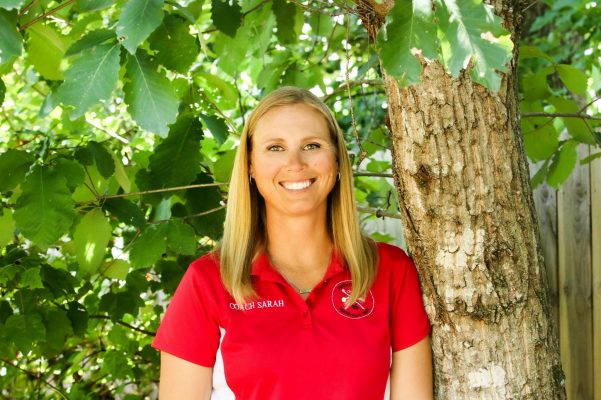 Sarah DuBois, Head Coach
Tell us a little about the equestrian club and why you decided to coach this team.
I actually hosted the team when it first began in 2006, but over the years I branched out on my own. Three years ago, the team at NGHS came to me and asked me to coach and I gladly accepted. Riders who join the club are required to ride with me one day a week. The lessons usually last an hour, and our competitions are through the IEA association, in which we compete against other high schools and teams within the country.
Where do students practice riding? Do they own their own horses or does the club provide them?
The students come to my break-away training arena at WindCrest Farms in Gainesville for practices. We provide all of the lesson horses as well as the horses they compete on. At the shows, riders draw for their horses, meaning they usually go into a competition not knowing which horse they are going to ride. The goal is to make it look like you've ridden this horse before, even if you haven't. We offer both jumping and flat classes, and the riders are being judged on proper riding technique — heels down, shoulders back, hands correct, etc.
How many students are currently on the team?
We currently have 11 students competing with us. Our season starts Sept. 1 and nationals take place the end of April, so we ride pretty much the entire school year.
Are there any opportunities after high school for your students to continue riding and competing?
A lot of colleges offer both varsity and club equestrian teams. Varsity teams recruit and offer scholarships while most clubs do tryouts on campus.
What would you say to a student who is considering joining?
You need to have experience in riding, and make sure you know how to walk, trot and canter on your own. It is a very expensive sport so it is important that you stay committed to your sessions and your team.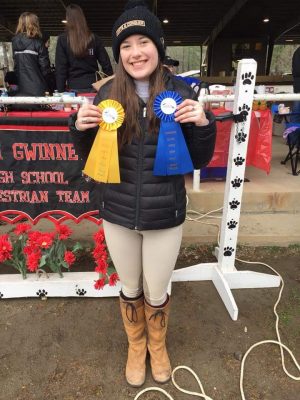 Claire Matheny, Senior Team Captain
What does a typical day of practice look like?
A typical ride requires you to be at the barn around 30 minutes before your scheduled lesson to brush off your horse, tack up, and prepare yourself with boots and your helmet. Once getting on, we warm up with the horse by walking, trotting, and cantering around with guidance from our instructor, Sarah. There are many different exercises you can perform during this time — you can do figure eights with different gaits, work on equitation (the perfect and most effective positioning of your body), etc. After warming up, it is typical to begin jumping. Usually, this starts with just one or two jumps, and as the lesson moves forward the jumps can increase in height and different courses (a combination of jumps to be memorized in a certain pattern and performed) can be set up. After the successful completion of a few courses and the satisfaction from Sarah and myself, we make sure to cool down the horses by walking multiple laps to ensure they remain healthy and properly taken care of.
What made you interested in joining the Equestrian Club?
My mother always rode and I grew up riding. Once I started middle school, I was made aware of the middle school team and was excited to join and take my riding into a team setting. Riding can be a very competitive and cut-throat sport, but getting to experience competitions with friends really adds another layer of teamwork. At our competitions, we not only get individually judged, but our team acquires points, and at the end of the day, teams are awarded placings based on how well our riders competed. Getting to ride for a team is one of the main reasons I joined and continues to bring such pleasure to competitions.
What does a normal event look like?
In our circuit, IEA (Interscholastic Equestrian Association), riding usually begins at 9 a.m., but our team arrives to the venue at about 6:30 a.m. to check on the horses, warm them up, and walk the course with our trainer before we compete. Before any riding begins, the administrative staff at the shows randomly assigns riders with horses in a "luck of the draw" scenario. A typical competition day consists of holding, tacking up, and warming up more horses, along with supporting and cheering on your own teammates when they go in the ring. Once judging is concluded, my team loads the trailer with the tack and feed that we brought, and finally we load the horses. My trainer brings the horses back to the barn and my team takes a photo and heads home typically around 4-6 p.m.
What has your experience in this club taught you?
This club has taught me so much about teamwork and what it means to be a friend, competitor, and leader. Getting to work with my friends toward a common goal while also competing as individuals has taught me the trust and friendship that comes along with team sports.
---

Lanier High School / Drama Club
Celebrating its 10th year, the Lanier High School Drama Club offers students an opportunity to explore their creativity and learn about the world of theater outside of school. In fact, Lanier's drama club is so much more than acting techniques — the club gathers together off the stage, too, by going to see productions, holding workshops, and even participating in community service.
We had the chance to talk to members of the club, as well as the club's sponsor, Teri Lance, to learn more about why so many students love theater and the community built around it.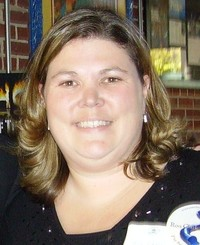 Teri Lance, Club Sponsor
Tell us a little about the drama club and why you decided to be a sponsor.
At Lanier, there wasn't a way for students to get involved in theater unless they took the theater class at school. Drama club was created for students who love theater and want to participate in it in some way outside of the classroom. The club goes to see shows, holds workshops, and participates in family activities like Friendsgiving, as well as doing community service. I wanted to sponsor because I wanted to give students who are not in a drama class the opportunity to explore the world of theater.
How often does the club meet?
The club meets every third Tuesday of the month. Students who are interested in joining the club simply scan the QR code that can be found throughout the theater and then show up at a Tuesday meeting. We participate in things like movie nights, fine arts tailgates, and even go see other school's productions. The club also holds a fall play and a spring musical that's open to the whole school.
What would you say to a student who is considering joining the club?
The club is all about having fun while doing something that you love. A lot of times students can be scared to join because they think they have to be in a show, but this club is about experiencing theater in other ways.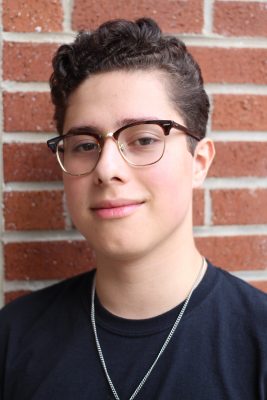 Will Tyson, Senior Club President
What made you want to join the drama club?
I heard about drama club when I got to high school and decided to attend a few meetings during my sophomore year. By my junior year, I had fallen in love with the club and decided to become a member. Here I am today as president of the drama club!
What does getting ready for a show entail?
We have an audition process that we go through with each of our shows. This year we are trying to host more and more auditions in an effort to teach everyone about the audition process because it is an essential part of theater. If we have choreography involved in the shows, we usually have a choreographer come in and teach the students who are auditioning. We usually do callbacks and then once we officially cast a show we read through scripts with Mrs. Lance, the cast, and the tech team. Then it is just rehearsals all the way up to showtime!