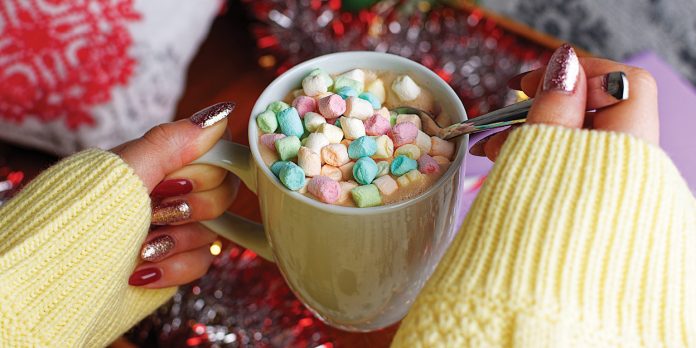 The month of February brings one of Hallmark's most popular (and arguably lucrative) holidays: Valentine's Day. The great debate between those struck with Cupid's arrow and those who don't believe in flower bouquets or assorted chocolates… some people love it, while others love to hate it. Whether you're falling in or out of love with this established day of expression, I'm here to highlight a twist on your celebration by introducing Galentine's Day.
By Natalie Garrett
You've probably heard of this, but Galentine's Day is another excuse to do something special with your closest girl gang. My sister-in-law hosts this every year and it's always a night to remember. From friends and cousins to neighbors and aunts, the gals gather to get all dolled up, take fun photos, and enjoy dinner reservations at the chosen restaurant of the year. Some of us are single, others are married, and a few aren't even old enough to date, which makes it even more meaningful by offering an evening affair that's welcoming for anyone to attend.
Think of all the fun things you could do without having to go anywhere at all. Who doesn't love a girls' night in?! Check out these six Galentine's Day party themes and see which one fits your bestie group the best:
Cocoa & Candles
February in Georgia is inevitably one of the coldest (if not THE coldest) months of the year. This makes sipping on hot chocolate and cozying up near a heavenly candle a highly desirable wintertime activity. A cocoa bar is always a crowd pleaser, and don't forget to load it up with toppings: marshmallows (obviously); white, milk or dark chocolate chips; crushed peppermint or candy canes; sprinkles; caramel cubes; and whipped cream. Then, top off the festivities with a candle swap! Similar to playing White Elephant at Christmas, everyone can bring a candle for exchanging (and stealing if the game gets juicy!).
Tour of Napa
This is another activity that's popular among our get-togethers. Everyone brings a bottle of wine that they haven't tried before — anything that jumps out to them from the shelf — along with whatever cheese looks appetizing at the deli. We sit around the dining table and begin tasting one at a time, discussing what we like and don't like, and what cheeses end up pairing well with our assortment of vino. We often walk away with a yummy new recommendation, and of course plenty of fellowship.
Game Night
This one is solely up to your discretion, but don't assume you're ever too old to play games. It's not only acceptable, but completely encouraged to break out some classic board games that make you nostalgic for the good ole days (LIFE, anyone?). If your crew is more of the competitive and confident kind, trivia is always a true test to call someone's bluff and opens up a plethora of categories. The self- disciplined folks who are up for a challenge could try their hand at mastering an unfamiliar game like Chess, or a mind-boggling venture such as an at-home Escape Room (pro tip: order a pre-made kit!). Or, if a streak of gambling spirit lights your fire — a casino night full of poker or blackjack might be more your speed.
Pizza & Pajamas
Honestly, what's more comforting than losing count of your slices while snuggled up in your comfiest jammies? If you can make it an overnight event, take advantage of a slumber party! This is the opportunity many are looking for… a reason to wind (or "wine") down and see where the night takes you.
Crafts & Cookies
Cookies are such a versatile sweet treat fitting for any occasion. With the endless culinary creativity of flavors, an array of cookies could very quickly come together if everyone brings a different type. Calories don't count on holidays, amirite? Pairing this guilty pleasure with a craft means your party just took it to the next level by creating a unique keepsake. This could be a group canvas painting, jewelry, home accents like coasters or table centerpieces, wooden signs, or floral arrangements. Pinterest will be your go-to resource that has an idea suitable for any style or preference!
Drop-In Pancake Brunch
Realistically, we all know how difficult it can be to pin down your crowd throughout all of the hustle and bustle life brings. If you only have a limited time slot, make it a drop-in style meal convenient for guests to visit for a shorter period of time. By having something like a pancake brunch, everyone can swing by as their schedule allows, just to say hello. With a variety of toppings like chocolate chips, strawberries and blueberries, whipped cream, sprinkles, syrups, powdered sugar, and Nutella, this is a flexible way to let each person prepare their own plate as they wish.
However you choose to spend your Galentine's or Valentine's Day, find what motivates you and make the most of it. Chances are, someone around you craves quality time with you — whether it's your long-lost gal pal or romantic significant other — so expound on the idea of turning it into an experience. You just might surprise yourself!
---
Make Cotton Candy Cocktails
If there was ever the perfect occasion for a cotton candy cocktail, it's now! No matter how you spend it, Galentine's Day isn't complete without this irresistibly adorable beverage.
Directions: Moisten the rim of a champagne flute with water. Twist the glass around in sprinkles to coat the rim. Fill the flute with pink cotton candy, then fill with champagne so the cotton candy melts into the liquid and gives it a pink hue. Top off the drink with another piece of cotton candy. Voila!
NOTE: To make it a mocktail, try a non- alcoholic spritzer such as club soda or Sprite.