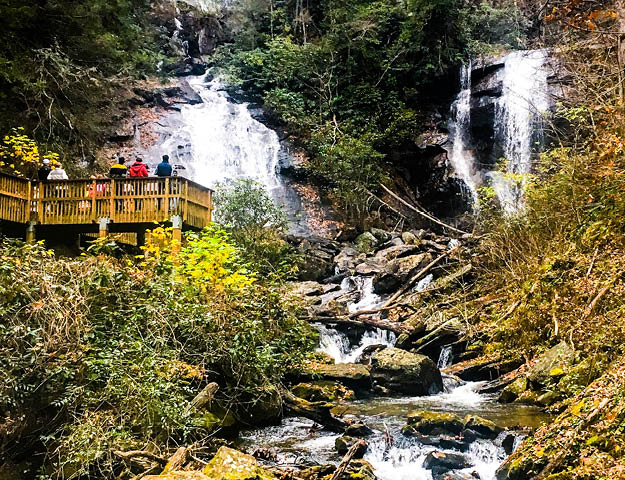 We're lucky to live in a state that's home to both sandy beaches and gorgeous mountains – with a lot of fun to be had in between! The summer months are the perfect time to hop in the car for a short road trip to take advantage of all of the exciting things the Peach State has to offer.
By: Lizzy Kidney
From indulging in the best Georgia barbecue and witnessing wild horses to braving an 80-foot-high suspension bridge, we've highlighted 10 fun things to do this summer right here in the great state of Georgia!
VOGEL STATE PARK
A HIDDEN GEM located at the base of Blood Mountain in the Chattahoochee National Forest, Vogel State Park makes for a perfect weekend retreat. Whether you bring your own tent or RV, or rent an on-site cottage, this 233-acre camping scene is a one-stop-shop for outdoor adventure. With an assortment of lake activities including fishing, paddling, and kayaking; a range of trails to fit a beginning or advanced hiker; and a playground and miniature golf course to keep the kids busy, summer fun (and views!) in the North Georgia mountains are hard to beat. gastateparks.org/Vogel
DRIFTWOOD BEACH ON JEKYLL ISLAND
JEKYLL ISLAND HAS many hidden treasures, including what many refer to as the "Tree Graveyard." With miles of incredibly shaped trees, Driftwood Beach is the perfect setting to enjoy a family picnic and let the kids explore. It also serves as an ideal backdrop for any picture! jekyllisland.com/activities/driftwood-beach
SOUTHERN SOUL BARBEQUE ON ST. SIMONS ISLAND
AFTER RELAXING on the beach all day, take the family to eat at Southern Soul, which Southern Living Magazine crowned the Best BBQ in the South in 2018. We suggest ordering up a big plate of pulled pork with a side of old-fashioned potato salad and Southern fried okra.
Located at: 2020 Demere Road St. Simons Island.
ANNA RUBY FALLS IN HELEN
LOOKING FOR A FUN outdoor adventure? Take the dog and family to hike North Georgia's Anna Ruby Falls Trail near Unicoi State Park. The half-mile hike follows a paved trail that ends with two twin waterfalls plunging more than 150 feet!
atlantatrails.com/hiking-trails/anna-ruby-falls-trail
OLDEST BOAT COASTER IN THE U.S. AT LAKE WINNIE
WITH UNLIMITED ride bands starting at only $25, the Lake Winnepesaukah amusement and water park is a fun and inexpensive day out for the family, where visitors can enjoy the thrill of amusement rides or cool off from the Georgia heat on one of their waterslides. Guests can leave the park saying they rode the Boat Chute, the oldest boat coaster in the United States!
TALLULAH GORGE'S SUSPENSION BRIDGE
EXPLORE TALLULAH GORGE State Park in Rabun County by hiking the nearly 2,689 acres that surround six different waterfalls. Connect with your inner thrill-seeker and venture out across the suspension bridge that hangs 80 feet above the gorge. Trust us, the breathtaking views are worth it!
gastateparks.org/TallulahGorge
HISTORIC BLUE RIDGE RAILWAY
WANT TO EXPLORE the Blue Ridge Mountains, but hiking isn't your thing? Climb aboard the Blue Ridge Railway for a 26-mile round trip train ride stretching from the historic depot in the town of Blue Ridge all the way to McCayseville, Georgia, and Copperhill, Tennessee. Take in views of the Toccoa River and Chattahoochee National Forest from vintage, climate-controlled or open-air rail cars.
CUMBERLAND ISLAND
TAKE THE FERRY to Cumberland Island, Georgia's largest barrier island, and experience a rare private, non-commercialized oasis! Check out Carnegie Mansion and most importantly, witness nearly 200 wild horses roaming freely throughout the island.
GEORGIA'S "LITTLE GRAND CANYON" IN LUMPKIN
KNOWN AS ONE of the Natural Wonders in Georgia, Lumpkin's Providence Canyon looks like a miniature version of the real Grand Canyon. Visitors can snap pictures in front of the fantastic orange, purple, pink, and red colors that line the canyon. In addition to the Instagram-worthy backdrop, Providence Canyon is also a great place for hikes, camping and climbing.
gastateparks.org/ProvidenceCanyon
ROBIN'S LAKE AT CALLAWAY GARDENS
CALLAWAY'S 14,000-ACRE landscape on Pine Mountain is perfect for a romantic getaway or a fun family day trip. After strolling through the gardens, end the day at Robin's Lake, the largest man-made beach in Georgia, with water skiing, tubing, and the action-packed Aqua Island. callawaygardens.com
Did we miss your favorite spot for a Georgia road trip? Let us know on our Facebook page! Facebook.com/suwaneemagazine.