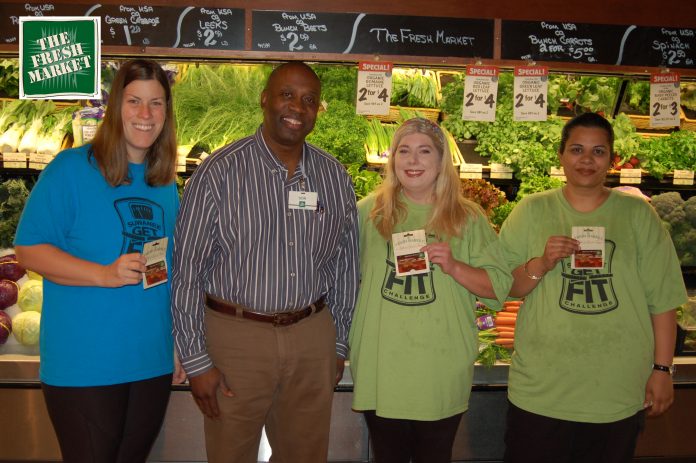 It is two months into the "Get Fit Suwanee" competition and contestants are going strong. Having had the pleasure of spending time with all of the contestants, I am very proud of their progress. This is not easy and they are all working very hard. Everyone has their struggles, but the important thing is to keep moving in the right direction, and they are.
All of the contestants have met with Dr. Curtis Pierce at Apex Healthcare located next to Gold's Gym in Suwanee/Sugar Hill for health evaluations. Ap
ex performed physicals on the contestants to be sure the trainers were made aware of any physical limitations and had some of the contestants attend nutritional workshops that they offer for free on Saturdays. Apex and Pierce will be monitoring the contestants' progress and tracking noted changes in overall health as the challenge progresses.
Divya Desai, working out with Go Performance and Gold's Gym, is leading the pack with a total of 33 lbs. lost!
Desai along with contestant Michelle McShane meet with Ronnie Collins of GoPerformance on a regular basis. Collins also develops meal plans for them based on the foods they like to eat and took the contestants grocery shopping to show them what to buy and where to find it. In addition, Fresh Market of Suwanee provided all the contestants with $100 gift cards to purchase fresh produce and meats for their meal plans.
"The key is to stick to the perimeter of the grocery store," Collins said. "That is where your fruits, veggies and meats are all located."
The good advice seems to be paying off. Desai and McShane both attend workouts with a GoPerformance trainer twice per week and participate in the GoPerformance group classes as well as the classes Gold's Gym offers. Desai said her favorites include Gold's Zumba and Kick classes.
Steve Putman of B.L.A.S.T. Fitness Institute is training Get Fit Challenger, Ginny Wurttemberg. With 4 year-old triplets and working nights as a nurse midwife, Wurttemberg's schedule is challenging, but she still managed to complete a half marathon on April 21. And Wurttemberg said she loves the work outs with Putman, who has a boot camp program and is known for training top athletes.
Contestants Erika Beckwith and Bill King are working out with Jake and Levi at Fit Forward Boot Camp where the boot camps focus on core strength and are a great full body workout. Both Beckwith and King said classes are fun and intense…Okay, intense may be an understatement. Be sure to read Erika and Bill's blogs for a regular update on just how intense they are.
We asked each contestant their biggest challenges of the competition and their biggest accomplishments. The following are their answers and where each is at on their journey to "GET FIT"…
Bill King

Biggest Challenge: My biggest challenge has been food. I am from the South, and here, maybe as it is most places, it is a gesture of
hospitality from the host and a confirming gesture of trust to eat food that is offered when you are a guest. I almost feel rude if I do not sample something if the host offers it. The challenge is to only have enough to be social and make everyone else comfortable. I am the one on a restricted diet…I cannot make everyone else feel guilty because I cannot eat like I want to. I am constantly tempted with great food.  Birthday parties, business lunches, business dinners, social drinking.  My family is very active and my job requires a lot of external interaction that is often centered around food or drinks.
Biggest Accomplishment: Getting up on the days when I have a workout scheduled. Every day that I accomplish this seemingly minor feat, I feel powerful and in charge of my life.  I have two choices….I can make excuses, and they are plentiful, or I can succeed. Once I commit to that effort the rest of the day feels easy. On the days that I have 'slept in,' I felt a sense of loss and failure and my day is tainted. The days I get up, make the conscious decision to go to the gym and get it done, I am reassured that I can do this. I can control my body, my body does NOT control me. Yes I will get hungry and irritable. Yes I am in pain. But I am in charge. I will lose this extra weight, I will get fit!  I will live up to my potential!
Divya Desai

Biggest Challenge: Time…Having two small kids, it's hard to manage their schedule along with mine! I feel if I skip one day on my exercise and GoLean Nutrition plan, then that day just feels less productive.
Biggest Accomplishment: "I feel I have more energy, I am happier, and I am not scared to try something new. The biggest accomplishment is that I can finally look at myself in the mirror and know hard work does pay off.
Erika Beckwith
Biggest Challenge: Not eating enough food. I have been good when it comes to eating the 'right' foods but have really been having a difficult time making sure I eat five times a day.  It's those two snacks in between breakfast and lunch that are hard for me, especially when I don't feel hungry.
Biggest Accomplishment: Getting on a true workout schedule.  I have been able to make it to see Jake and Levi at Fit Forward
at least four times a week which is a major accomplishment.
Michelle McShane
Biggest Challenge:  The battle of convenience eating,. I've always been one to drive through drive-thru's or to heat something up real quick. I've always got a 
lot to do and cooking and preparation have never been in the equation. The way I have overcome this is by cooking my GoLean meals ahead of time. For example, I might cook a whole batch of chicken strips on Sunday, portion them out properly and bag them up and stick
them in the freezer. Then I take them out when I'm ready for a meal and bam! Throw the extras with it and I've got lunch in less than five minutes! This has been great because even though it is still convenient, I'm not driving through a drive-thru, ordering pizza, or Chinese take-out. It really has been a hard habit to break though. It's the number one habit that I believe has contributed to my 14 year weight battle, but I'm trying and improving every week.
Biggest Accomplishment: Now, the greatest part of this challenge so far has been working with GoPerformance and Gold's Gym, I have received such great guidance and encouragement from the people at GoPerformance. The people are fun and energetic, but at the same time they will keep you accountable and that's what I need! When I've had those 'bad days,' which most everyone has when undergoing a lifestyle change as big as this, Ronnie and my personal trainer Dustin always leave me feeling encouraged instead of feeling like a scorned puppy. The encouragement has kept me motivated to give it that little extra push to pick it up and reach my goals. Also, the people at Gold's have been extremely helpful. Another encouraging thing about this gym is that there are people of all ages and all fitness levels. It's not intimidating at all. In fact, I just sat down with Jauxniece for a little while the other day to discuss my goals, how to achieve them and we discussed plans to get the family active too! As an aside, the one thing that makes me smile every time I walk into the gym is the sign right by the front door which reads, "Showing up is half the battle." Reading the sign makes me feel that I've already done something great before I've even walked in the door.
Ginny Wurttemberg
Biggest Challenge: I've been so frustrated with the scale knowing I'm eating right. That has been tough.  However my clothes and the inches 
I've lost are very encouraging.
Biggest Accomplishment: The thing I am most proud of is finishing my (Zooma Women's) half marathon. The second thing is, I have not given up. I have to remind myself that things I want to happen may not come easy, but with perseverance, I will succeed!