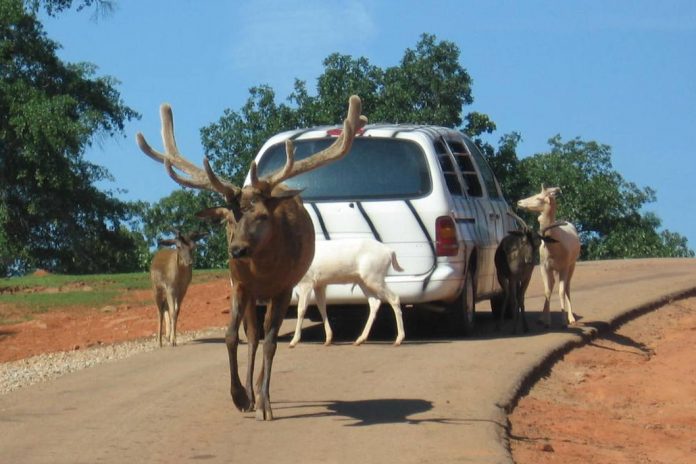 Summer is almost upon us! There is so much to see and do in the Atlanta area. Our Summer Adventure Guide highlights some hot spots you won't want to miss. From a tour of the city by helicopter to a Wild Animal Safari to a trail ride in the beautiful North Georgia mountains, these adventures are sure to make memories that last a lifetime.
So, load up the whole family and make a day of it, or spend some quality time for a few hours. All of these adventures can be done in one day or less!
North Atlanta Executive Air | 404-580-6798

Jannamaresco@aol.com
www.atlantaheli.com
Want to create a memory that lasts a lifetime? A private helicopter tour is the perfect answer. North Atlanta Executive Air has a wide variety of helicopter services from custom helicopter tours to commercial services for the discriminating customer. They strive to meet all of your air transportation needs. If you dream it, we can fly it – from a breathtaking tour of beautiful Lake Lanier, flights to Chateau Elan for wine tasting or a jaw-dropping tour of Atlanta. All flights are in a luxurious 4 passenger, turbine engine Bell Long Ranger. Give them a fly!
Gwinnett Braves Game | 678-277-0300
Gwinnettbraves.com
Fun for the family, corporate outings and more, going to see a Gwinnett Braves game makes for a great summer adventure! Better yet, get season tickets! Check out the website for promotional nights.
Sky Zone | 678-745-9900 | 560 Old Peachtree Rd. NW • Suwanee, GA 30024

atlanta.skyzonesports.com
Fun for all ages, Sky Zone indoor trampoline park is a great spot to get a workout while having fun! Enjoy open jump, 3-D Dodgeball or SkyRobics.
Movie Tavern | 678-730-6900 | 2855 Lawrenceville-Suwanee Road • Suwanee, GA 30024
Enjoy dinner, drinks and a movie at Movie Tavern, recently open in Suwanee! The venue includes nine screens and a full bar.
Adventure Trail Rides | 706-258-BARN (2276)

We are on Facebook – Adventure Trail Rides, Blue Ridge, GA and on the web adventuretrailrides.com
Adventure Trail Rides offers horseback riding adventures for first time riders through experienced wranglers. They can accomodate children that are seven years-old or older. Their trails offer beautiful views of the Blue Ridge Mountains and countryside. Located in the beautiful Cashes Valley the guides will lead you to mountain views of Georgia, Tennessee and North Carolina all in one spot! Ask about the romantic Sunset rides and private rides. They also offer the most unique horseback ride in Georgia: The Fairy Cross ride is a horseback ride and treasure hunt of sorts all combined into one adventure!
Southeastern Railroad Museum | 770-476-2013 | www.srmduluth.org
Summer Camp 2012 Railroads 'Round the World'
Discover the excitement of railroading at the 2012 Southeastern Railway Museum Summer Camp! Your child will learn about different railroads from all around the world while exploring more than 50 historic trains. Each day campers learn about rail lines running through
different countries, make a railroad craft, and do related railroad activities. They will even ride in a real caboose!
$165 per child- includes a snack each day. An early bird discount of $20 per child applies to registrations received before May 18, 2012.
Daily activities include: Crafts • Activities • Learning time Music • Story time • Snack
During the week, your child willexplore trains from the past and present, from every part of the world:Monday: Japan MagLev & Bullet Trains, Tuesday :United States Transcontinental Railroad, Wednesday: Europe & Asia Orient Express & Trans-Siberian Railway, Thursday : Africa Blue Train and Pride of Africa, Friday : Modern Europe Eurostar & TGV
Your child will never forget summer camp at the Southeastern Railway Museum!
Wild Animal Safari | 706-663-8744 | 1300 Oak Grove Road • Pine Mountain, GA 31822

www.animalsafari.com/Georgia
Wild Animal Safari is the perfect family destination, where you get to see exotic, wild animals from your vehicle or on our guided bus tour, led by an experienced tour guide. There is also have a walk through section where you can take a stroll and hand feed a variety of friendly animals. Wild Animal Safari is home to 65 different animal species – that adds up to more than 650 animals for you to experience up close and personal! Check out their website for information on prices and group tours! It's a great time to have a safari!
Southern Cross Guest Ranch | 706-342-8027 | 1670 Bethany Church Road Madison, GA 30650
www.southcross.com (Just an hour's drive from Atlanta)

The Southern Cross Guest Ranch is a premier guest ranch and horse farm nestled in historic Madison, Georgia that is home to more than 200 horses. The ranch is known for its exceptional hands-on horseback riding program (day riders welcome!), unguided riding opportunities, and a peaceful, comfortable setting. Enjoy the delightful accommodations, exceptional cuisine, and southern hospitality. The All-Inclusive Plan includes horseback riding (twice daily), all meals, lodging, unlimited nonalcoholic beverages, unlimited snacks and desserts, use of mountain bikes, pool, hot tub, and game room privileges. Read through their excellent reviews at tripadvisor.com.