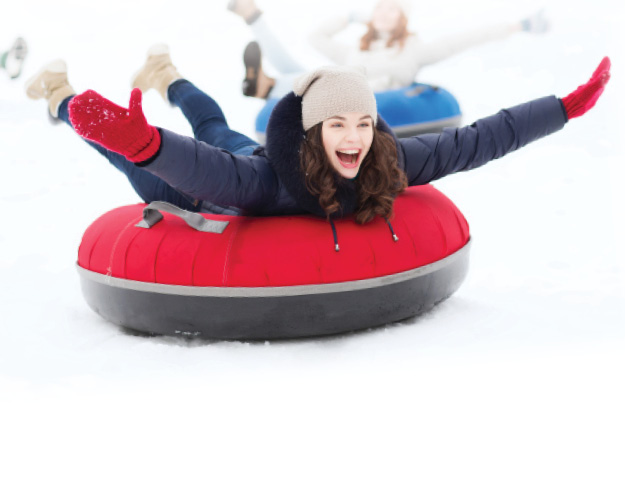 License To Chill Snow Island brings a slice of island life to the 'burbs this holiday season with an all-new winter wonderland.
By: Alicia Carter
How'd you like to spend Christmas on Christmas Island? While most of us dream of a white Christmas filled with snow angels, mistletoe and hot cocoa, Jimmy Buffett had a decidedly different vision of the holidays, where coconuts, ocean views, and other tropical delights steal the show. And who could blame him? Here in Georgia we know what it's like to spend Christmas sans snow. And although we may not have the palm trees and sea breezes Buffett lovingly croons about in his songs, we can still experience a slice of island life this holiday season thanks to a new attraction opening at Margaritaville at Lanier Islands in November.
Safe Harbor Development LLC, who partnered with Lanier Islands to open Margaritaville in May, recently announced a $3.5 million investment that will include the arrival of License to Chill Snow Island. The holiday attraction weaves traditional holiday revelry with maritime flourishes and features a smorgasbord of activities for the family, including winter-themed carnival rides, an ice-skating rink, snow play areas, fire pit s'mores, a Santa photo op beneath the Fin Dunker, and specialty winter drinks at Landshark Landing. According to Safe Harbor, the star of the island is the all-new snow tubing hill, which has been marketed as the fastest in North America.
"We can't wait to debut this unique, island-inspired winter wonderland at Margaritaville at Lanier Islands," said Darby Campbell, President of Safe Harbor Development LLC. "We're giving new meaning to 'chill out' with some exciting new attractions and look forward to seeing Margaritaville at Lanier Islands become a true year-round destination."
License to Chill Snow Island is set against the backdrop of the twinkling lights of Lanier's original holiday spectacle, Magical Nights of Lights. This year the beloved annual lights display has received a bit of a facelift with the addition of an extra mile of lights and 19 new displays, some of which will be Margaritaville-themed like the "It's 5 O'clock Somewhere" clock. Classic favorites such as the "12 Days of Christmas" will also make their return.
Opening November 16, License to Chill Snow Island and Magical Nights of Lights usher in the best time of year while also offering a taste of Buffett's interpretation of yuletide cheer. If you've ever wanted to catch a glimpse of Christmas Island, load up the family and take a trip to Lanier Islands for a new take on the holiday tradition. Don't you want to stay here all season?