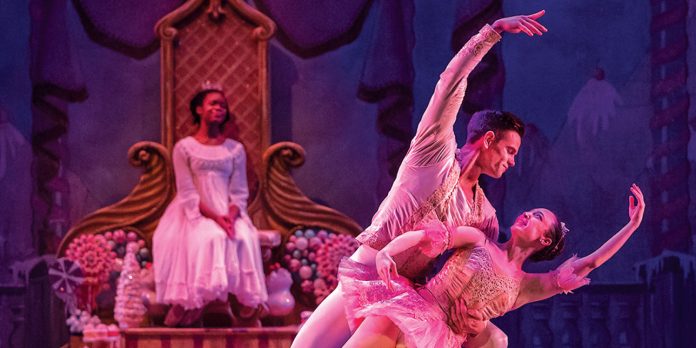 Photos by Richard Calmes
It's that time of the year again. It's time for snowflakes, mouse kings, nutcrackers, and sugarplum fairies to capture the thoughts of a new generation. For the last 77 years, audiences around the country have been captivated by the full-length holiday classic of The Nutcracker. During 39 of these 77 years, audiences in Gwinnett County have been delighted and entertained by Gwinnett Ballet Theatre's production of The Nutcracker. This year, GBT is celebrating its 40th year of performing The Nutcracker. With its vibrant characters and childhood wonder, The Nutcracker has become one of the most popular ballets in the world.
To celebrate the milestone, Gwinnett Ballet Theatre is planning several special activities and events to make this season's production extraordinary. This year, GBT is bringing back its Celebrity Mother Gingers where local leaders and public servants are challenged to wow the crowd with their interpretive performance of this larger-than-life character. There will also be a special alumni reception and performance for GBT dancers from prior decades to get together and reminisce about their moments of fame. GBT will offer several school shows to give students an exciting field trip and an opportunity to learn about the theater and the arts. In addition, GBT will perform a sensory-friendly show for those easily startled or new to the theater.
Gwinnett Ballet Theatre was founded in 1977 by Lynn Snipes and was the first performing arts non-profit company in Gwinnett County. Over the years that followed, GBT was led by many talented artistic directors. In 2020, Lori Zamzow-Wire, the current GBT Artistic Director, transformed GBT into a professional ballet company with paid dancers and full-season contracts. "Gwinnett has produced many professional dancers who have had no other option but to move out of the county to pursue their passion for dance. Now the professional company of GBT is drawing that talent back and bringing new talent to Gwinnett County," says Lori Zamzow-Wire.
In fact, this year GBT received several hundred applications and audition inquiries from across the nation and around the world to join the professional company. The Gwinnett Ballet Theatre is based at the Sugarloaf Performing Arts Center in Suwanee. It is the largest location for dance instruction in Gwinnett County and features a dance instruction school, youth ballet company, daytime ballet conservatory, and the professional GBT company. The opening day for Gwinnett Ballet Theatre's 40th anniversary of The Nutcracker is Saturday, December 4, at the Gas South District Theatre (formerly Infinite Energy Center). The shows continue for three weekends until the curtain closes for the season on Sunday, December 19. Virtual tickets will also be available for several performances for those who are unable to attend and want to enjoy the performance at home. This option is ideal for those who are at-risk, out of state, or are not comfortable around public gatherings. Gwinnett Ballet Theatre is also offering live performances and virtual tickets at a discounted rate to daycare facilities and local public and private schools.