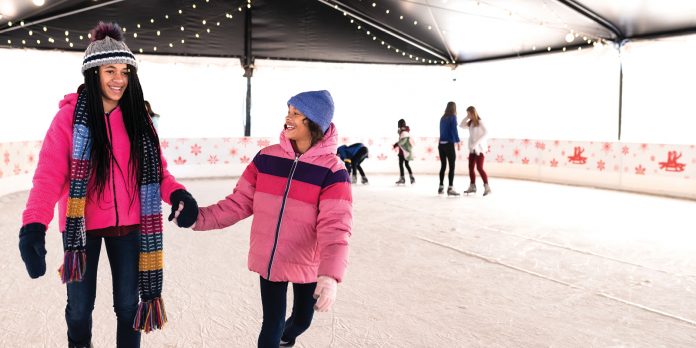 How to celebrate the holidays right here in our community with a few of out favorite local festive events sure to please everyone in the family!
By Alicia Carter
As the song goes, it's the most wonderful time of the year, when there's much mistletoeing, hearts are all glowing and loved ones are near. Lucky for us, there's plenty of good cheer to be had with loved ones right here in our community. You could say Suwanee and our surrounding cities are pretty festive this time of year considering the number of tried-and-true holiday events taking place across town, like Margaritaville's Lakeside Lights Spectacular, Aurora Theatre's annual Christmas Canteen and new family favorite License to Chill Snow Island — there's a little something for everyone. So go ahead and mark your calendars and let's all have the hap, hap, happiest Christmas since Bing Crosby… well, you know. Happy holidays!
Take the Family Ice Skating at the Sugar Hill Ice Rink
Is it really the holiday season without a trip to Sugar Hill's ice rink? Noted as the largest portable ice-skating rink in the Southeast, Sugar Hill's rink is the same size as Rockefeller Center's ice rink, so there's plenty of space to practice your double axel or simply enjoy a leisurely spin around the rink with the family, whichever you prefer. Glide on the ice along to music with a snow machine, disco ball, and theatrical stage lighting in the crisp North Georgia air. Then, treat yourself to a snack at the concession stand — you'll have earned it after a few laps around the rink! There are free safety helmets and skate trainers for the kids, and private skate instruction available for adults. You can also book your own private event, party, or school event. Nov. 11-Feb. 20. Thursdays, 5-9 p.m.; Fridays 4-10 p.m.; Saturdays 11 a.m.-11 p.m.; and Sundays 1-8 p.m. $11-$13 (includes skate rental). Season Pass: $129 (includes skate rental). 5039 W. Broad St. N.E., Sugar Hill. HaidRink.com.
Build a Gingerbread House for Suwanee Academy of the Arts' Annual Contest
Gather the kiddos and join in the baking fun and create a gingerbread house to enter in Suwanee Academy of the Arts' annual Gingerbread Contest — or just come by and enjoy the sights and smells. The theme this year is "Memories of Christmas." Bring your entry to Suwanee Academy of the Arts on Saturday, December 4, from 9-11 a.m. Gingerbread creations will be on display at Suwanee Academy of the Arts through December 18. People can view the houses in-person or virtually and vote for their favorites ($1 per vote). Winners and the "audience favorite" award will be announced after the TAC-ky Christmas Sweater Improv show on December 18. Contest rules and information can be found at SuwaneePerforms.org. Suwanee Academy of the Arts, 341 Main Street, Suwanee. For more information about the contest, visit SuwaneeAcademy.com or follow them on Facebook at Facebook.com/SAA341.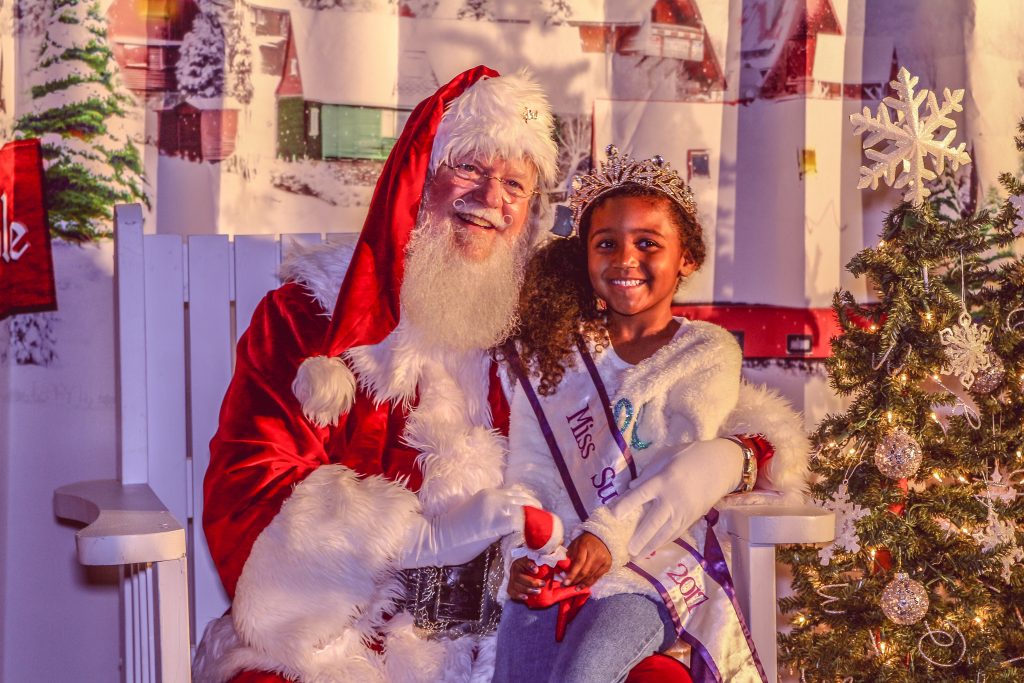 Visit Santa at Suwanee's Jolly Holly Day
Jolly Holly Day is an annual tradition in Suwanee that features local school chorus groups and the big man himself: Santa! Ol' Saint Nick comes early and visits with all the good girls and boys and lets folks take photos beginning at 6:30 p.m. Then, once all the chorus groups are finished, Santa helps to light the big holiday tree on the fountain in the park. There will be crafts, food trucks, hot chocolate and s'mores while supplies last! Saturday, Dec. 3, 6:30 p.m. Town Center Park, 330 Town Center Ave. in Suwanee. For more information, visit Suwanee.com.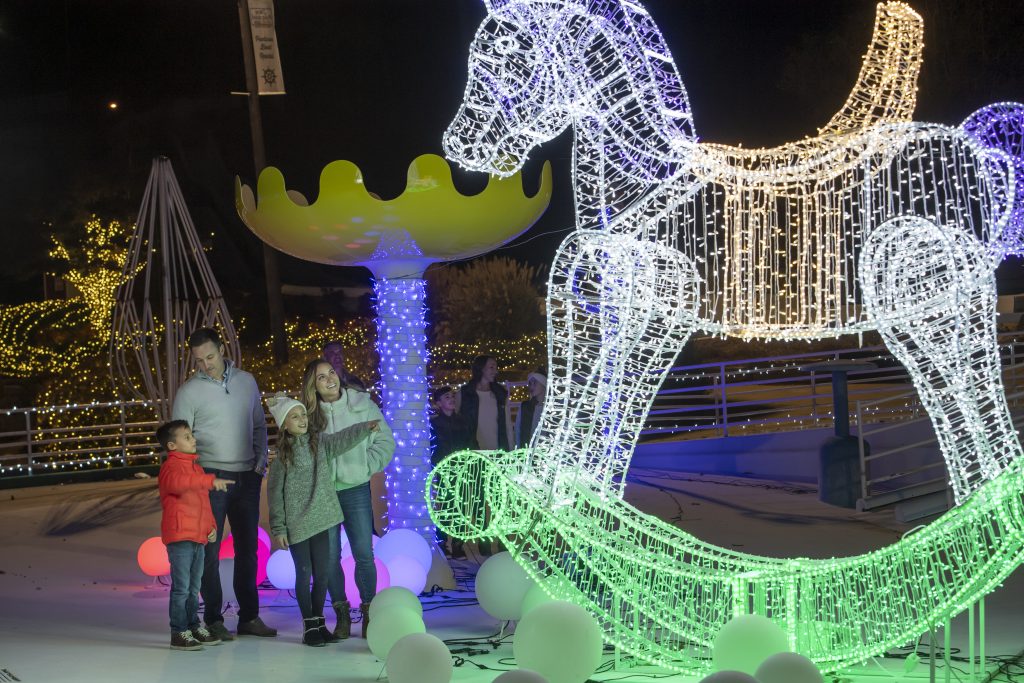 Take in the Lights at the Lakeside Lights Spectacular
Kick start your holidays with a visit to Margaritaville's all-new Lakeside Lights Spectacular for a night of nostalgic wintry fun. The Lakeside Lights Spectacular will take you on a magical walk through an amazing lighting extravaganza with festive seasonal music. It's great for the whole family! Nov. 12-Feb. 27, nightly at 5 p.m. $9.99-$14.99. For more information, visit MargaritavilleResorts.com/margaritaville-at-lanier-islands.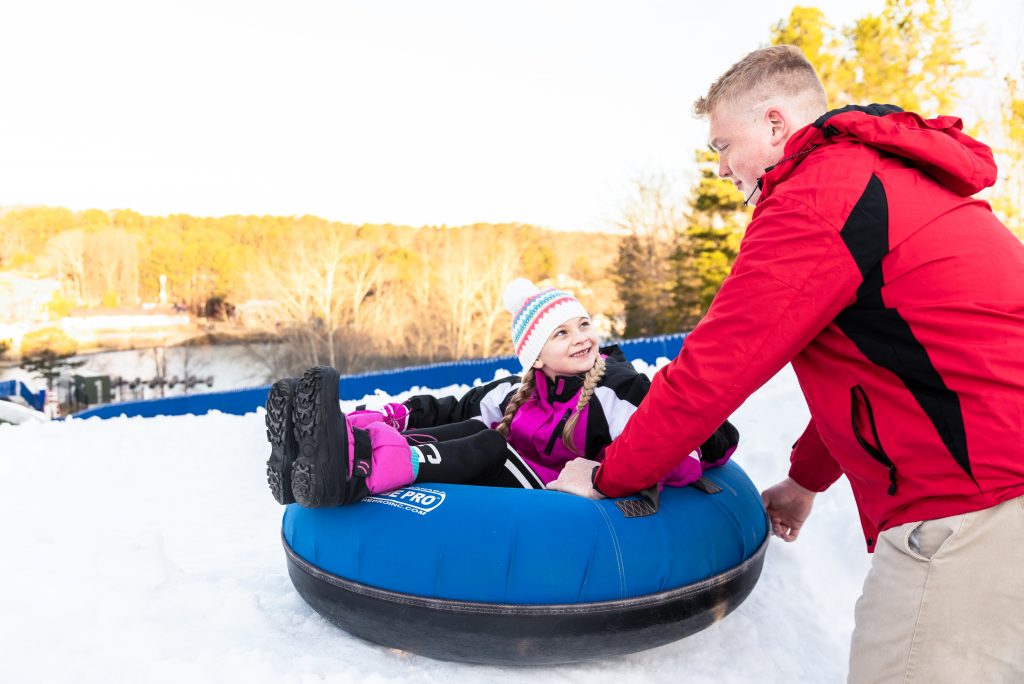 Go Snow Tubing at License to Chill Snow Island
After checking out Lakeside Lights, be sure to visit Snow Island, Margaritaville's Christmastime attraction that weaves traditional holiday revelry with maritime flourishes and features tons of activities for the family, including winter-themed carnival rides, an ice-skating rink, snow play areas, fire pit s'mores, and more! The star of the island is the all-new snow tubing hill, which is said to be the fastest in North America. Nov. 12-Feb. 27. Tickets to License to Chill Snow Island begin at $39.99. For hours and more information, visit MargaritavilleResorts.com/margaritaville-at-lanier-islands.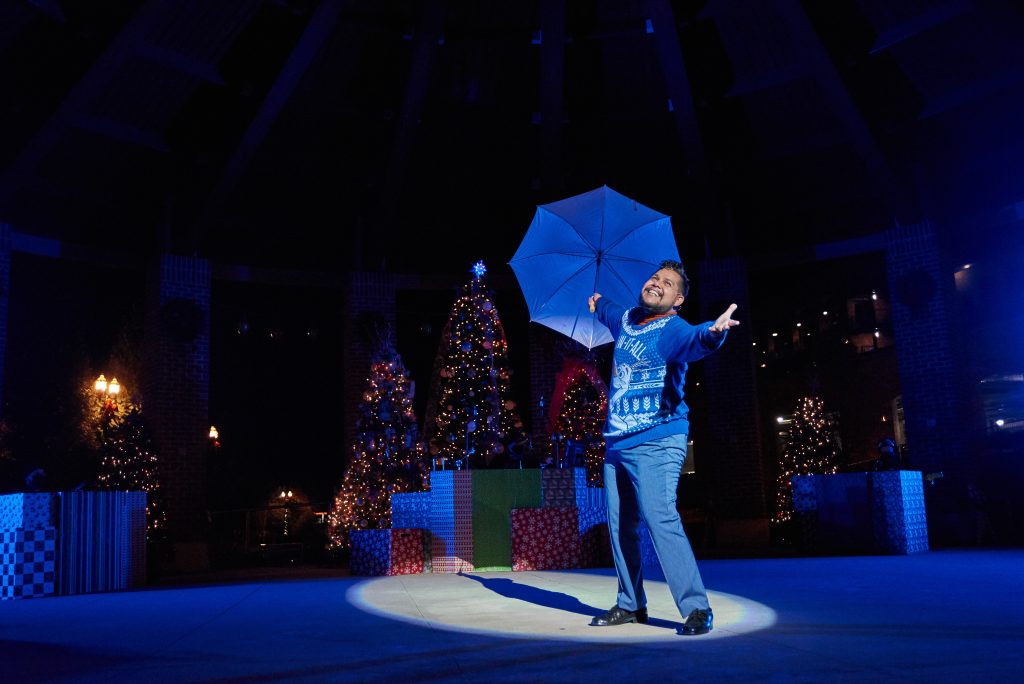 Laugh Together at Aurora Theatre's Christmas Canteen
Gwinnett's longest-running theatrical holiday tradition, Christmas Canteen, is a beloved musical revue that makes The Most Wonderful Time of the Year even more wonderful. Aurora Theatre fills the show with songs, comic sketches, trips down memory lane, and a sprinkle of Christmas magic. This year, the show makes its debut in the new 500-seat Grand Stage Theatre of the Lawrenceville Arts Center. It's the perfect way to get in the holiday spirit, plus it's fun for the whole family, so bring the kiddos! Nov. 26-Dec. 23. Thurs.-Sat., 8 p.m.; Sat.- Sun., 2:30 p.m. Additional performances on Dec. 1 at 10 a.m.; Dec. 21 at 10 a.m.; and Dec. 22 at 8 p.m. Tickets from $25. Lawrenceville Arts Center Grand Stage, 128 E. Pike St., Lawrenceville. Box Office: 678-226-6222. AuroraTheatre.com.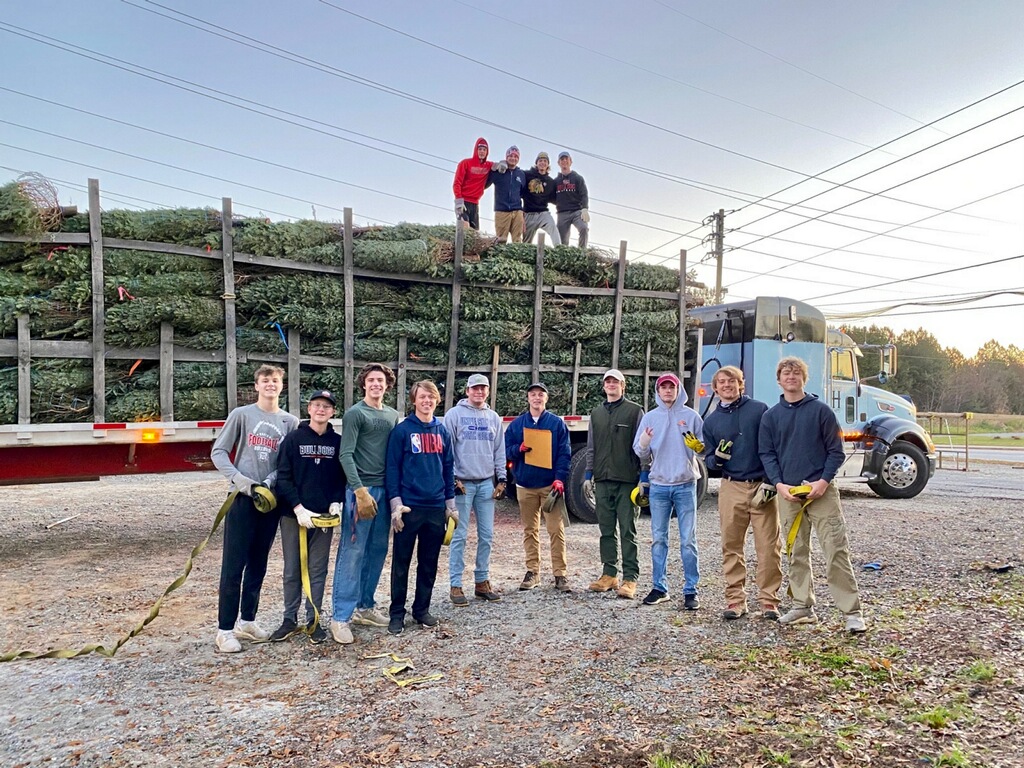 Pick Out a Christmas Tree at the Garland Bros. Christmas Tree Lot
Brian and Drew own Garland Bros. Inc. in Suwanee, a family-owned and operated business spanning three generations. The two have been in the Christmas tree-selling business since they were kids. When Drew was in high school, the brothers operated 17 tree lots in metro Atlanta, all manned by his brothers and their friends. The Suwanee location, located across from Town Center Park, has been a holiday staple for 23 years. "The reason we still run the lot is mainly to teach young people to work, and the reason we don't put prices on the trees is because it forces the young employees to have conversations with adult customers — something kids these days lack," Drew says. Grown in the mountains of North Carolina, the Garland Bros.'s trees will make the perfect addition to your Christmas decorations! Visit them at 6 US-23 in Suwanee.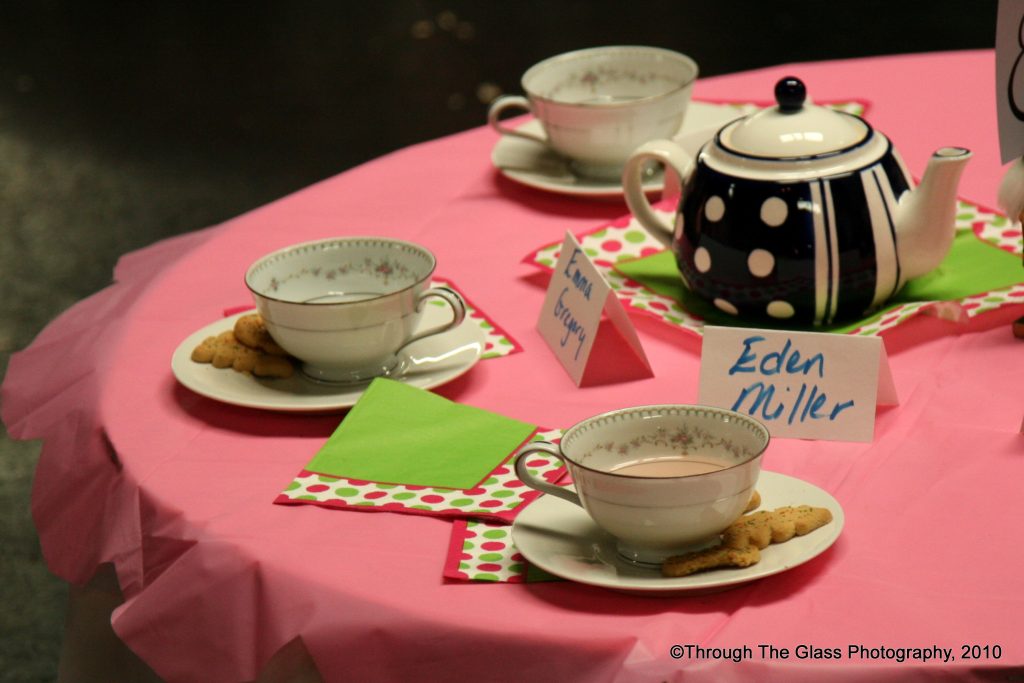 Bring the Little Ones to the Nutcracker Tea
Imagine an enchanting tale brought to life through magical storytelling and delightful dancing by the Suwanee Ballet. Perfect for youngsters to experience and interact with the story of The Nutcracker. Attendees of the Nutcracker Tea will receive discount tickets to Suwanee Ballet's Nutcracker performance. The event will take place Saturday, December 4, at 3 p.m. and Sunday, December 5, at 3 p.m. at the Suwanee Academy of the Arts Main Street Playhouse. Admission is $28, and $10 for an extra observer. Go to SuwaneePerforms.org for more information.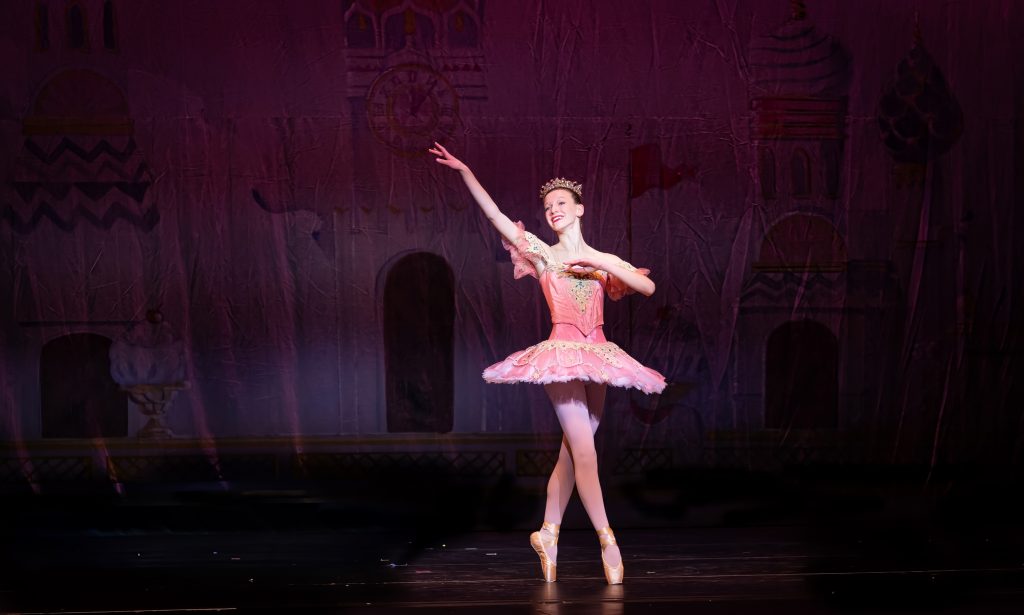 See the Best of The Nutcracker
Selections from The Nutcracker will be performed by the Suwanee Ballet on December 11 and 12 at the Eagle Theatre in Sugar Hill. Each show will feature limited seating. The Suwanee Ballet production features beautiful costumes and some special extra holiday fun. For ticket information visit SuwaneePerforms.org.
Show off Your Tacky Christmas Sweater
Get ready for a fun-filled evening in which The Actor's Company presents a side-splitting improv show highlighting the fun side of Christmas. The Tac-Ky Christmas Sweater Extravaganza takes place Saturday, December 18, at the Suwanee Academy of the Arts Main Street Playhouse. The admission cost is $10 and everyone is encouraged to wear your favorite Tacky Christmas Sweater! More information can be found at SuwaneePerforms.org.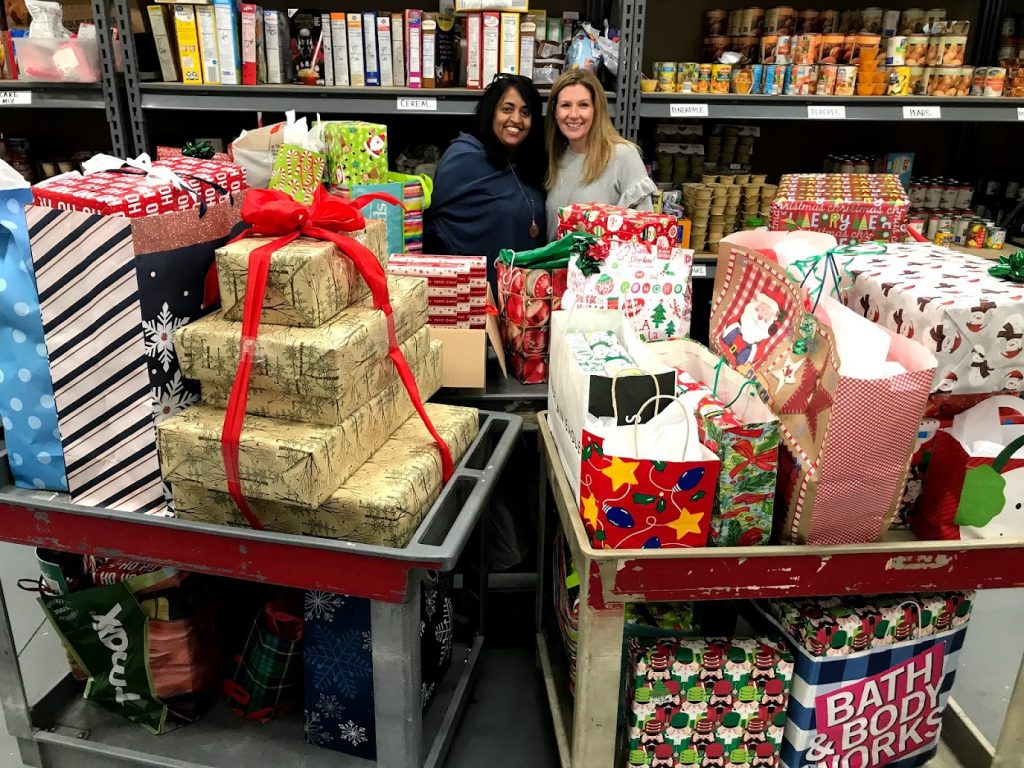 Give Back With North Gwinnett Co-op
In addition to its regular pantry and thrift store operations, North Gwinnett Co-op oversees four major initiatives during the holidays, including Thanksgiving and Christmas Meal Boxes, sponsoring children with Christmas gifts, sponsoring senior citizens for Christmas, and their Susan Roebuck Santa Shop. The holiday meal boxes are provided to families in need and are filled with side items for a holiday meal in addition to a $20 gift card for perishables. Those interested in participating can donate items for the meal box, donate $50 to sponsor a complete holiday meal box, or pick up an empty box from the co-op and fill it with required items. A list of items can be found at NorthGwinnettCoop.org.
North Gwinnett Co-op also offers the opportunity for community members to play the role of Secret Santa to a child or senior this Christmas. Sponsor a child by donating a winter coat, set of pajamas, one outfit for school or church, one pair of shoes, and a toy (not to exceed $30). Sponsor a senior by providing a winter coat, robe and/or pajamas, clothing or household needs, one pair of shoes, and personal care items. Sponsors will receive the child's or senior's name and identification number, their sizes, favorite color and a few ideas for toys/gifts. Gifts should be delivered to the co-op by Friday, Dec. 10. Please wrap gifts separately. For a full list of items, visit NorthGwinnettCoop.org.
Each year the parents of sponsored children are invited to attend North Gwinnett Co-op's Santa Shop Day, which offers an opportunity for the parents to pick out toys for their children at no cost. Susan Roebuck was a champion in our community as she advocated and served those in need. To honor Susan's memory, the co-op's Santa Shop is now called the "Susan Roebuck Santa Shop." New toys and gifts are needed to make Santa Shop Day a success. Gifts for all ages are needed, especially gifts for teens. Ideas for teen girls include Bath & Body Works products, hair accessories, jewelry, make-up, perfume, scarves, and gift cards. Ideas for teen boys include baseball hats, wallets, watches, socks, cologne, and gift cards. North Gwinnett Co-op's drop-off hours of operation are Monday, noon-8 p.m.; Wednesday-Friday, 10 a.m.-4 p.m.; and Saturday, 10 a.m.-2 p.m. The co-op is located at 4395 Commerce Drive in Buford. For more information about their holiday initiatives and other ways to give back, visit NorthGwinnettCoop.org.