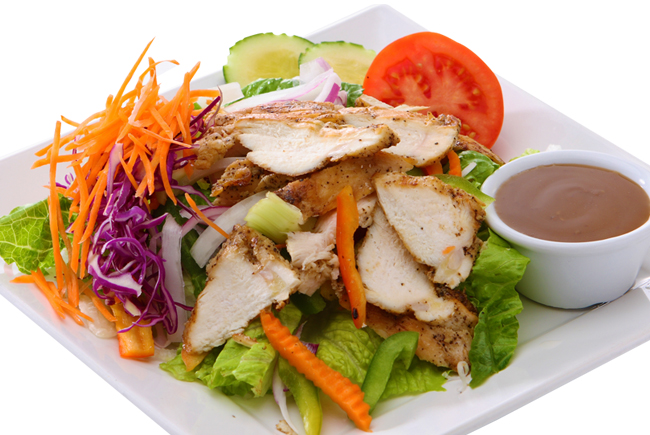 A balance of exercise and healthy eating can go a long way when it comes to overall health, getting fit and staying fit. Preparing meals at home where you have control over what you eat and portion size can help. But oftentimes while eating out and looking at a number of menu options, it can be overwhelming and difficult to know which items are the healthier options. At Suwanee Magazine, we asked some of the local restaurants for some of their healthy options to help you make healthier choices in 2012.
For guests looking for a healthy choice, Cinco offers Tacos Al Carbon, which is a seasoned chicken or skirt steak with onions and cilantro and comes with rice and beans. Or try grilled fish tacos served with a jalapeno slaw.  The Ahi Tuna Salad comes with spring mix, avocados, queso fresco, radishes, tomatoes and onions and tossed in a chipotle mango dressing. Healthy and flavorful.
Golden Seven Thai & Chinese Restaurant offers healthy "Spa Choice" menu options, which include steamed chicken, shrimp or tofu with mixed vegetables and rice. They also offer grilled dishes which are low in fat and come with steamed rice and veggies.
Try Salmon with Field Greens from The Fresh Market. The fresh salad greens are packed full of vitamins and minerals and pair wonderfully with fully cooked salmon rich in omega 3 fatty acids. Grab a mix of your favorite greens from our bulk salads and top with fresh cucumber and tomato or your favorite vegetables. Or for a fast, simple and delicious meal try a toss salad with Garlic Expressions and top with fully cooked Salmon from the Fresh Market Deli. For a sweet ending with only 120 calories and two grams of fat try a cup of our Lesser Evil Kettlecorn Popcorn.
At Moondance Restaurant and Lounge Executive Chef Todd Paige offers a variety of salads as well as fish and vegetarian selections on the menu. Everything is made to order allowing patrons to change both the type and preparation of their side item or allowing substitutions such as steamed asparagus instead of sautéed spinach.  The restaurant can also accommodate people with special dietary requests such as those who need gluten free options. And at Moondance Restaurant and Lounge, guests have the unique ability to get up and dance to burn some calories while having a fun-filled evening.
 Gourmandises offers a number of fit and healthy choices on the menu. Chef Christophé Houy suggests the grilled tilapia salad or the grilled chicken salad, both less than 500 calories with the dressing included. Another tasty option less than 500 calories includes the French fit crepes. Suwanee's French restaurant also offers excellent calorie-wise food and salads.  Sign up for daily emails including the French diet special.