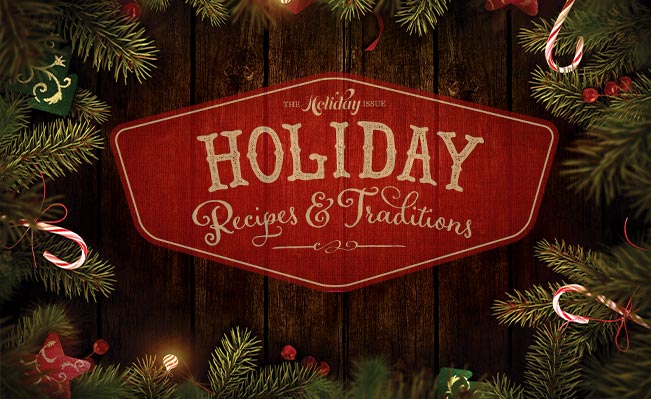 We asked come of our Suwanee Magazine Readers to submit their favorite Holiday traditions or recipes and we got come great responses. From delicious-sounding recipes to sweet family memories, we loved all of the submissions. Here are some of our favorites…
TRADITIONS
Same Santa's Lap
Submitted by: Erica Abrams
Since starting our family back in 2008, we have tried to start our own family traditions. We always go to see the same Santa Claus every year. It is so neat to see how our children grow each year sitting on the same Santa's lap. I love bringing out the pictures from past Christmases and setting them on the mantle. After visiting Santa, we always stop at Build-A-Bear Workshop and the kids are allowed to pick out one stuffed animal. As they get older their Christmas animal collection grows and we always remember picking them out together as a family!
Christmas Morning
Submitted by: Michelle Fasig
My family has a Christmas morning routine, and I hope to carry this tradition on with my o
wn kids one day. My parents always wait and put all the presents under the tree late at night, on Christmas Eve, when nobody else is around. Then, on Christmas morning we are always amazed by how many presents there are! That's because they wrap EVERYTHING individually, even the stocking stuffers, like a chapstick, pack of gum or candy bar. My parents wait as the kids open their stockings first, so that they can watch our reactions. Then, we have breakfast – and its always my mom's delicious homemade coffeecake. After breakfast we grab our coffee and mimosas…except for my little brother, he's 18, so no mimosas for him yet. Then begins the long process of opening each gift one by one (see why we had to grab the mimosas?) just kidding! Nobody is allowed to open presents at the same time, we all watch each other open every gift individually. Except, sometimes when we were little, my sister and I would get matching things, and when my parents handed them to us we would race to see who could open it faster and show the other person what it was. Who am I kidding?! That still happens…and we're 26 and 28! Santa always gives us a fun board game or two, so after we open the presents we play a family game together. I love how we do Christmas, and even though it might seem a little crazy, we have so much fun and I wouldn't have it any other way!
Present Tags
Submitted by:  LaDonna Manning
Every year my husband claims that he "doesn't know how to wrap presents" and has our children wrap the gifts he has purchased for me. They always make it fun though by writing silly names on the present tags, like "To: my sugar walrus, Love your big hunky sasquatch". Whenever we see a tag that doesn't make any sense under the tree on Christmas morning, we know it's one for me, from my husband. Some of them have been very…unique. But it definitely keeps us laughing!
Secret Santa Gift Exchange
Submitted by: Caleb Aaron
Since Thanksgiving is the only holiday when ALL of our family is together, we go all out. We celebrate Thanksgiving and Christmas all in one weekend! Our family is huge, so it'd be impossible to purchase gifts for each person. So, about a month before the big Thanksgiving reunion, one designated "Santa" emails each person the name of who they will be gifting. Nobody knows who each other has and its supposed to be a surprise when we all open the presents. But, of course all the cousins end up gossiping, sneaking around and figuring it out beforehand. The gifts can be funny, serious, nice, tacky or even a re-gift from the year before…you never know what you'll get. Everyone is always crossing their fingers that Grandmother is their "Secret Santa" because she gives the best presents. It's always a great time!
RECIPES
Granny's Brickle Bread
Submitted by: Morgan Pillow
Every Christmas, Granny makes her famous brickle bread and as soon as its ready, it only lasts about two minutes. If you aren't in the kitchen as soon a it comes out of the oven then you're pretty much screwed. You snooze, you lose. Here is the recipe she uses. You should try it out! But just a warning it's addicting. We've all tried to replicate it throughout the year, but no matter what, Granny's special touch will always make hers the best!
Ingredients:
1 package Butter Pecan Cake Mix
1 (3 oz) instant coconut cream pudding mix
1/4 cup vegetable oil
4 eggs
1 tsp. vanilla
1 cup hot water
1 (8 oz) package "bits o brickle"
Directions:
1) Mix together for two minutes or until well blended.
2) Pour into two greased loaf pans (she uses approximately 4-1/4″ x 8-1/2″ inside measurement) Put parchment paper on the bottom and grease on both sides.
3) Bake in a preheated 350 degree oven for 15 minutes
4) Decrease temperature to 300 degrees and bake for another 45 minutes.
5) Serve sliced with butter for breakfast or a snack.
Pumpkin Soup
Submitted by: Christine Maynard
I really LOVE Thanksgiving, so much! My grandma always made a big deal out of food, and I guess it kinda stuck with me. I will always give up any diets or healthy food regime for Thanksgiving. I love making a HUGE meal out of it! And Pumpkin is in a good bit of my recipes. Here is one of our favorites…
Ingredients:
2 Tbsp extra virgin olive oil

1 medium yellow onion, chopped
1 pound butternut squash, peeled and cut into 1/2″ cubes
1 pound pumpkin, peeled and cut into 1/2″ cubes
3 cups vegetable broth
1-2 Tbsp agave nectar or honey
1/4 tsp nutmeg
1/4 tsp cinnamon
Directions
Heat the oil in a medium saucepan over medium heat
Add the onion and cook until softened, 5 to 7 minutes
Add the squash and pumpkin and cook for an additional 3 to 5 minutes, stirring frequently. When the squash starts getting soft on the edges, add the broth. Cover and simmer on low heat for 20 minutes.
Remove pan from heat and let cool for 5 minutes
Transfer to a blender, along with agave nectar or honey, nutmeg, and cinnamon. (be careful, as hot liquids may splatter). Blend on medium speed, in batches if necessary, until the soup is smooth. Season with salt and pepper to taste.
Aunt Trixie's Gorilla Bread
Submitted by: April Miller
They say when you have a child everything changes. About a year ago my daughter was born and I found out how true this is. New editions to the family are always exciting. Since family has always been important to me, being surrounded by them during the holidays is a must. I remember as a child being so excited for the holidays to come. Football on the TV, the wonderful smell in the kitchen and it was always so loud – which most people might be bothered by, but it meant the gathering of loved ones and you know what they say – the more the merrier! Now that I have my own child, thoughts of the holidays are even more exciting! Last year she was only a few months old during the holiday season, but this year is going to be great! I am so excited to surround her with the holiday traditions of our family, and more importantly, to start new traditions with her. One being an old family recipe that to me embodies all the flavors of the holidays. Hope you enjoy it as much as we do. Cheers!
Ingredients:
½ cup granulated sugar
3 teaspoons cinnamon
½ cup (1 stick) butter
1 cup packed brown sugar
1 (8 ounce) package cream cheese
2 (12 ounce) cans refrigerated biscuits (10 count)
1 ½ cups coarsely chopped pecan
Directions:
Preheat oven to 350 degrees. Spray a bundt pan with nonstick cooking spray. In a small bowl mix the granulated sugar and cinnamon. In a saucepan, melt the butter and brown sugar over low heat, stirring well; set aside. Cut the cream cheese into 20 equal cubes. Press each biscuit out flat with your fingers and sprinkle each with ½ teaspoon of cinnamon sugar. Place a cube of cream cheese in the center of each biscuit, wrapping and sealing the dough around the cream cheese. Sprinkle ½ cup of the pecans into the bottom of the bundt pan. Sprinkle with cinnamon sugar, pour half of the melted butter mixture over the biscuits, and sprinkle the remaining ½ cup of pecans. Bake for 30 minutes. Remove from oven and cool for 5 minutes. Place a plate on top of bundt pan and flip over so the Gorilla Bread falls on the plate.
Jazzy Prime Rib Roast
From your friends at Patton's Meat Market
Ingredients:
1 (8-pound) Certified Angus Beef Bone-In Standing Rib Roast from Patton's Meat Market
3/4 teaspoon ground black pepper

1 teaspoon ground red pepper
1 teaspoon ground white pepper
1 teaspoon onion powder
1 teaspoon kosher salt
3 medium onions, peeled, halved lengthwise and sliced
3 tablespoons butter
1/3 cup sugar
1/2 cup dry white wine
1/8 teaspoon dried red pepper flakes
1 tablespoon red wine vinegar
1/4 cup packed dried apricots, thinly sliced
3/4 cup oil-packed sun-dried tomatoes, drained and thinly sliced
Directions
Preheat oven to 450°F. Combine 1/2 teaspoon black pepper, red and white pepper, onion powder and 1/2 teaspoon salt in a small bowl. Place roast, an side down, on a rack in a shallow roasting pan. Rub the entire roast with pepper rub.
Place roast in the oven for 15 minutes. Reduce eat to 350ºF and continue roasting 2 hours for medium doneness.
Cook onions, butter, sugar, remaining 1/2 teaspoon salt, red pepper flakes and remaining 1/4 teaspoon black pepper in a covered, heavy skillet over low heat, stirring occasionally, until onions are soft and pale golden; about 30 minutes. Add wine, vinegar, apricots and tomatoes. Simmer uncovered stirring occasionally until thick, about 20 to 30 minutes.

 Remove roast from oven and allow to rest, covered, for 10 to 15 minutes. Slice across the grain, cutting three portions attached to the bone and additional portions from between the bone-in slices. Serve with warm onion jam on top of or with roast.
Prime Rib Roast with Vegetable Gravy
From your friends at Patton's Meat Market
Ingredients:
5 pounds Certified Angus Beef® Boneless Prime Rib Roast from Patton's Meat Market
1 teaspoon salt
1 teaspoon coarse black pepper
1 teaspoon garlic powder
1 medium onion, peeled and quartered
1 carrot, peeled and quartered
1 celery stalk, peeled and quartered
4 cups beef broth
1/4 cup flour dissolved in 1/2 cup cold water
Directions:
1. Preheat oven to 350°F. Combine salt, pepper and garlic powder; rub mixture evenly over the entire roast. Place on rack in a shallow roasting pan, fat-side up. Insert meat thermometer into thickest part of roast, making sure tip does not touch bone. Roast uncovered for 30 minutes.
2. Add onion, carrot and celery and roast an additional 1 to 1-1/2 hours for medium rare. Use meat thermometer to determine desired doneness.
3. Transfer roast to a cutting board and let rest 15 minutes before carving. Meanwhile, skim fat from roasting pan juices. Place pan on top of range, add broth and bring to a boil, scraping bottom and sides to incorporate all roast drippings. Reduce heat and simmer broth and vegetables for 10 minutes.
4. Purée vegetables and broth in blender or food processor. Pour back into roasting pan or large saucepan and return to heat. Thicken with flour and water mixture over medium heat for about 5 minutes. Season with salt and pepper to taste. Serve gravy with sliced roast.
ENJOY!