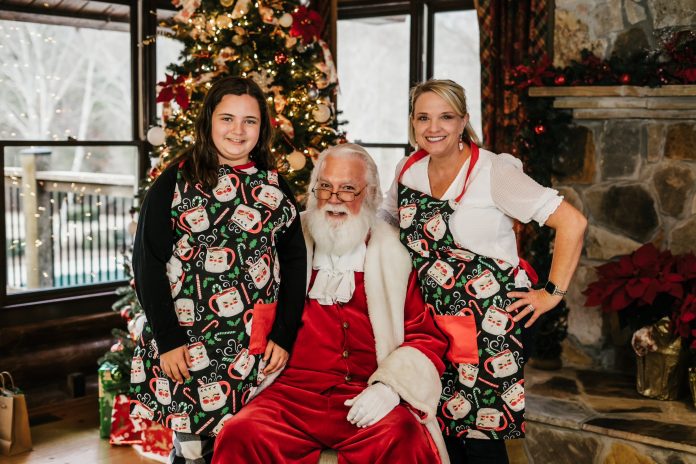 The holiday season is a time of beloved family tradition and delicious dishes that warm our hearts and homes. As the scent of a special recipe fills the air and families come together in shared moments, we are reminded of the beauty of tradition and togetherness. In the spirit of celebrating these timeless rituals, we reached out to our community and readers, inviting them to share their most beloved holiday traditions and treasured recipes. With each story and dish, we hope to inspire you to embrace the holiday spirit, create new memories, and perhaps even start some traditions of your own.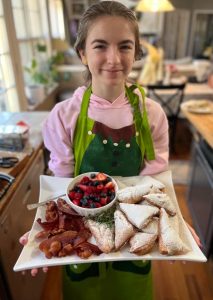 The Belflowers
Suwanee
When my daughter Ava was 3 years old, we began making beignets on Christmas Eve to serve on Christmas morning. I really do not remember why we chose this dish, but it is now a steadfast tradition in our household. No Christmas morning is complete until the beignets and fruit are served. We have several friends who eagerly await their Christmas morning delivery!
---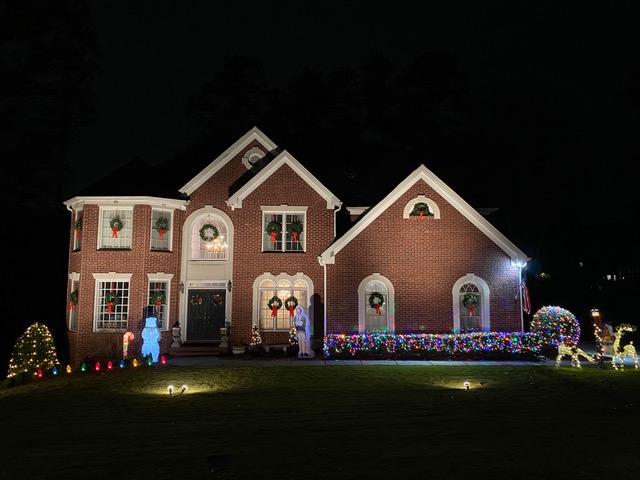 The Niepmanns
Suwanee
What began as a modest nod to our individual upbringings has grown into a Suwanee-based Niepmann family tradition. Shortly after gobbling down a traditional Thanksgiving dinner, dad and daughter head outside with a stash of lights, wreaths, and kitsch to spend a few hours together Griswold-izing the exterior of our home, leaving mom inside to deal with dishes and leftovers. We then re-group as a family in front of the TV to enjoy desserts and Christmas Vacation. Our stash grows by an element or two every year, bringing that much more joy to our family and neighbors.
---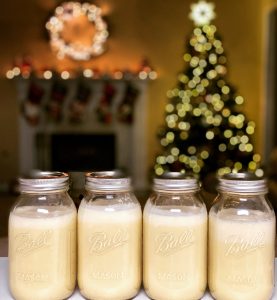 The Hawkins Family
Sugar Hill
One of our favorite holiday traditions starts around Thanksgiving. My husband and I love to make Alton Brown's eggnog together. We had never been eggnog fans before discovering this recipe. Even our family who aren't big drinkers enjoy it every Christmas with us. It's best aged, so to have them for the Christmas holidays we usually start preparing them at Thanksgiving and store them in mason jars.
Alton Brown Eggnog
A warming blend of bourbon and dark rum gives this classic Christmas cocktail an extra kick. Classic eggnog in glass goblets topped with freshly grated nutmeg.
Ingredients:
• 4 large eggs, separated
• 1/3 cup plus
• 1 tablespoon sugar
• 1 pint whole milk
• 1 cup heavy cream
• 1 1/4 fluid ounces bourbon
• 1 1/4 fluid ounces dark rum
• 1 teaspoon freshly grated nutmeg
Directions:
In the bowl of a stand mixer, beat together the egg yolks and 1/3 cup sugar until the yolks lighten in color and the sugar is completely dissolved. Add the milk, cream, bourbon, rum, and nutmeg and stir to combine. Move mixture to a medium mixing bowl and set aside. Place the egg whites in the bowl of the stand mixer and beat to soft peaks. With the mixer still running, gradually add the remaining 1 tablespoon of sugar and beat until stiff peaks form. Gently fold the egg whites into the mixture. Chill and serve. Note: This recipe first appeared on altonbrown.com.
---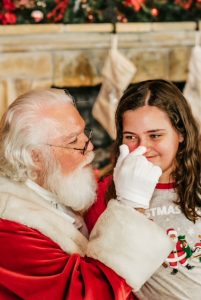 Kim Gallant
Suwanee
Every year, Santa comes to the clubhouse at Wild Timber for the Cookies & Cocoa event! He meets with all the good boys and girls to hear their wish list. We share cookies and hot chocolate with our friends and neighbors. It is a great way to kick off the holiday season and grab some great photos for our annual Christmas card. Then, with a twinkle of magic from his red-glowing finger, he is back to the North Pole!
---

Lauren Moore
Buford
Mother's Broccoli-Rice Casserole
Ingredients:
• 2 cups cooked rice (do not use instant)
• 3 tbsp. butter
• 1 box frozen chopped broccoli
• 1 can Cream of Chicken soup
• 1 soup can of milk
• 1 large jar Cheez-Whiz
• 1 cup chopped onion
• 1 cup chopped celery
• Salt and pepper
Directions:
While broccoli is thawing in one cup of water that has been brought to a boil, saute onions and celery in butter. Add soup and can of milk to onions and celery, then add Cheez-Whiz. Simmer for a minute or so, then add thawed broccoli and rice and seasoning. Bake for 30-40 minutes at 350 degrees. Makes 10 generous servings and can be made ahead of time. (Can also use fresh broccoli, steamed.)
---

Cherie Heringer
Suwanee
For almost 30 years, the Heringer's Christmas Caroling Party has graced the doorsteps of friends and neighbors with the timeless tradition of singing Christmas carols. We started when our kids were toddlers and I suggested to my husband that we recreate the tradition from my younger days, when our church youth choir would go caroling in the snow-laced historic district of the East Tennessee town where I grew up. My husband was skeptical that anyone would show up, until we had about 25 people for the first party! Each year the party grew and it became such a wonderful tradition that our friends wouldn't let us stop! Now, thanks to our very active social committee at Three Bridges, our neighborhood has embraced the tradition and the party is held in our clubhouse. We entice our carolers with a variety of warm foods and drinks, gather and get some direction, then bundle up and head out into the neighborhood to carol at houses lit for the holiday season.
But the real joy isn't just in the singing, it's in the reactions from neighbors when they open the door and see carolers wishing them a Merry Christmas. There is a warmth that is exchanged between friends, young and old, as they join in singing and sharing the love of the Christmas spirit. And on that note, I'll leave you with the same sentiment of our carolers as we depart, waving and singing, "We Wish You a Merry Christmas!"
---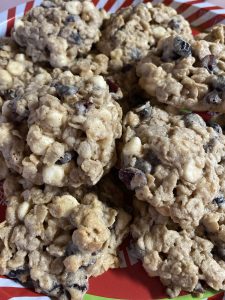 Natalie Garrett
Dawsonville
White Chocolate Oatmeal Cranberry Cookies
An oatmeal cookie is already the warm embrace we all need, but when you add white chocolate chips for some extra sweetness and cranberries for a festive touch, it's a trifecta that deserves a permanent spot at the dessert table. These always make their way into our family gatherings!
Ingredients:
• 1 cup softened butter
• 1 cup brown sugar
• 1⁄2 cup granulated sugar
• 2 eggs, room temperature
• 1 tsp. vanilla
• 1 1⁄2 cups all-purpose flour
• 1 tsp. baking soda
• 1 tsp. cinnamon
• 1⁄2 tsp. salt
• 1 1⁄2 cups dried cranberries
• 1 (12 oz.) bag of white chocolate chips
• 3 cups Old Fashion oats (note: NOT quick or instant oats)
Directions:
Preheat the oven to 350 degrees. In a large mixing bowl (either a hand or stand mixer), beat together the butter, brown sugar, and granulated sugar until creamy, about 2 minutes. Add the eggs and vanilla and mix to combine. In a separate bowl, whisk together the flour, baking soda, cinnamon, and salt. Gradually pour the flour mixture into the sugar mixture and continue mixing until combined. Stir in the cranberries and chocolate chips, then the oats. Using a large ice cream scooper (around 2" in diameter), scoop the dough and arrange evenly onto a baking sheet sprayed with nonstick cooking spray. Bake at 350 degrees for about 14 minutes for optimal softness. Let cool and serve!