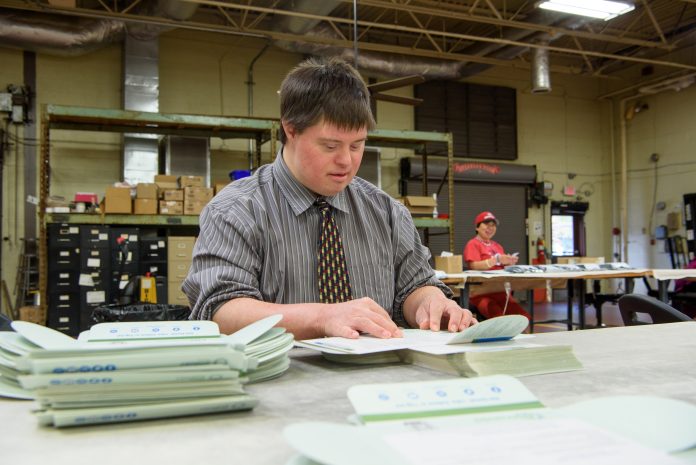 For more than 40 years, Creative Enterprises has provided employment and life skills training to adults with disabilities throughout our community.
By Angela Veugeler | Photos by Karl Lamb
For many individuals with disabilities, the transition from the structured realm of education into the adult world presents a daunting challenge. As they age out of the education system, the paths that lie ahead can seem frustratingly limited, leaving many feeling sidelined in a world that doesn't always accommodate their unique needs. But in the heart of this uncertainty, there are organizations that stand as pillars of support, offering sanctuaries where these individuals not only find solace but are also empowered, educated, and uplifted. These organizations ensure that the world looks beyond the disability, recognizing and valuing the individual within. One such organization is Gwinnett's own Creative Enterprises.
Founded in 1979 as a not-for-profit 501(c)(3) organization, Creative Enterprises operates a Community Rehabilitation Program that empowers adults with disabilities. By providing a rich blend of on-site and off-site employment opportunities, job placement support, educational initiatives, and creative avenues, they unlock and amplify the inherent potential of each individual. At Creative Enterprises, the mission is not just to teach skills, but to illuminate the unique creative spark within every person they serve.
On a beautiful day in October, we had the opportunity to visit Creative Enterprises' main campus in Lawrenceville. As we toured the grounds, we met many of their amazing clients, and what resonated deeply with us was the palpable sense of joy and fulfillment that they were experiencing. Phong, a 16-year member of the community, radiated warmth as he eagerly engaged with our team and posed for photos. Mia, with her evident zeal for art, flourished under the guidance of the dedicated staff. Meanwhile, Adam and Wendy showcased immense pride in the tasks they undertook for a local business, all within the nurturing environment of the Creative Enterprises workshop.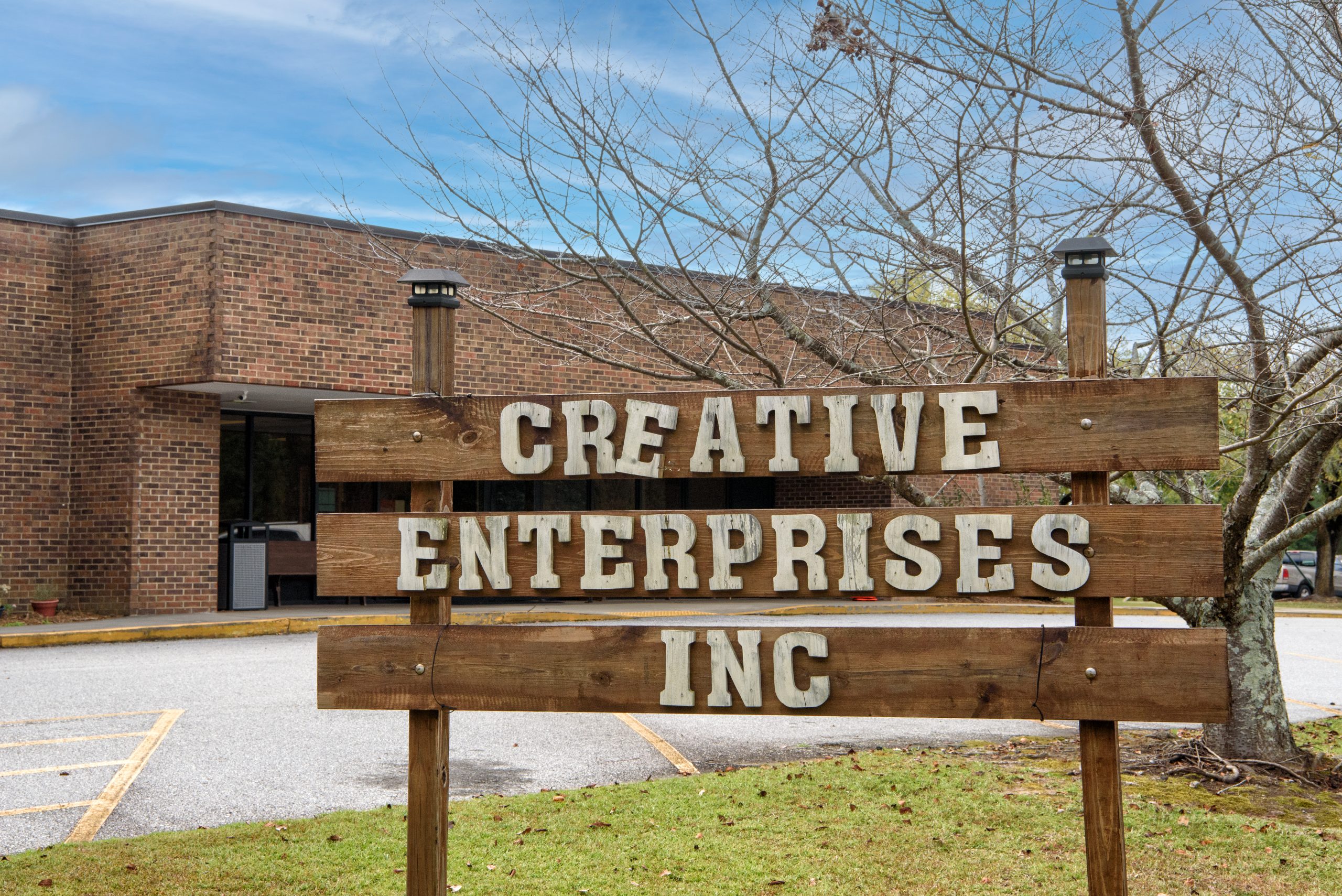 Work Programs
The main campus is located in Lawrenceville, with three additional campuses: Forsyth Campus-Cumming, Dawson Campus-Dawsonville, and White Campus-Cleveland.
The Gwinnett campus currently serves 172 clients of the 322 clients Creative Enterprises helps to "shine" across all four campuses. According to Laura Lee Berkemeier, Director of Grants & Special Projects, "These numbers are growing daily as we change lives by meeting individual's needs so they can be as independent as possible. Creative Enterprises Inc. is accredited by CARF, an international accrediting agency. Our mission is to assist individuals with disabilities and others with The Creative Enterprises greenhouse has a wide variety of plants as well as shrubs, and is open to the public weekdays and on Saturdays in the spring and fall. All the proceeds go right back into supporting people with disabilities. barriers to employment in maximizing their potential. Our goal at Creative Enterprises is to accept each other for our own individual contributions while providing a caring environment where persons with disabilities can feel safe and connected."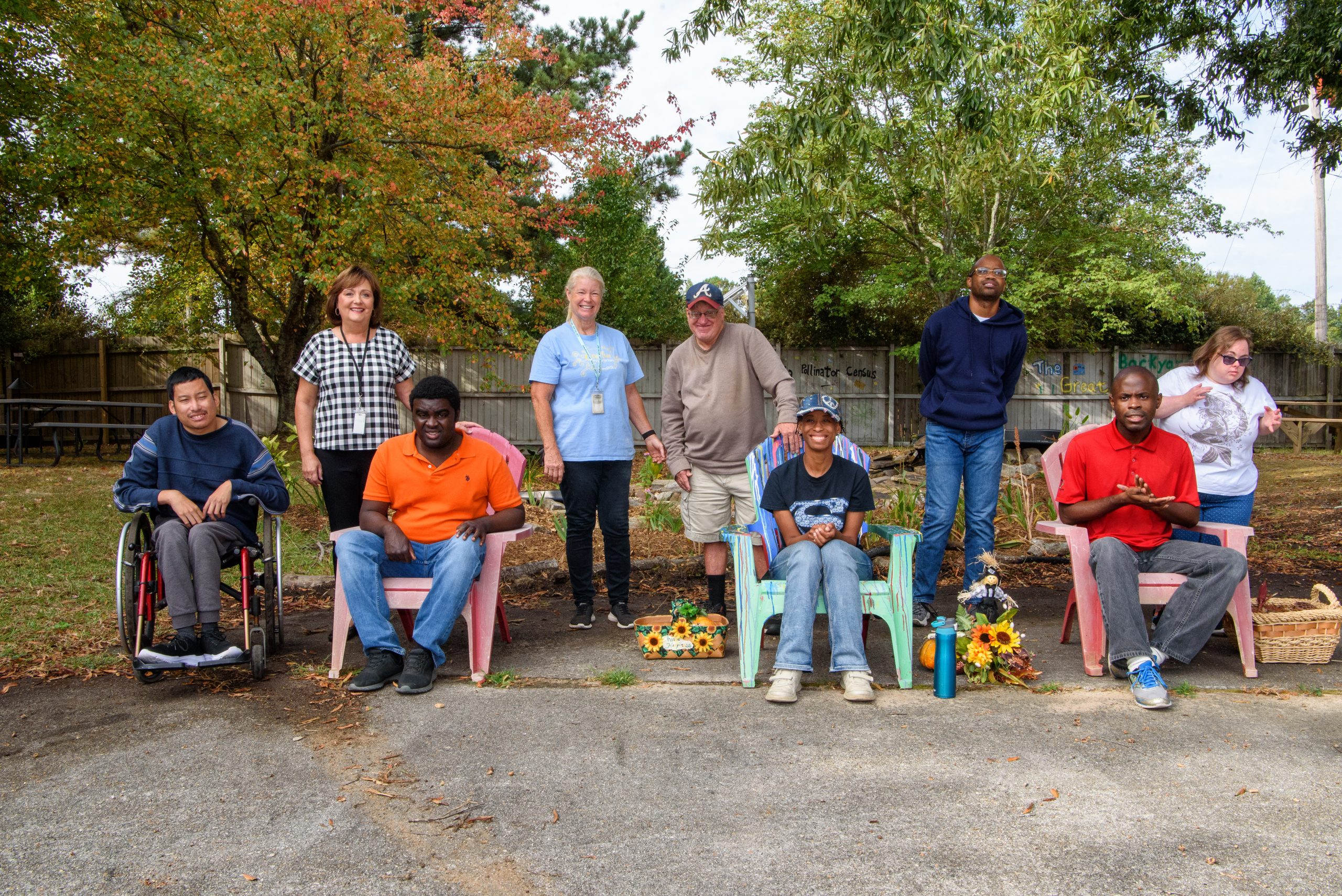 "Our dedicated staff teach various classes including cooking, art, music, academics, life skills such as money management, fitness, horticulture with lessons in the greenhouse and community garden, animal therapy and 'Classrooms Without Walls,' where clients go on outings," said Laura Lee. The day is divided into three blocks of time. Clients sign up monthly for the classes and outings they are interested in. They can choose two outings per month, which can range from from going out to eat to going to the Aurora Theater, visiting the fair, playing cornhole and more.
Some clients choose to spend a block of time working and will be in the workshop performing work for companies. They get paid for what they produce. When they are ready to go to work, Creative Enterprises helps with placement. They have job coaches that go to work with them at first and get them ready to work and teach them the job, then slowly pull out as the person becomes an employee of the company.
"We try to place them where they are interested in working because we want them to be successful, but also be something they can do because most of our folks have pretty severe disabilities. It's really what we call customized employment because we can't just put them in any old job. Most of them don't drive so transportation has to be figured out," said Leigh McIntosh, Executive Director of Creative Enterprises.
How You Can Help
Walking into the lobby of Creative Enterprises, you will notice some beautiful artwork hanging on the walls. All of it is created by clients and is for sale. When artwork is purchased, half of the money goes to the artist, the other half goes back to Creative Enterprises for supplies.
The large greenhouse on campus is a great way to support their mission. "Our greenhouse has a wide variety of plants as well as shrubs, and is open to the public weekdays and on Saturdays in the spring and fall. All the proceeds go right back into supporting people with disabilities. And the prices are very competitive; they wouldn't come and spend more money, but their money would go to a good cause," said Leigh.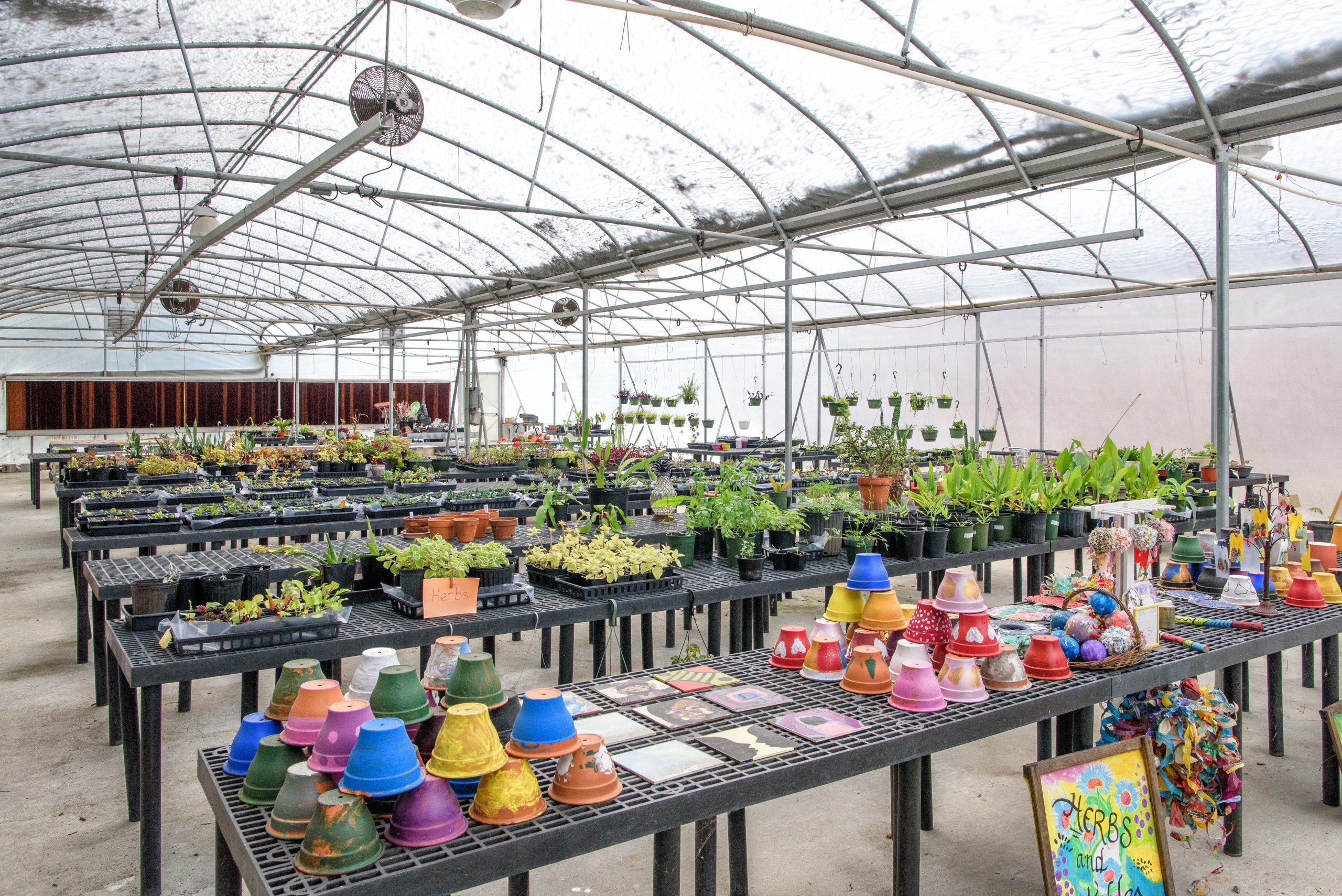 Leigh, who has worked with Creative Enterprises since the beginning, shared, "One of the things we are most proud of is that we let our folks have so many different choices. We are all different. I heard long ago that if you and I were both the same there would be no reason for one of us. It made me realize that everyone has value, and everyone has something to give. They need to like what they do and to like it, they need to choose it. And so, we have set this whole program up for them to have choices about what they want to do. There are things that are therapeutic, like the music, the art, the gardening, and the animals. If I were here as a client, I would choose the animals, because I am a big animal person. When you let them do what they want to do not only are they happy, but they create really beautiful things. You see people really come alive and reach a higher potential if they can do what they want."
During the holidays, there are many ways to help support Creative Enterprises continue the wonderful work they do, including visiting the greenhouse to purchase a poinsettia or Christmas cactus (they make great gifts or are beautiful to have in the home during the holidays). Creative Enterprises also publishes a "Giving Tree" on their website where the community can help fulfill needs for both clients and the staff. Join them on December 7 from 10 a.m.-1 p.m. for their free "Baby It's Cold Outside" community garden event with games, hot chocolate and more.
Donations can also be made online at CreativeEnterprises.org or via a check mailed to 701 Hi Hope Lane, Lawrenceville GA 30043. The organization will use this money for covered walkways between buildings, a porte cochere, and scholarship funds for clients.
For more information about Creative Enterprises, visit CreativeEnterprises.org.