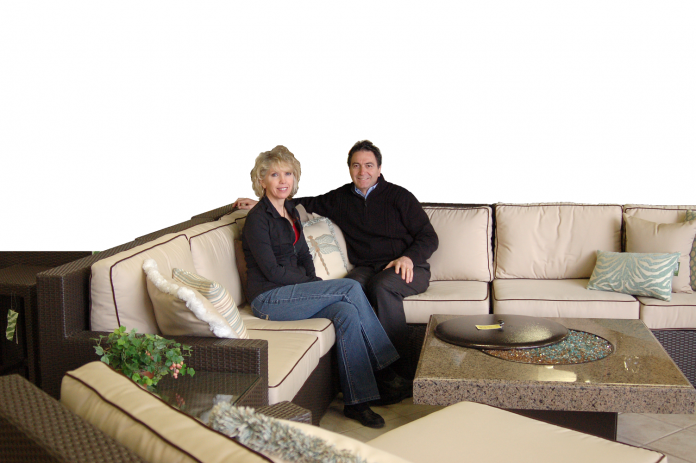 Design Tips from Suwanee Decorating Pros
Like gently rolling thunder, a wave of enlightenment has enveloped the home improvement industry. The emergence in popularity of the "outdoor room" has focused attention on an area of the home often considered an afterthought. Fueled by improvements to materials for outdoor furnishings, particularly fade resistant fabrics, homeowners are coveting comfortable outdoor living areas for family fun, entertaining friends, or for quiet enjoyment and relaxation. With a little imagination and creativity, quality outdoor living products can extend the homeowner's personality and design preferences to outdoor living spaces.
To many, this concept seemed foreign, and beyond their grasp. However, aided by the popularity of "do it yourself" and home improvement programming, our awareness and appreciation for outdoor living spaces has blossomed. As consumers continue to embrace the outdoor room concept, phrases such as "backyard oasis," "staycation" and "outdoor kitchen" have quickly become standards of the modern lexicon of home improvement. Family and friends always gather where they are most comfortable, and outdoor rooms are fast becoming one of the most popular destinations of the home.
Outdoor rooms can be crafted to include many of the amenities typically found inside the home such as upholstered furniture, kitchen appliances, audio, TV, decorative lighting, wall art, and more.
And what better time to begin to think about an outdoor room than springtime! An outdoor room project is an exciting and engaging process. A little pre-planning will help eliminate many obstacles in designing the outdoor living space of your dreams.
The big picture: What is the intended use? Is it entertaining, dining, beautification or perhaps a personal getaway? Identify your needs/wants, the desired time frame for completion, impact on lifestyle and available resources. Imagine it – sketch it out.


Your lifestyle: Is it casual and relaxed, formal and
traditional, modern or transitional?
The budget: Research your options. Plan for all elements and then prioritize – fireplace, hardscapes, outdoor kitchens, water features, furniture and accessories, vegetation, modification to utilities, etc.
The environment: Take advantage of the natural beauty of your environment. Topography, vegetation, coloration, natural vistas, shade patterns.
The seasons: Design the space for comfortable year round use. Outdoor fireplaces, fire pits and outdoor heaters provide warmth and comfort in cooler months.
Color: Effective use of color will bring even the most casual environment to life.
Maureen & Lee Recchia,
Owners American Casual Living