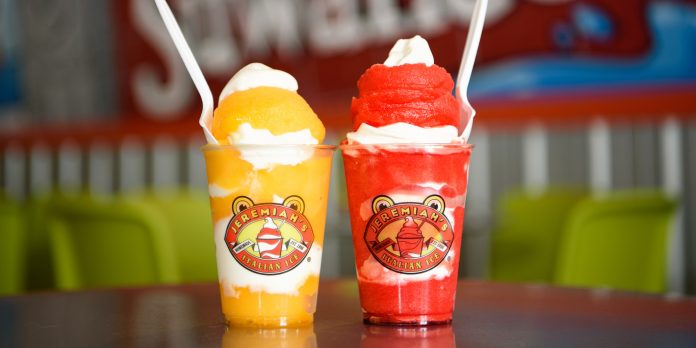 Jeremiah's Italian Ice has served up its flavorful blend of Italian ice and gelati from its vibrant shop on Peachtree Industrial Boulevard since November 2021.
By Jessica Dacey | Photos by Karl Lamb
While the long days of enduring Georgia's scorching summer heat will soon be in our rearview mirrors — phew! — the desire for a cool, sweet treat never fades away. Besides, who can say no to the nearly limitless flavor combinations of gelati from our new favorite sweet shop, Jeremiah's Italian Ice? With more than 55 locations spanning all across the southern U.S., Jeremiah's has been serving up its blended gelati delicacy since 1996. The superior frozen treats have finally made their way to Suwanee and we couldn't be more excited.
Jeremiah's has been scooping up its delicious and authentic blend of flavorful Italian ice and creamy soft serve ice cream in Suwanee since November 2021, with a fun, vibrant shop located on Peachtree Industrial Boulevard. From the moment Suwanee franchise owner Vipul Patel tried a spoonful of the classic mango and vanilla combination, he knew he wanted to be a part of the Jeremiah's Italian Ice concept.
From its use of high-quality ingredients to its dedication to being involved in the local community, Jeremiah's has certainly become a popular destination that gives more to its patrons than just the satisfaction of one's sweet-tooth craving. Giving kids the opportunity to gain work experience at a young age is just one of the ways Jeremiah's stays true to its reputation of giving back to the community. Behind the counter you'll see that many of the employees are local high school students getting their feet wet in the working world.
NOT YOUR TYPICAL SHA VED ICE
By blending fresh and natural ingredients in-store daily, Jeremiah's sets itself apart from the typical shaved iced, snowcone, and ice cream shop experience. The texture of the homemade Italian ice has been perfected, which means you won't have to worry about your sweet treat melting into a cavity-inducing puddle of sugary syrup at the bottom of your cup. (Thank you, Georgia heat!) With more than 40 flavors on the menu, the endless creative combination possibilities will send your taste buds on an adventure.
Try the cake batter and strawberry flavored Italian ice blended with vanilla soft-serve and topped with cookie crumbles for a strawberry shortcake imitation — you'll thank me later. Unsure of which of the hundreds of flavor combinations to try? You can get a free sample of each and every one, which I highly recommend. The team members can also point you in the right direction based on your favorite flavor profiles. (They get to try them daily, too. Quality control, right?)
Once you settle on that very difficult decision, be sure to top your creation with either sprinkles, cookies, or chocolate chips for the figurative "cherry on top." Jeremiah's also has sugar-free flavors along with options for those who are intolerant to dairy, tree nuts, soy, gluten and peanuts.
So far, there are six locations in Georgia. However, keep an eye out for new locations popping up around the Peach State soon because according to Vipul and Minesh Patel, there are a whopping 29 in the works all over Georgia. Each location will be representative of the upbeat, family-friendly atmosphere and plethora of flavor options that Jeremiah's boasts.
So take a seat indoors or under the umbrella shade on the patio, grab your favorite gelati creation and a pup cup for your furry-friend (yes, the patio is pet friendly), and enjoy all of the classic and eccentric flavors offered. Also, don't forget to take advantage of Jeremiah's J-List rewards to start earning points towards free treats, because who doesn't love free gelati?
Jeremiah's Italian Ice is located at 991 Peachtree Industrial Blvd. in Suwanee. For more information call 470-758-4444 or visit JeremiahsIce.com/locations/suwanee-ga.