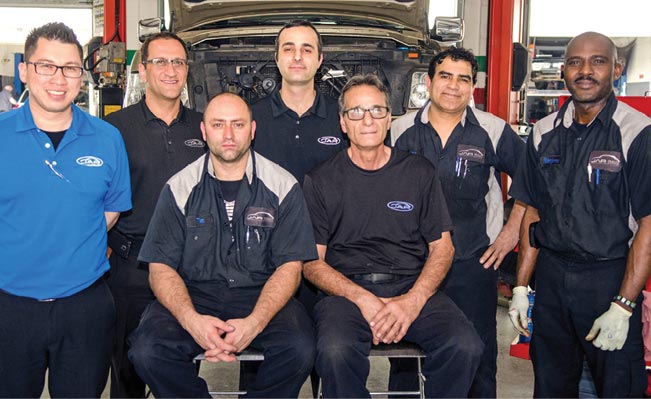 Founder's legacy lives on through son's determination
BY: Rachel Fasig
In the lobby of Japanese Automotive Repair (JAR), you'll notice a certificate stating, "2015 American Express Member Favorite" – a great honor for any recipient, but even greater for Co-Owner, Shad Hamedani, for reasons beyond most people's comprehension.
Over thirty years ago, Shad's family was fearfully huddled in the bunker of an Iranian naval ship as he and his late father, Faal Hamedani, took turns navigating across the sea – far from Iran and the threat of death that was pursuing them during the Revolution. Hamedani's story is a true testament as to how courage, risk and hard work pay off in a big way.
With little more than the clothes on their backs, the Hamedani family was taken in by an Atlanta church whose members were temporarily housing refugees. With experience as a Mechanical Engineer in Iran, Faal knew precisely how to fix a vehicle – but did not know a single word of English. So, at nine years old, Shad quickly learned English and began teaching his father every day after school.
After nearly a decade of working at various auto shops in Metro Atlanta, Faal Hamedani founded his first JAR shop in 1989 and subsequently opened four more in Metro Atlanta, including a Suwanee location in 1999. But, when his health took a turn for the worse he decided to sell all but the Suwanee location. The reasoning behind his father's decision: "We kind of grew with Suwanee," Shad explained. "The best things about Suwanee are the small, family-owned businesses and community that takes care of each and has helped one another grow – and JAR has been part of that.
Today, JAR is co-owned and operated by Shad Hamedani and Raymond Moshglani, a longtime family friend. But, both men will admit that Faal's legacy still permeates the culture of their shop.
JAR's experienced technicians are very knowledgeable about the brands that they service: Lexus, Acura, Honda, Toyota, Mitsubishi, Mazda, Infiniti and Nissan. And, they are proud of the fact that every single part comes straight from the manufacturer, but that they can operate at a price point 20-40% less than the dealers.
"In this business, it's so hard to find a reputable place that you can trust," Shad confessed. Which is why he will actually "recommend that customers do their homework, call around, ask for written estimates, make sure the price they're getting is competitive and that the quality is up to the right standards," he explained. "I used to work at Lexus and learned firsthand what goes into the dealership environment and was able to bring that experience here," he continued.
A car is a big investment, so it makes sense to properly care for it. JAR has several seasonal packages to ensure proper, preventative maintenance throughout the year. "We recommend that people adhere to the schedule that the car manufacturer put in place for their specific make/model…that's how you keep high-cost repairs from happening." They truly don't want to see their customer's pay huge amounts for services that could have been prevented.
And, it's clear their customers appreciate that when you search "Japanese Auto Repair" on Google and see a coveted 5-star rating on Google reviews. It is by operating with this type of integrity and honest work ethic that Shad, Raymond, and the JAR team will continue to keep Faal Hamedani's hard-earned legacy alive.