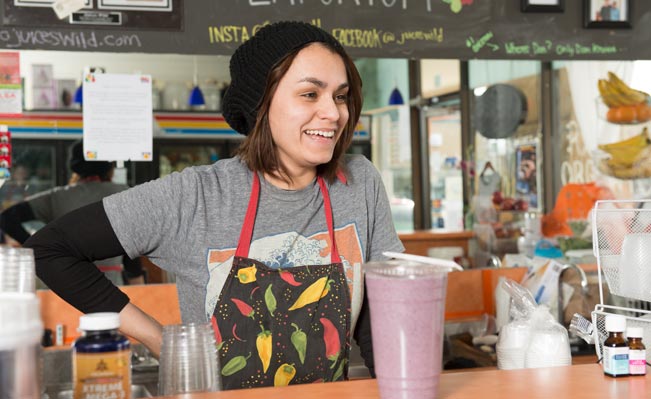 Not Your Average Juice Bar!
BY: Rachel Fasig
A business' mission statement is never more effective than when the entire team is a living, breathing, personification of it. Such is the case for Dan Honore, Owner of Juices Wild Vitamin & Juice Bar, and his Managing Partners: Aubrey Logan-Holland and Kenia Meeks.
Juices Wild opened the doors in 2006 with the mission of providing fresh, organic juices and smoothies, and supplemental health and wellness products, to customers who did not have readily available or affordable alternatives. And while delicious drinks with nourishing ingredients are definitely on the docket, the heart of their business goes far beyond that. At the foundation: empowering people to take control of their own health and nutrition, and live the best life possible.
The message is simple. Delivering that message? Not so much. Juices Wild is tucked in the corner of a nondescript strip mall at the busy intersection of Nelson Brogdon Blvd and Buford Hwy, where fast food joints and Enterprise Rent-a-Car steal the show. They didn't think we would last," Honore confessed, as he recalled the community's reaction to their grand opening. In 2006, the "all-organic" concept was still elusive and foreign to many. But, it took little more than word-of-mouth marketing for them to become known as a local "superfood emporium" – a term coined by Logan-Holland, and perpetuated by their enthusiastic customer base.
Their all-organic and entirely-customizable drink menu contains power-packed ingredients and enticing names such as: Iron Giant, Flu Shot, Chocolate Cherry, Jolly Rancher, Cinnamon Acai, Georgia Peach, Sweet Potato Spice, Butta Finger and Swagger. But, if that is not enough to keep customers coming back (which it almost always is!) then the attentiveness, kindness and genuineness of their staff will.
Step foot inside and you immediately become family. Warning: they care A LOT about family! A true passion for, and ongoing education of, total health and wellness, is what places Juices Wild in a league of their own. "We are serious about doing our homework, speaking to our suppliers and attending expos. It's a challenge and it's a big financial commitment, but the knowledge that we get in return, pays off," explained Honore.
Juices Wild carries an enormous variety of supplements, vitamins and resources that target almost any health concern imaginable, ranging from: weight loss and maintenance, sleeplessness, fatigue, memory, children's health, digestive aide, cardiovascular health, mineral deficiency, sports nutrition, immune function, joint and bone healthy, beauty products, protein powders, antioxidants and more.
Completely immersed in the world of total health and wellness, Honore and Logan-Holland took their knowledge and resources to the next level, by partnering with Brad Ladun as co-founders of Elite Alchemy Vitamins & Supplements. As sponsors of several pro MMA fighters, bodybuilders and trainers, Elite Alchemy has gained a lot of traction since its inception in 2012 with products now being sold in seven locations, including Columbia and Brazil.
Juices Wild supports a large number of trusted brands, but the Elite Alchemy line is the only one that can authentically and entirely represent their personal values and philosophy that: "Exceptional Health is Attainable". Through Elite Alchemy's products, Honore, Logan-Holland and Ladun are dedicated to delivering the most cutting-edge products on the market with the purest ingredients, at the lowest cost possible. Their flagship product, Elite Alchemy Diatomaceous Earth, is a testament to that, as one scoop alone contains 84 all-organic trace minerals including the much needed, yet difficult-to-obtain mineral, Silica. The product is revered for its detoxifying properties, as a cancer-fighting agent, and as a critical aide in the reproduction of hair, cartilage, connective tissues, collagen, skin and nails.
At Juices Wild, Elite Alchemy's full-size products may be purchased or customers can try it out by adding it as a "boost" in their daily juice or smoothie. Regardless of what health benefits you are looking to obtain, or if you simply want a tasty smoothie, the Juices Wild team will confidently guide you in the right direction.