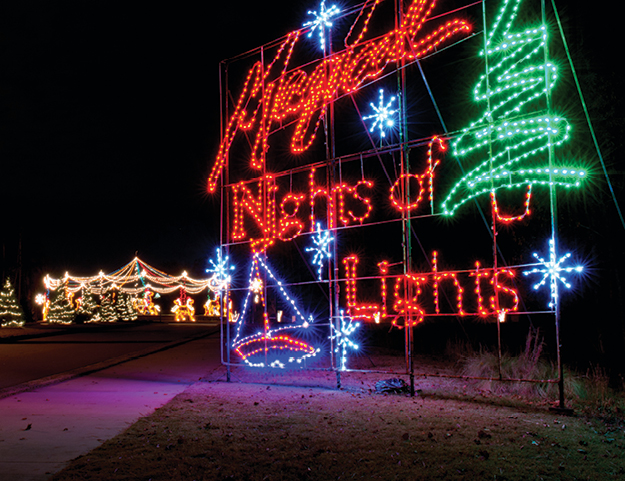 Lanier Islands Celebrates a 25 Year Tradition of the Magical Nights of Lights.
By: Alicia Carter | Photos Courtesy Lanier Islands Resort
The Magical Nights of Lights at Lanier Islands has been a regular part of the Christmas season in our community since I was a kid. Having grown up nearby, I remember the cars filled with families, couples and groups of teens heading to the park at sundown beginning in mid-November. As common as it was to work at Lanier Islands during summer break, as many of my friends did, you were just as likely to bring your high school sweetheart to the Magical Nights of Lights for a special date during the holidays. In fact, my husband and I shared a date to the lights with friends when we first began dating. And now here I am in my 30s with a child of my own and the Magical Nights of Lights is still as much a part of the Christmas season as it was when it first began in 1993, which speaks to just how special it is. And that's what sets it apart from other holiday events: It's a beloved family tradition that people look forward to year after year.
And this year is extra special because the Magical Nights of Lights is celebrating its 25th anniversary. Kicking off November 17, the Christmas spectacle is back with new additions to its twinkling lights lineup, alongside tried-and-true favorites. The newest standout is a 65-foot Christmas tree set atop a giant drum at the Clock Tower roundabout — a true centerpiece of the show! This year also marks the return of an old favorite. Guests can once again sing the familiar song about a partridge in a pear tree, turtle doves, French hens and more as they drive past the displays of the 12 Days of Christmas portion, which will appear next to other favorites such as Santa's elves at work, the North Pole Express, Wizard of Oz, the Icicle Tunnel, the Carousel and more.
We spoke with Missy Burgess, Lanier Island Resort's Director of Public Relations and Sponsorships, about what else they had in store to celebrate the 25th anniversary. "This is a special tradition for families," she says. "What sets apart the Magical Nights of Lights from other Christmas events is that while most charge per person, admission to the Lights is per car, so it's really a great value." To commemorate the 25th anniversary, this year's Magical Nights of Lights will be even more affordable with the discounted rate of just $45 per vehicle when purchased at the gate and $35 per vehicle when purchased online.
After you make your way through the lights, you'll end your drive at the familiar Holiday Village inside LanierWorld, where you can visit Old Saint Nick himself at Santa's workshop, partake in some holiday shopping, stop by the fire pit to roast marshmallows, and even hop on a carnival ride to top off the evening.
Lanier Islands Resort is also offering the Ultimate Santa Package for the holidays, where visitors can experience luxurious overnight accommodations, a special Christmas ornament welcome gift, a bedtime holiday story with cookies and milk for the kids as they're tucked into bed by Santa's elves, and a festive breakfast with Santa for four guests. Be sure to plan ahead to secure a spot at Santa's breakfast table, as dates are limited to November 18-26; December 2, 3, 9, 10 and December 16-24.
This holiday season I look forward to returning to the Magical Nights of Lights with my daughter for her second trip to see the massive Christmas lights displays. "It's an experience that the family is able to enjoy together," Burgess says. "You're able to experience it with your kids, singing songs, seeing the expressions on their face — it feels like a really private experience even though it's a public event." And that's true: Seeing the look in my daughter's eyes as we ride past the twinkling lights is a joy that truly captures the magic of the season.
Follow Lanier Islands' Facebook page for more surprises and special announcements about the Magical Nights of Lights. And for more information about the Ultimate Santa Package, visit lanierislands.com.