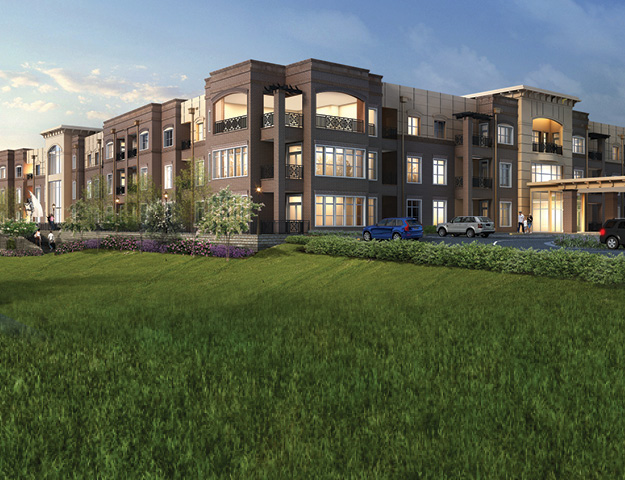 Heartis Suwanee is an inclusive retirement community with resort-style amenities that encourages its residents to live inspired while also living well.
By: Lizzy Kidney
How do you envision retirement? Do you see yourself enjoying chef-prepared meals, ambling along beautifully landscaped trails, or relaxing at a beauty or barber shop? What if we told you there is a senior living community right here in Suwanee that offers all of these amenities and more? Heartis Suwanee, located near Town Center Park at the northwest corner of Suwanee Dam and Brogdon roads, will soon open its doors to those looking for a more enjoyable retirement.
Heartis Suwanee is a continuation of Caddis Healthcare Real Estate's major expansion into the Southeast and is the second Heartis senior living community in Georgia. It is managed by Frontier Management, an experienced senior living operations management company that currently operates 11 Heartis communities, and is ranked No. 20 among the nation's Top 50 Largest U.S. Seniors Housing Operators by the American Seniors Housing Association.
The state-of-the-art senior community encourages its residents to live inspired while also living well. It is dedicated to helping its residents continue to live as independently as possible, while also supplying the tools needed to lead full, active and enjoyable lives. With three lodging options — independent living, assisted living, and memory care — residents have the ability to choose the accommodations that best fit their needs and lifestyle.
"Heartis Suwanee is proud to be part of the vision of the City of Suwanee," says Executive Director Sharise Thurman."We are excited to be inclusive, engaged, and welcoming of everyone of all ages, cultures, and backgrounds at the high-quality community the residents will call their home."
Heartis houses 175 units in single-story, two-story, and three-story buildings totaling more than 180,000 square feet. The senior community boasts first-class amenities such as spacious accommodations; large, secured courtyards; beautifully landscaped grounds with walking paths; game and activity rooms; a beauty and barber shop; large dining rooms that serve home-cooked meals; social and recreational activities and religious services; and relaxing common areas.
In addition to resort-style amenities, residents also live in close proximity to the Mall of Georgia, Suwanee Town Center, and medical facilities such as Gwinnett Medical and Northside Hospital in Johns Creek, so shopping, restaurants, parks and more are all nearby. The facility also provides special services such as a nurse-supervised staff; 24-hour emergency call systems; assistance with personal activities and medication supervision.
INDEPENDENT LIVING
Heartis' independent living spaces are an ideal choice for seniors who want an active, engaging lifestyle, but no longer want to worry about maintaining yard work or household chores. There are a variety of floor plan options to choose from, including studio apartments, one bedrooms, or two-bedroom apartments with utilities included in the cost of each.
Residents have access to a private dining room, bar, and outdoor terrace as well as a full salon, spa, and exercise room. Residents can also take a dip in the resort-style pool or stroll along the walking paths while the staff takes care of the housekeeping and laundry.
ASSISTED LIVING
Assisted Living at Heartis is the perfect fit for an older adult who may need assistance with daily activities such as getting dressed or bathing but still wants to maintain an active lifestyle. The assisted service programs are designed to meet each resident's specific needs, while also encouraging them to grow, thrive, and be connected with the community through their diverse Montessori-based programming.
Residents at the assisted living facility will have access to all of Heartis' amenities, in addition to a 24-hour nurse, weekly housekeeping, laundry, and home maintenance.
MEMORY CARE
The memory care services are personalized to each individual and offer a safe and secure environment to help enrich the lives of residents with Alzheimer's disease or other forms of dementia. The memory care facilities not only have specific physical features that help make them valuable, but they also feature special programming that stems from the lifelong learning philosophy on which they are built, based on the work of Boston's Dr. Cameron Camp and his incorporation of Montessori principles.
Heartis Suwanee's vision of retirement is one that is inclusive to the needs of a diverse group of people. Providing both 24-hour support and the freedom to live an independent lifestyle, Heartis Suwanee is the ideal choice for those looking to lead a full, active and enjoyable life well into their golden years.
To learn more about Heartis Suwanee visit their sales office located at 425 Buford Highway Suite 106-B, Suwanee, 30024, or call 770-614-6601.