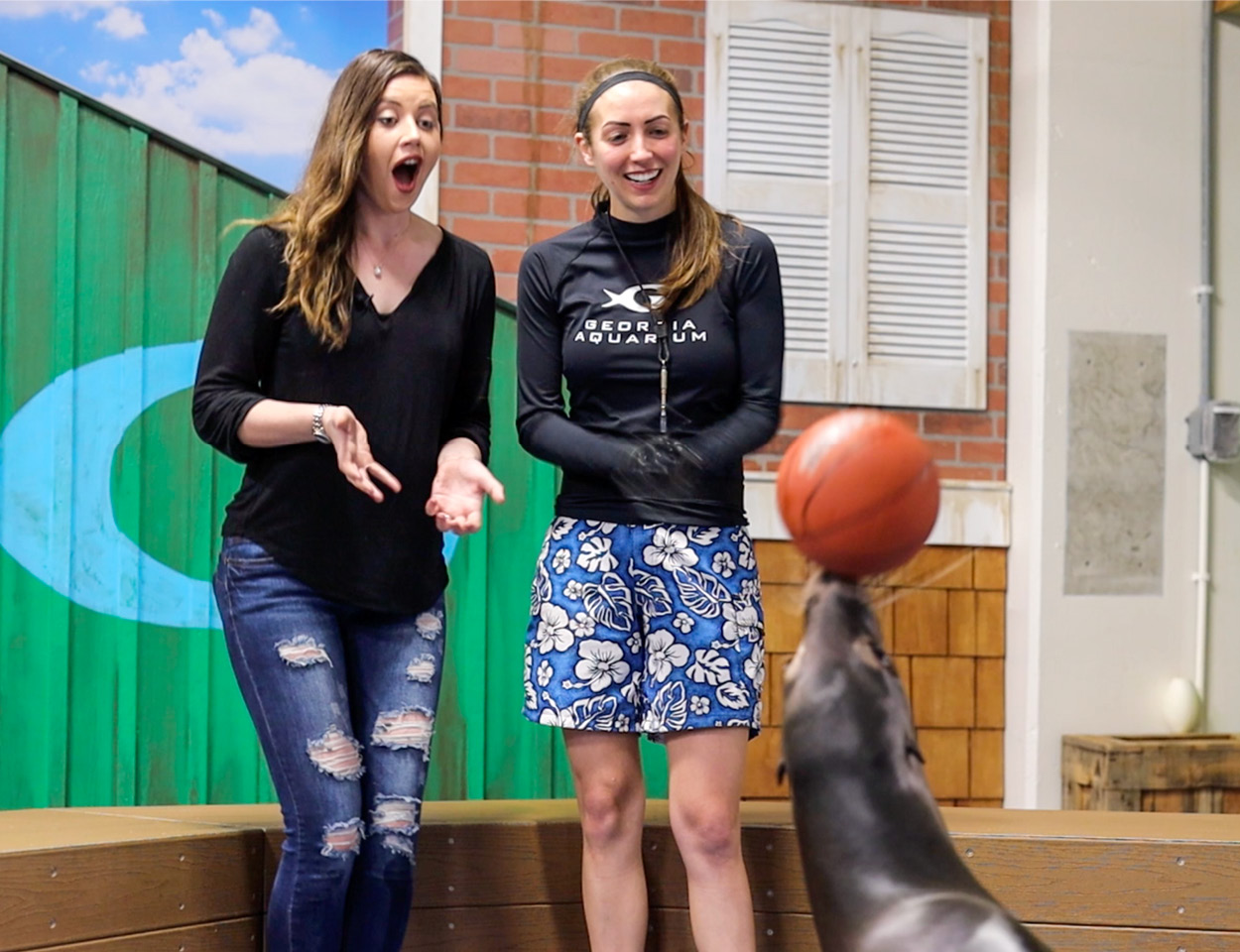 THE GEORGIA AQUARIUM'S NEW CALIFORNIA SEA LION ENCOUNTER HELPS TO BRING AWARENESS TO THE PUBLIC!
By: Lizzy Kidney | Photos by Alicia Carter and Chip Hogsed
Since 2005, the Georgia Aquarium has been dedicated to spreading awareness and education about the extraordinary animals who inhabit our oceans. As a leading facility for aquatic animal conservation and research, the Georgia Aquarium explores ways to improve animal care methods, develop innovative and exciting new exhibits, contribute to the understanding of our world's oceans, and apply new discoveries to the conservation of aquatic life.
Over the last 14 years, millions of aquarium visitors have been introduced to the wonders of beluga whales, whale sharks, and hundreds of other marine species. The charismatic and engaging California sea lions, however, are among the most popular animals who call the Georgia Aquarium home.
On any given day, Suntrust Pier 225 transports hundreds of people to the West Coast to learn more about the life of a California sea lion. The Under the Boardwalk show, free with an aquarium ticket, highlights the sea lions' charming personalities, teaches visitors about conservation efforts, and shares the rescue and rehabilitation stories of these incredible animals.
As a complement to the popular show, the California sea lion encounter, the aquarium's newest immersive experience, takes visitors behind the scenes for hands-on interactions with some of the aquarium's most beloved animals.
I recently had the opportunity to participate in the sea lion encounter, where I was introduced to three of the aquarium's female sea lions along with their trainer, Abby Kutcher. After making our way down an elevator and through behind-the-scenes corridors, we arrived at the charming pier-inspired home of the sea lions. We were warmly greeted by Abby as she ran through the guidelines of the encounter, her role at the aquarium, and what we had to look forward to.
"The trainers here spend about eight hours a day with the sea lions," Kutcher said. "They are very social animals and have learned many different behaviors, which you will get to see in the encounter, that allow us to better understand their species and build really special relationships with them."
After we became acquainted with one another, it was time to get up close and personal with these amazing animals. From the very beginning, it was obvious that Abby has a deep passion for her job and that became even more evident as I watched her interact with each of them.
Up first was 4-year-old Peaches, whose fun and friendly attitude was evident from the start. She proudly showed off her singing skills, had a mini dance party, and even gave me a kiss on the cheek! Next up was 8-year-old Katie, who made it known that she was the "mama" of the group. We threw a frisbee, played a little basketball, and even brushed her teeth (because hygiene is important for a sea lion, too!). Finally, I was introduced to Peaches' best friend, Savvy. Savvy is also 4 years old and, as the daughter of a rescued sea lion, has always called the Georgia Aquarium home. Her spunky attitude shined as she showed off her speaking abilities, gave me a lesson on sea lion health, and even rocked a moonwalk.
Aside from entertaining and showing off their personalities, Peaches, Katie, Savvy and all of the sea lions at the aquarium now serve as ambassadors who help educate the public about their species and the environmental challenges they face.
"Each of the sea lions have their own unique personalities," Kutcher says. "We love doing encounters like these to not only show the public how incredible they are but to also raise awareness and educate people about dangers they face in their natural environments."
One of those dangers became a reality in March of 2015, when a large number of sea lion pups were stranded and malnourished on California beaches during an Unusual Mortality Event (UME). Findings suggested that this unprecedented number of young stranded sea lions was likely a result of a dramatic shift in the availability of an important food source for nursing sea lion mothers.
"One reason these UMEs and other strandings happen is because the public feeds these animals, which causes them to spend more and more time closer to shore as they become dependent on that instead of finding food on their own," Kutcher says. "It's important to remember that although they are friendly and interactive in the encounters, in the wild the sea lions are in their natural habitat and are meant to be left alone."
Behind the scenes, researchers throughout the aquarium and in the field are learning more about marine life and making efforts to protect our oceans every day. Proceeds from these programs, like the sea lion encounter, ensure the Georgia Aquarium can continue its research and conservation endeavors in the future.
In addition to the sea lion encounter, aquarium visitors can also don a wetsuit and get waist deep with the beluga whales, help feed the dolphins, swim with the whale sharks, pet a penguin, and get up close to other aquarium residents, like the seals and sea otters. These types of encounters not only allow visitors to meet these amazing animals face-to-face, but it also humanizes the experiences many of them face in their natural habitat, which helps the aquarium to spread its message of conservation to more and more people. Getting a kiss from a sea lion is just the cherry on top.
If you are interested in learning more about their conservation efforts, visiting the aquarium, or participating in an encounter, visit georgiaaquarium.org.