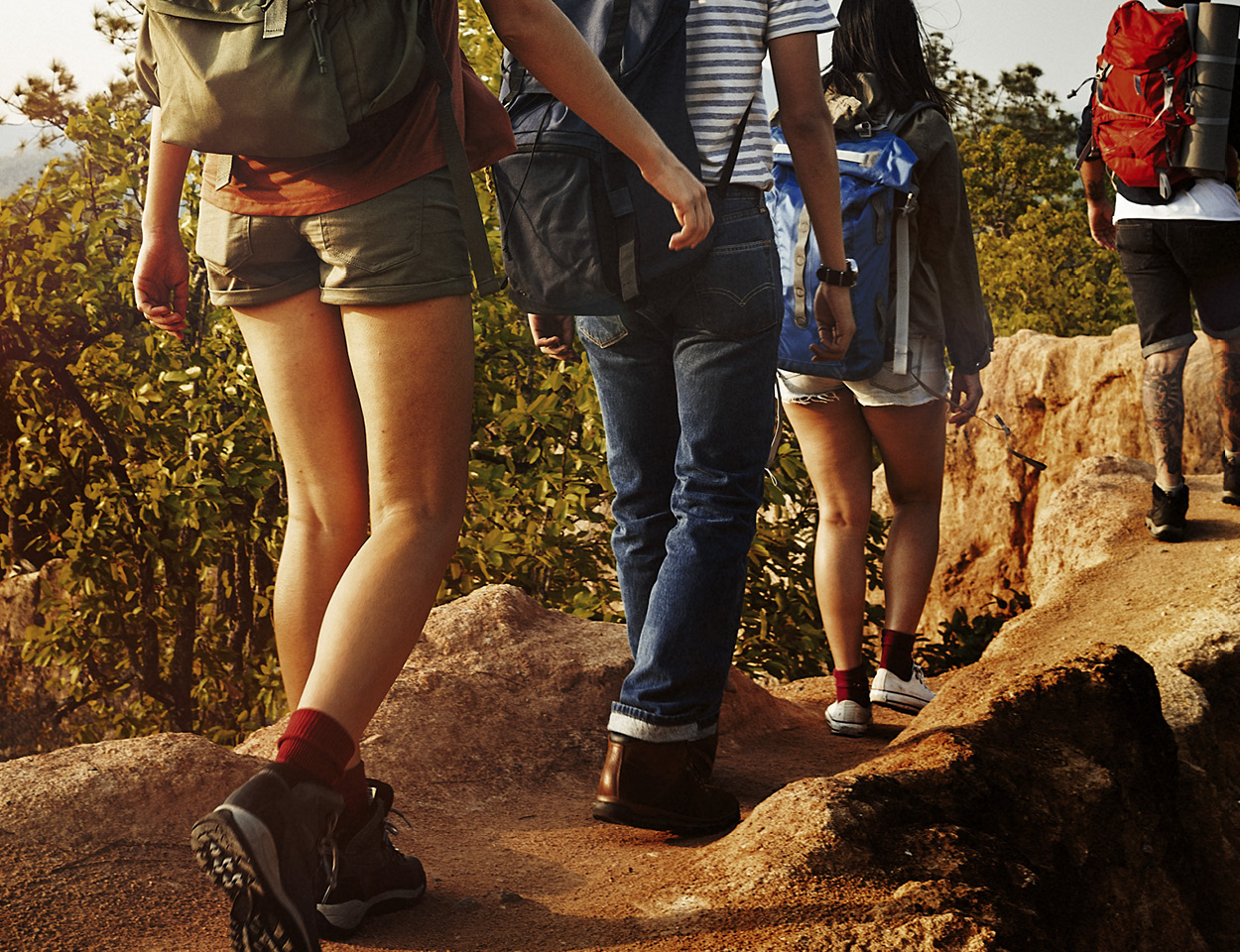 THRU-HIKING THE APPALACHIAN TRAIL REQUIRES DEDICATION, ENDURANCE AND MONTHS OF PREPARATION. THE ANNUAL KICK-OFF EVENT TOOK PLACE AT THE AMICALOLA FALLS STATE PARK AND LODGE, WHERE VENDORS AND HIKERS SHARED STORIES FROM THEIR TIME ON THE TRAIL.
By: Lizzy Kidney
Thru-hiking the Appalachian Trail, which spans more than 14 states, is no small feat. Each year thousands of adventure seekers attempt to make the hike from Georgia to Maine, which can take up to seven months, but only one in four hikers complete all 2,190 miles. According to the Appalachian Trail Conservancy, those who are able to complete the entire trail can say they have hiked a total elevation gain equivalent to climbing Mount Everest 16 times. Due to the dangerous conditions, thru-hiking takes months of preparation in which hikers must decide when and where on the trail they want to begin, register their preferred hike, plan resupply points throughout their journey, and memorize the camping regulations along the entire trail.
The seemingly most popular hike, referred to as the Northbound Hike, begins between March 1st and April 15th at Springer Mountain in North Georgia and heads northbound up to Mount Katahdin in Maine. A typical northbound thru-hiker can expect to face winter conditions for the first several weeks, including up to 100 inches of heavy snowfall in high elevations throughout the North Carolina, Tennessee, and southwest Virginia mountains. This means that most hikers have to be prepared to carry heavy winter gear for a little more than 500 miles in order to protect themselves from the weather. During this time frame hikers also have a higher likelihood of being exposed to noroviruses as a result of camping in crowded conditions.
Thru-hikers on the northbound journey must plan to end their hike by reaching Baxter State Park in Maine before October 15th to avoid harsh weather conditions that typically occur in early October. Although the thru-hike sounds like a daunting experience, hikers are drawn to the Appalachian Trail for a variety of reasons, such as escaping stressful work environments, leaving city life behind, building friendships, and connecting with nature.
On the weekend of March 1st, more than 4,000 people gathered at Amicalola Falls State Park and Lodge to kick off the 2019 thru-hike. The event featured hundreds of vendors, hikers of all experience levels, and park naturalists coming together to trade tales, advice, education, and fellowship with one another. We had the chance to hear trail stories, learn about proper hiking etiquette, and much more.
---
Gary Sizer: Finding a Trail Family
If you google "Appalachian Trail hikers before and after," there is a good chance that Gary Sizer's picture will be one of the first images you see. After carrying 20-30 pounds on his back for over 153 days, Sizer lost more than 30 pounds in what he describes as a "cycle between starvation and binge eating." Sizer, a former Marine, and skilled backpacker took time off of his corporate job to conquer the thru-hike from Georgia to Maine, but little did he know that the trail would significantly change his life forever. Beginning the hike from Springer Mountain, he set off to hike the trail on his own in March of 2014. He wasn't alone for very long, however, as he quickly developed what he refers to as his "trail family" and bonded strongly with the other thru-hikers.
"I was in the military for 10 years and I can honestly say that I made closer friends on the AT than I did in the military service," Sizer says. "Even though I started by myself, I finished with a pretty core group of people I considered to be my trail family."
That trail family, along with the toll that the six-month hike took on his body, inspired Sizer to write the bestselling novel, Where's the Next Shelter? The book tells the humbling story of Sizer and two members of his trail family as they make the long journey to Maine together. It depicts the real-life ups and downs the trio had to face on the trail and provides a humorous yet realistic look at the life of a thru-hiker. Sizer put the corporate world behind him and has continued to tell the story of the Appalachian Trail over the last few years. He has gone on to create a Podcast titled "Stories From the Trail" as well as publish a sequel to his best-selling book titled Home is Forward, featuring short stories of other people's adventures on the AT.
---
The Lowther Family: A Family Adventure
Hiking the entire Appalachian Trail is no small feat for an experienced hiker, but even more impressive for a young girl. Mic and Jerrianne Lowther, along with their 10-year-old daughter, Kyra, optimistically started the hike from Georgia to Maine on the first day of spring in the early 1970s. It took the family 214 days of rain, snow, river crossings, and hiking upward of 400,000 feet of elevation gain to complete the thru-hike.
"The first 200 miles or so Kyra wasn't thrilled because she thought it was going to be a lot more fun than it was turning out to be," Mic says. "However, a lot of the other thru-hikers on the trail made a big fuss over her, and after coming that far she decided that she was a thru-hiker just like them and ultimately became determined to finish the rest of her journey to Maine."
The Lowther family was the first family to ever successfully complete the entire thru-hike, inspiring Mic to write Walking North: A Family Hikes The Appalachian Trail, which was released in 2001. The story highlights the family's struggles, personal differences, and profound discovery throughout their six-month journey.