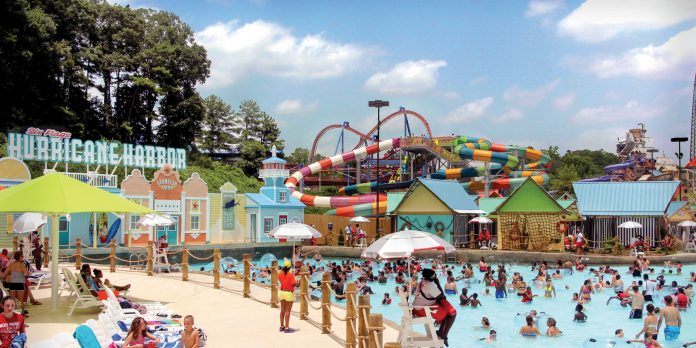 Splash into summer at one of these six Georgia water parks.
in Georgia which means one thing: It's hot! Once the temperatures start rising, many of us look for reprieve beside some body of water, whether it's a neighborhood pool, nearby lake, or the closest beach. If you're looking to really splash into summer adventure this year, nothing quite beats a family trip to the water park! From the thrills of the steep slides to the laid-back flow of the lazy river, water parks are great fun for the whole family. Lucky for us, there are a number of water parks throughout Georgia, with some located right here in our backyard of Gwinnett!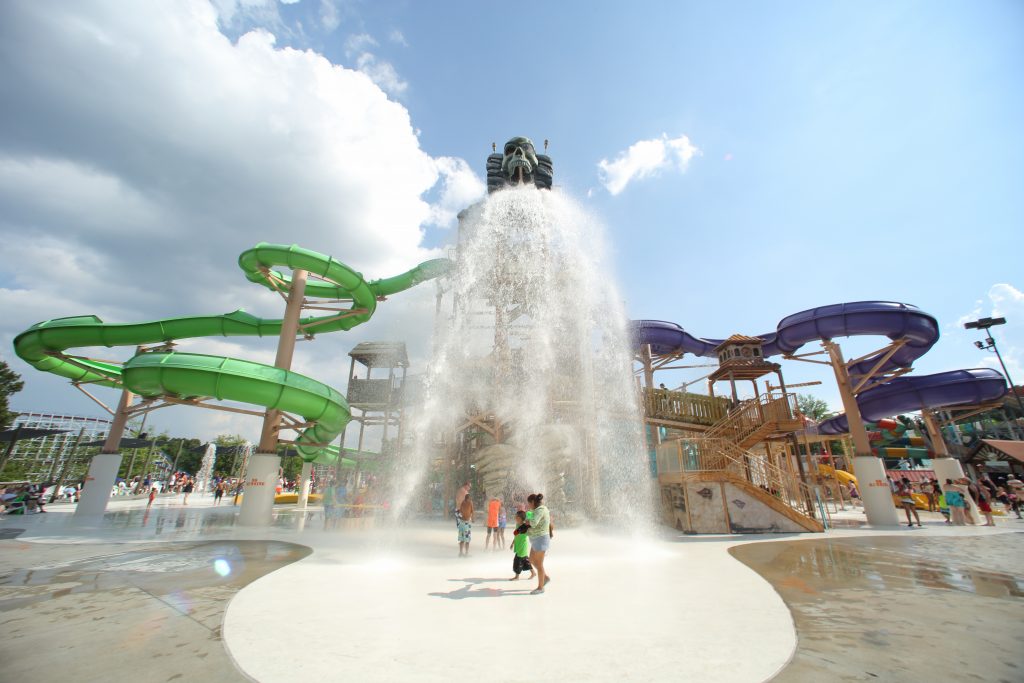 Hurricane Harbor at Six Flags Over Georgia
275 Riverside Pkwy, Austell, 770-739-3400, SixFlags.com
Nestled in Six Flags Over Georgia, Hurricane Harbor is the second water park from Six Flags in Atlanta. Entry to the water park comes with general admission, so it's two parks for the price of one. Take on the thrilling roller coasters at the theme park in the morning, before cooling off in the midday sun at Hurricane Harbor. Rides include Bonzai Pipelines, a colorful set of slides that give you three options for the perfect water ride — two of the slides have sharp turns that test your courage, while the third is a thrilling four- story drop. The Calypso Bay Wave Pool simulates the feeling of the ocean surf, where you can splash around the enormous wave pool or brave the four-foot wave shells all day long. The kids will love Paradise Island, a 2,000-square-foot interactive water playground that includes six unique water slides, three giant water-dumping towers, and hundreds of interactive water elements.
Top Adventure Pick: Tsunami Surge
The first hybrid zero-gravity single slide that combines two extreme slide thrills: First, four riders will barrel down an enclosed five-story drop that includes a 125-foot long whirlpool bowl, spinning you round and round at 360 degrees. Then ride down an enclosed tube into a 40-foot-wide bowl, where you'll feel a moment of zero-gravity bliss before hitting an embankment and landing in the splash pool below.
---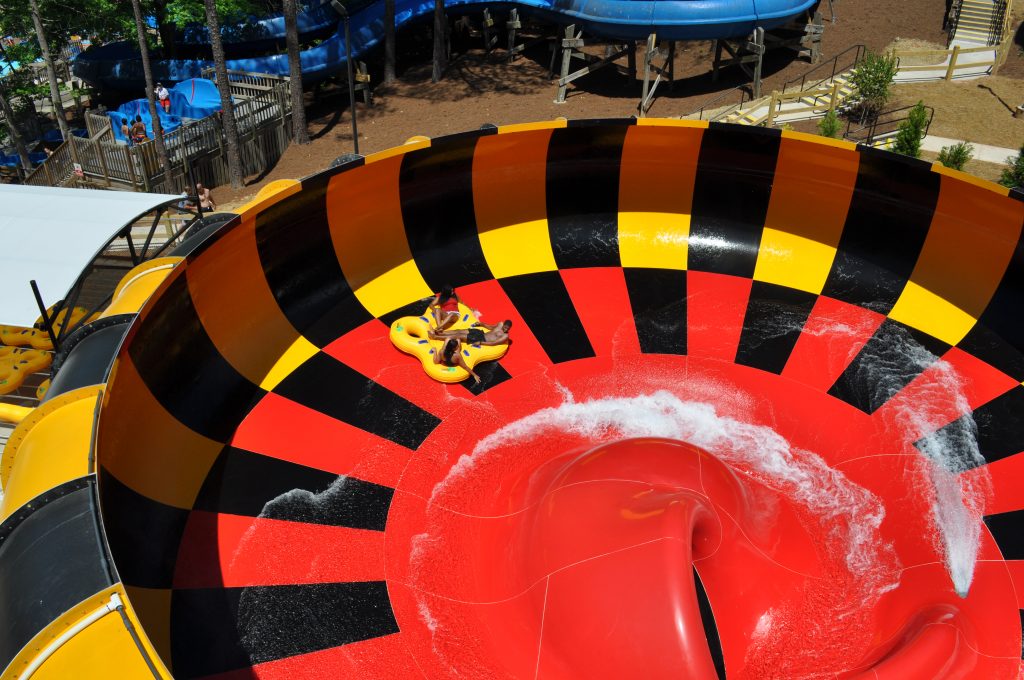 Six Flags White Water
250 Cobb Parkway North, Marietta, 770-590-4067, SixFlags.com/whitewater
White Water has been around since the '80s, but was taken over by Six Flags in 1999. As one of the largest water parks in the Southeast, White Water boasts more than 20 water rides and attractions, plus a 700,000-gallon wave pool, lazy river, and more. The park's signature attractions include the Run-A-Way River, a 735-foot- long raging river where you ride in a giant raft with up to two others; Typhoon Twister, a massive water ride where up to four passengers seated in a large tube descend a five- story enclosed drop into a gigantic 67-foot wide bowl; and Wahoo Racer, a six-story tall, six-lane, head-first racing mat slide. Kids will love Caribbean Cove, a brand-new children's AquaPlay structure opening this summer. This kids-only playground is situated right in the middle of a shallow pool and is the perfect place for kiddos to explore more than 25 interactive water elements and splash their way down four mini water slides. Caribbean Cove is also the perfect place for parents to pull up a lounge chair to relax and cool off while the little ones play. Summer season begins May 6.
Top Adventure Pick: Dive Bomber
A 10-story tall, free-fall body slide that is one of the tallest in the country. After falling through the trap-door launch capsule, riders experience a drop that is 10 seconds of pure adrenaline at speeds of up to 40 miles per hour.
---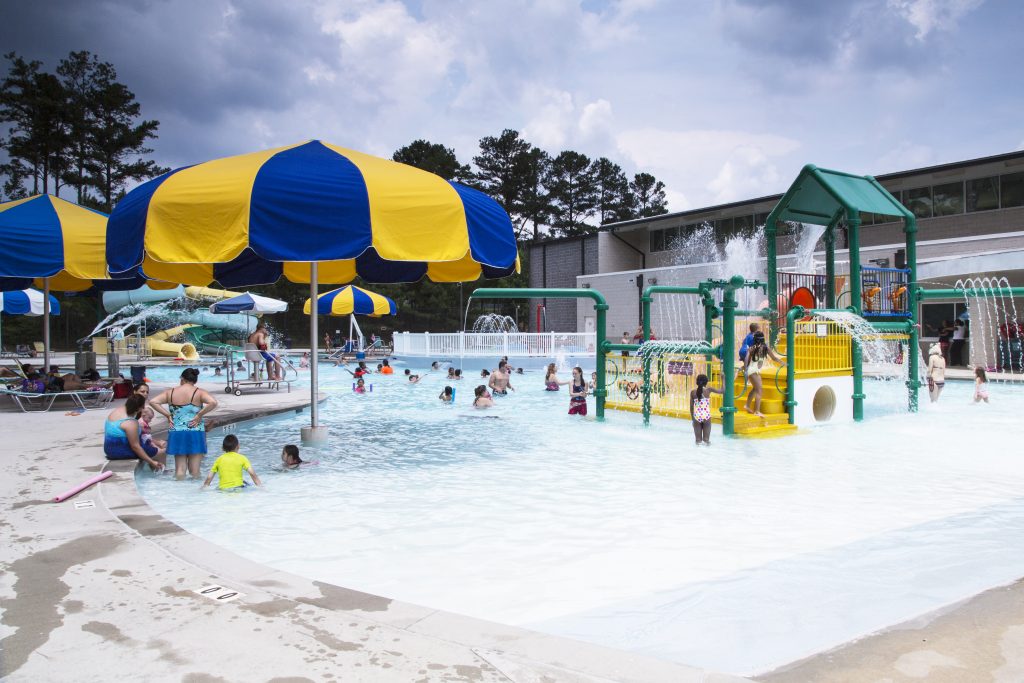 Collins Hill Aquatic Park
2200 Collins Hill Road, Lawrenceville, 770-237-5647, GwinnettCounty.com
Spanning 15 acres, the Collins Hill Aquatic Park is the perfect local spot to cool off from the summertime heat while also enjoying amenities that go above and beyond what a typical public pool can offer. While the aquatic center is home to a great indoor swimming and diving competition pool, the public can also enjoy an outdoor leisure pool with a lazy river, water play structures and two slides, as well as a one-mile paved multi-purpose trail with a road crossing to Collins Hill Park across the street. In addition to the fun attractions, the center also hosts swimming lessons, water aerobics, and other aquatic activities for all ages. It's a wonderful addition to our community that allows for safe water play for the whole family. Summer season begins May 26.
Top Adventure Pick: Giant Water Slides
While more tame than other water slides on our list, Collins Hill Aquatic Center's two giant water slides are perfect fun for the kids — and adults!
---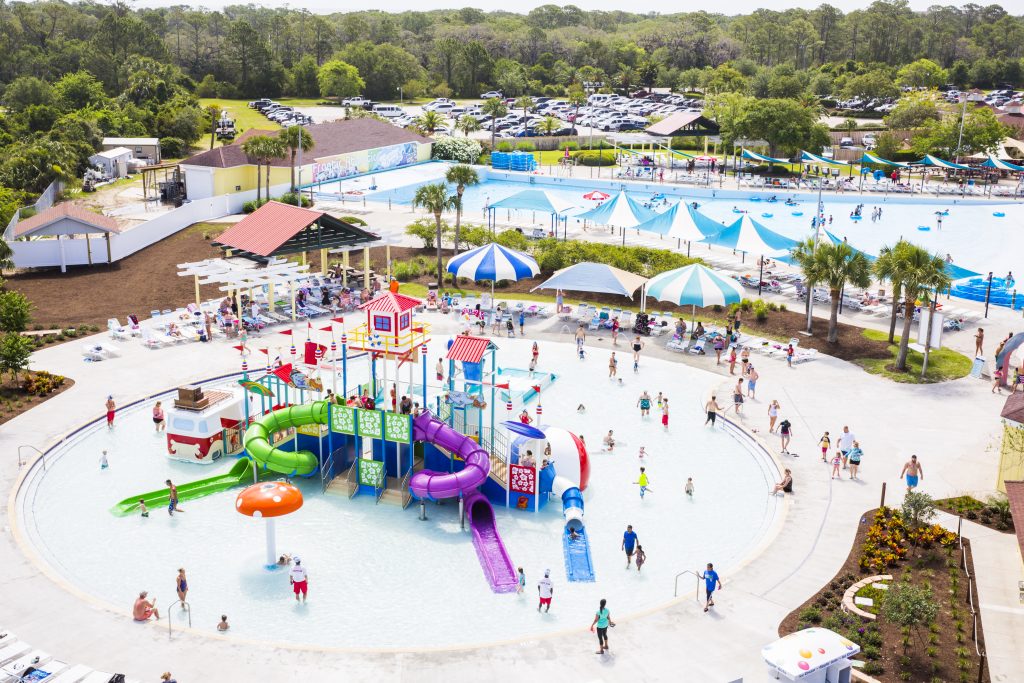 Summer Waves Water Park
210 S Riverview Dr, Jekyll Island, 912-635-2074, JekyllIsland.com/activities/summer-waves-water-park
Located on Jekyll Island, Summer Waves Water Park features 11 acres of fun for the family with a variety of ways to beat the heat this summer, from enjoying lazy laps around Turtle Creek to reaching high speeds down one of its thrilling water slides. The park's attractions include Nature's Revenge, two 40-foot slides that twist and turn into a large catch pool at the bottom; Flash Flood, a 350-foot-long curvy slide with double inner tubes; and Thunder and Lightning, twin slides that spiral down 150-feet of fully enclosed tubes. Parents can take a break at the Splash Zone, where the kids will enjoy water guns, a giant dunking bucket, and a water fun fort. The smaller children will love Shark Tooth Cove's two mini slides and waterfalls. Summer Waves' newest attraction, Man-O-War, features four intertwined tubes (two tube slides and two full-body slides) that twist around each other as you descend into the pool below. The park is introducing a new sensory space this year that allows guests who experience sensory overload to take a break and regroup. This space allows family trips to the park to be more accessible for everyone. Summer season begins May 13.
Top Adventure Pick: Pirates Passage Enjoy the largest slide in the park, Pirates Passage, where riders will hop on a double-seater inner- tube and slide down a 300-foot, five-story enclosed tower.
---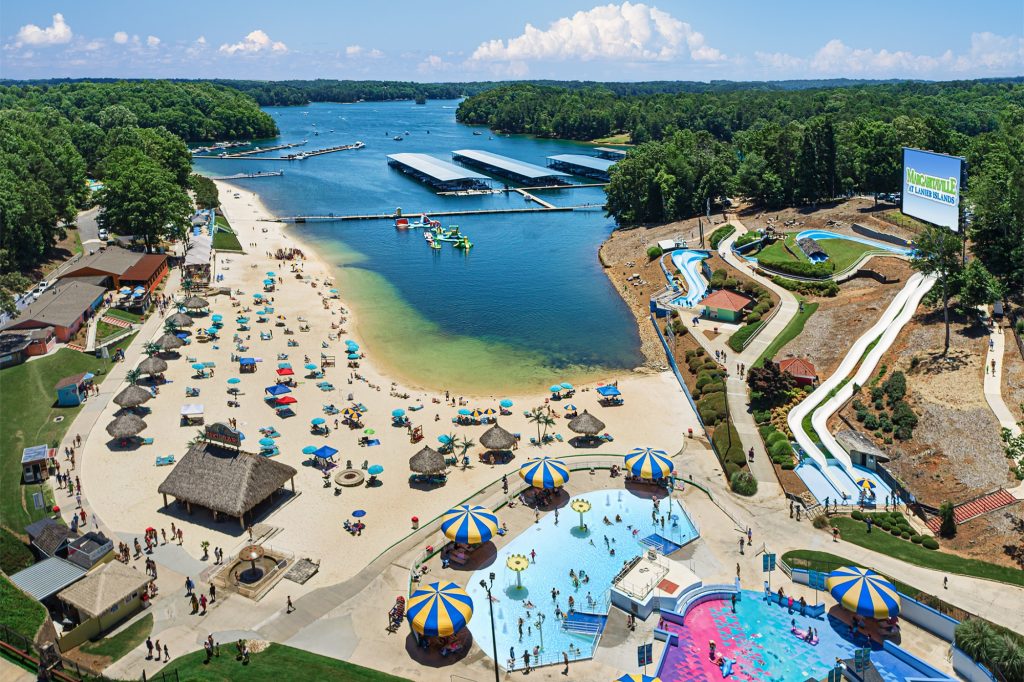 The Water Park at Margaritaville Lanier Islands
7650 Lanier Islands Parkway, Buford 470-323-3440, LanierIslands.com
The Water Park at Margaritaville at Lanier Islands is the best of both worlds: a laid-back lakeside attraction fit for the chillest Parrothead combined with all the excitement a day at the water park brings. Located next to the picturesque Lake Lanier in Buford, The Water Park at Margaritaville is home to a number of attractions that are fun for the whole family, from toddlers to teens to adults. The little ones will love Parakeet Springs with its mini water slides, fun sprinkler features, and a sandy beach perfect for building sandcastles, as well as Wiggle Waves, a junior version of the park's Wild Waves wave pool. Those in search of an adrenaline rush should check out any of the park's great water slides, including Raging River, which replicates a ride down the rapids; the Intimidator and Triple Threat, water slides perfect for the thrill-seekers in the family; the Twister, a 360-degree loop water slide; and other notable attractions, such as the Fin Dunker, Typhoon, and Splash Down slides. Be on the lookout for a new water slide, Parrot Mountain, which is set to open this season. The water park is also home to mini golf and places to eat and grab a drink, so it's the perfect summer escape close to home. Summer season begins May 13.
Top Adventure Pick: Blackout
This twisty, turny, plummeting slide is a short ride that's big on thrills. Riders will go from total darkness to a jolt of daylight at the end, all while wondering, "What just happened?!"
---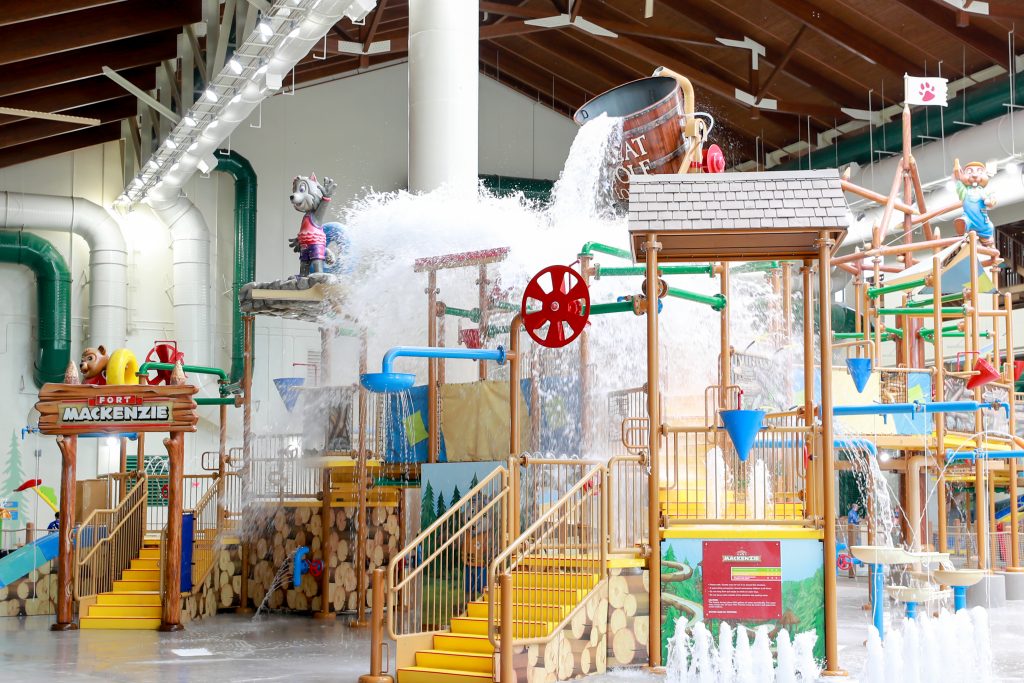 Great Wolf Lodge
150 Tom Hall Pkwy, LaGrange, 844-473-9653, GreatWolf.com/georgia
Located in LaGrange, Great Wolf Lodge is a nature-themed resort that offers fun for the whole family. In addition to its beautiful scenery, kid-friendly activities, and dry-land adventures, the resort is also home to what is widely considered one of the best indoor water parks in Georgia. The 93,000-square-foot park features a giant Fort Mackenzie play area with slides and water toys, a wave pool with zero-depth entry, a lazy river perfect for floating, and a number of tube slides and water rides. Plus, the pools and slides are kept warm at 84-degrees year-round. Guests who want to visit the water park can buy a day pass or get complimentary admission with an on-site stay at the resort — so it's perfect for a weekend summer getaway.
Top Adventure Pick: Triple Thunder
Grab your tube and your pack before dropping into three successive and thrilling water slide features. Circle around two saucers and glide up the sides of the funnel before making your splash at the end.