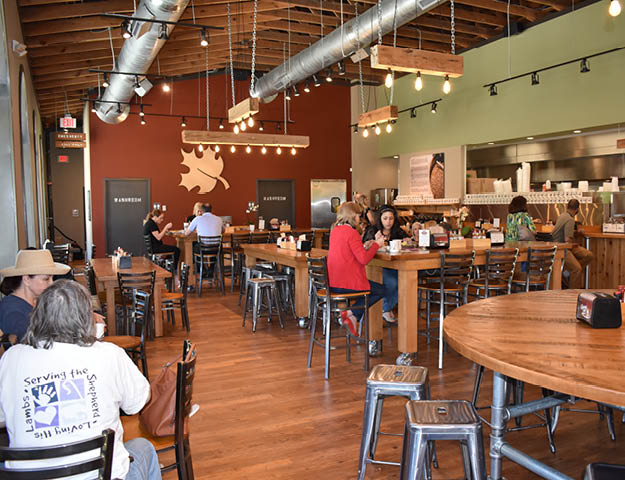 What's closed on Sundays, has a guiding principle of gracious service, and makes the best biscuits ever? Sorry, no, not you Chick-fil-A. We will always love you, your food and your kindness.
But, we're taking our indulgences one step further at Maple Street Biscuit Company in downtown Duluth where "gracious service" is a company-wide motto and where made-from-scratch biscuits are piled high with fried chicken, pecan smoked bacon, over easy eggs, and topped with pure maple syrup, sausage gravy, house-made pepper jelly or apple butter.
Say no more. You had us at biscuits…and bacon, and maple syrup, and fried chicken…
By: Rachel Pillow | Photos by Walt Wooden
Maple Street Biscuit Company is in a historic 1940's building in the newly revived Parsons Alley area of downtown Duluth. Owner, Lindsey Smith, opened the doors during the Duluth Fall Festival weekend last September to an unprecedented amount of hungry people, and the breakfast & lunch spot has been growing in popularity ever since. The Duluth restaurant is one of the Florida-based company's 22 locations, but the first in the state of Georgia. Rather than a "chain" or "franchise," the concept is all about community. Each restaurant is considered a "community store" and owners are called "Community Leaders." Along with serving consistently delicious food, the company's founders have an intrinsic value system that has created a culture of giving back. "We want our actions to match our words…to be in a community for years to come and to help define that neighborhood," they state on the company website. It's this defining level of authenticity, in character and in food, that keeps people coming back for more.
Few foods are as characteristically Southern as a perfectly baked, fluffy, flaky, buttery, warm buttermilk biscuit. And as the name suggests, Maple Street Biscuit Company makes classic biscuits exceptionally well. But in their own "twist on comfort food," they're adding their signature maple syrup to the batter and even more butter to the top in the middle of baking. These huge, maple-laced, butter-filled biscuits have just a hint of sweetness, much like their sought after Maple Tap coffee from RedLeaf Roasters. Maple Street coffee club members can enjoy unlimited cups of this addictive coffee all year round. "We have customers that get here every day right as we open for their morning cup of coffee. Mr. D (one of our coffee club members) gets here before we even open, but we have the coffee brewed and he chats with us as we're opening…it's always a great start to our day," said Assistant Community Leader, Dylan Kennedy. "We see a lot of regulars and love getting to know them and their families," he continued.
When we visited the restaurant, we chatted with self-proclaimed "regular" Laura Maddrey, who was with her 6-month-old daughter Cora, and about to meet her husband who works in Suwanee, for lunch. "We come here once a week – she has been coming here since before she was born," Maddrey said, pointing to her daughter. Maddrey has tried nearly everything on the menu and can't pick just one favorite. "Right now, I'm craving the club," she admitted.
The Chicken Club is an all-natural fried chicken sandwich served on a flaky, buttermilk biscuit with pecan wood smoked bacon, Romaine lettuce, tomato and topped with blue cheese, ranch or honey mustard dressing. Open Monday-Thursday from 7am – 2pm and Saturday from 7am – 3pm, the restaurant serves both breakfast and lunch all day. "Georgia loves breakfast for lunch," Kennedy stated. "Out of all the Maple Street Biscuit Company locations, nowhere else is breakfast as consistently popular during the lunch hours."
He recommends "The Five" or the "Sticky Maple" to get your foot in the door, if a newcomer is hesitant to try one of the more adventurous offerings right off the bat. The Five consists of a flaky biscuit, all-natural fried chicken, pecan wood smoked bacon, Cheddar cheese and sausage gravy with a little kick. "The gravy tastes like something your grandma would make," Kennedy said. The Sticky Maple is a flaky biscuit, all natural fried chicken breast and pecan wood smoked bacon all topped with Bissell Family Farm real maple syrup.
"Whatever menu item you choose, you will not be disappointed," said Maple Street Ambassador, Janet Mark. She has been there since opening day and is responsible for taking orders at the register and making sure the coffee stations and communal, seat-yourself dining tables are tidy. She's also the one who asks you one surprising question as you place your order.
Maple Street Biscuit Company asks their "question of the month" to each customer and uses the customers' answers to call out their order when it's ready. Questions vary from "who is your celebrity crush?" to "what type of animal would you be?" "Not everyone is a morning person and might not be ready for conversation – we hope this is a fun way to start their day. It also ensures that the exchanges we have with our guests are conversational, not transactional."
Everybody who walks in Maple Street Biscuit Company's doors is immediately greeted and treated like family…and served the kind of comfort food you'd find at home, just elevated.