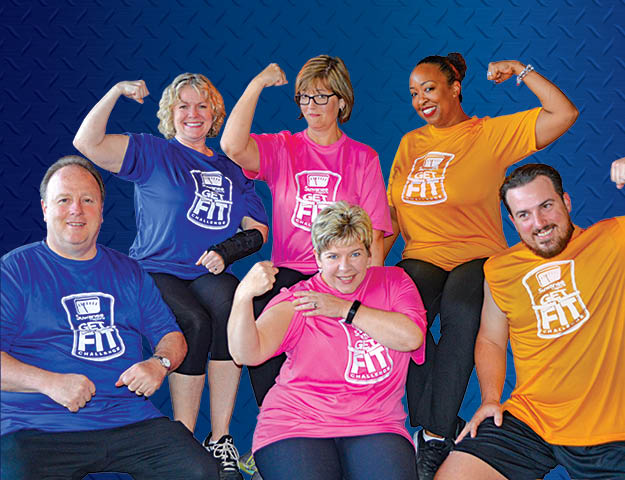 It's hard to believe, but the 90-day Suwanee Magazine Get Fit Challenge has come to an end. Everyone here at Suwanee Magazine has enjoyed following each of the contestants' journeys. We couldn't have asked for a better group of people to participate in this challenge. Each of them has shown a level of dedication, determination and true grit that has been an inspiration to not only our staff, but the entire Suwanee community.
By: Alicia Carter | Photos by Walt Wooden
We couldn't have pulled the challenge off without the help of many people in the community. From John Perry & Associates, who provided the health assessments at the beginning and end of the competition, and Restorative Health, who provided the body fat analysis that the final results were based on, to each of the gyms and trainers who donated their time and services to our contestants — thank you! The trainers, including Anthony Wilkins of Alloy Personal Training for Women, Dan LeBlanc of Crux Fitness, and Angie Willet of Stage 3 Fitness (along with their staff of trainers), are a big reason why this challenge was so successful.
The support, encouragement and friendship they showed the contestants is a testament to the quality of training they all received. In addition to the gyms and sponsors, we need to thank Whole Foods Health Coach Stephanie Wolfe and Rainbow Pilates' Sonya Simpson, who donated their services to the contestants. Stephanie treated us to a class on how to take a whole foods approach to our diet, and Sonya let us crash a very intense pilates class.Thank you both!
Although we are crowning one contestant the overall winner, they are all winners for taking control of their health. They were all successful because they accepted the challenge and completed it! None of them threw in the towel, even though the workouts were demanding, the early mornings were tough, and the stresses of life continued on even during the competition. In the end, the contestants lost a combined total of 117 pounds and 17 inches over three months. That's amazing! Our overall winner was determined by the amount of body fat percentage lost. Congrats to all of the contestants! We are so very proud of you and look forward to continuing to follow your journey.
The Winner: Kevin Burkhart
Total Pounds Lost………………………………21
Total Inches Lost from Waist…………………5
Total Body Fat Percentage Lost ……….. 8.4%
When Kevin first entered the competition, he was struggling with a work-life balance. As a lawyer, he worked long days that led to not-so-healthy choices when it came to his nutrition. And even though he remained active throughout law school, his motivation to workout while building his firm post-college was considerably lacking. Kevin applied for the Get Fit Challenge for the accountability of the Suwanee community.
He felt that by sharing his story he would gain the motivation he needed to once again maintain a healthy lifestyle.
Kevin really started to hit his stride and find his new "fitness family" with the help of the members and trainers at Crux Fitness. "Crux is much more than a gym. Members, often referred to as 'maniacs,' are encouraged to attend the daily one-hour workouts three to six times per week, but they are equally encouraged by Trainer Dan LeBlanc and other 'maniacs' to fellowship outside of the gym, too," Kevin said. "It did not take long before I felt part of the family at Crux."
During his first couple months at the gym, Kevin said he learned to live by the Crux motto: Embrace the suck. "The first several workouts of this challenge were difficult, awkward, and painful for me!" he said. "After a few weeks, I felt this major transition in my body and mind. The workouts, while still difficult, didn't hurt. More and more I found this craving to workout. Now after my workouts, I experience a sense of great euphoria and appreciation."
Over three months, Kevin lost 21 pounds and over 8% body fat. His newfound confidence was palatable each time we met up over the course of the challenge. As his face thinned, his personality blossomed. "Winning the Get Fit Challenge means a lot to me, of course because it means I improved my physical fitness, but even more so because it has given me such a great amount of pride," Kevin said. "I am proud of all the contestants, their hard work, and their results.
I'm proud of Crux Fitness, its trainers, and its members for their parts in producing this result for me. Being held out to be the highest achiever among such high achievers gives me a lot of belief in myself to make and accomplish challenging goals, which I plan to continue to pursue from here."
Runner-Up: Amy Doherty
Total Pounds Lost………………………………14
Total Inches Lost from Waist…………………1
Total Body Fat Percentage Lost ……….. 4%
Amy entered the Get Fit Challenge to reclaim her health. After beating cancer, Amy was on a mission to finally find the motivation she needed to kickstart her fitness journey.
With the support of Suwanee Magazine readers on her side, she began waking up early for a 6 a.m. call time at Alloy Personal Training for Women. "Anthony might just be the best trainer/coach that Suwanee Magazine could have paired me with," Amy said. "He works me hard and makes me better. He didn't look at me and give up or tell me to back off or ask me if I really wanted to be there — he just kept putting it out there and I kept showing up and working hard."
Over the course of three months, Amy lost 14 pounds and 4% body fat — and she's still going! "In the last 90 days, amazing things have happened," she said. "I've gained muscle that I never knew existed. I can plank and hold it. I have muscles in my arms and legs that I forgot I had! My core seems fit and continues to get stronger. My mind is better."
Bill Pennington
Total Pounds Lost………………………………39
Total Inches Lost from Waist…………………7.5
Total Body Fat Percentage Lost ……….. 3.3%
Bill is the contestant who had the most dramatic physical transformation: he lost 39 pounds and 7.5 inches from his waist! When Bill started the competition, his main goal was consistency. He had been on an endless cycle of losing weight and gaining it back for far too long. This time he wanted it to be different; he wanted to keep it off and restore his health. We're happy to report that Bill is well on his way to meeting that goal! "No matter what the results of the challenge are, I've won," Bill said.
Sheri Matt
Total Pounds Lost………………………………13
Total Inches Lost from Waist…………………2
Total Body Fat Percentage Lost ……….. 1.2%
Sheri is a former athlete who, after being overweight in her 30s and 40s, wanted to enter her 50s in better shape. She entered the Get Fit Challenge because she was having trouble making those changes on her own. When you meet Sheri, her sweet personality and friendly smile instantly make you want to root for her. And while life threw some heavy obstacles her way during the competition, she was able to maintain that same energy throughout and never gave up, as many people would do!
After three months of working out at Alloy Personal Training for Women, Sheri gained a positive new outlook. "It may be the end of the Suwanee Magazine Get Fit Challenge, but it isn't the end of my journey," she said.
Sue Brown
Total Pounds Lost………………………………20
Total Inches Lost from Waist…………………1.5
Total Body Fat Percentage Lost ……….. 3.7%
With an amazing 20 pounds of weight loss, Sue dropped the most weight of the female competitors over the course of the competition — and even maintained that momentum after sustaining a broken wrist with just two weeks left in the competition.
"I didn't stop working out, I just did lower body and some cardio," Sue said. "It was disappointing, but I didn't let it stop me even though all I wanted to do was stop and rest!" The camaraderie of the team and members of Stage 3 Fitness made all the difference for Sue, who says the support is what kept her going.
Shonika Ochoa-Williams
Total Pounds Lost………………………………10
Total Body Fat Percentage Lost ……….. 3%
As a mother of two, Shonika's story was one that was very relatable for many Suwanee Magazine readers. She had come to a point where she realized she was giving everything to her family, while dedicating little time for herself, and it was time for a change. She entered the competition to find herself again. And after teaming up with Crux Fitness and finding motivation in her Get Fit partner Kevin, Shonika was flipping tires in the gym and turning heads around town. Her new positive energy radiates with everything she does!
Prizes For the Winners
The Suwanee Magazine Get Fit Challenge would not be possible without the support of our community sponsors, including Phenix Salon Suites who generously provided makeovers and spa services for the top male and female contestants. Among the title of "Suwanee Get Fit Champion" and many other prizes, our overall winner, Kevin Burkhart was awarded with a massage, barber services and a facial. Top female contestant, Amy Doherty, enjoyed a full spa day at Phenix Salon starting with a massage by Consoni, followed by catered lunch, then eyelash extensions with Zola, complete with hair and makeup by Katie. Amy admitted that the day of pampering was extremely uncommon for her. "I have to get a new dress for this to go out afterwards," she joked. But, it is certainly deserved! Amy is a breast cancer survivor who said the Suwanee Magazine Get Fit Challenge has helped her to reclaim her body. After chemotheraphy, her hair and eyelashes have grown back over the past couple years, but the professionals at Phenix Salon Suites helped her feel even more confident by enhancing her already beautiful features.
A Special Thanks to our Sponsors
■ John Perry & Associates
■ Phenix Salon Suites
■ Kroger
■ Vitality Med Spa
■ Crux Fitness
■ Alloy Personal Training for Women
■ Stage 3 Fitness
■ Restorative Health
This competition would not have been the same without the support of our amazing sponsors: Thank you also to Phenix Salon Suites, Medieval Times, Stone Mountain Park, Massage by Karen Krotz, Pulse Nail Bar, Squeaky's Car Wash and Gwinnett Beer Fest for providing prizes for all of our contestants.