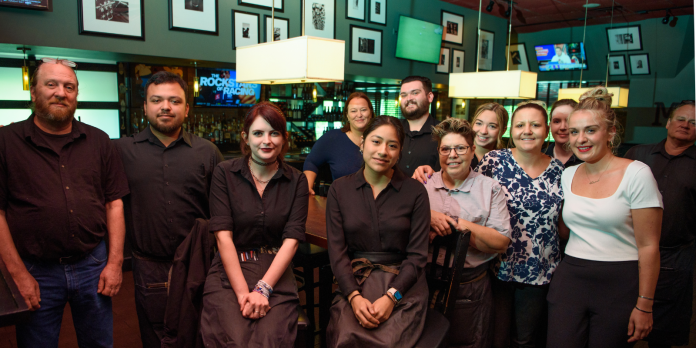 Since 2019, Duluth's Marlow's Tavern has served as a gathering space where meals are shared between family and friends.
By Alicia Carter | Photos by Karl Lamb
Located right off I-85 near Gas South Arena, the Gwinnett Chamber of Commerce, and a number of local businesses, Marlow's Tavern is hidden in plain sight, tucked away at the corner of Satellite Boulevard and Sugarloaf Parkway. The popular dining destination, perfect for a corporate lunch meeting, dinner with family, or drinks after work, has served the Duluth community since 2009, and has gained a solid reputation for serving made-from-scratch food that is fresh, seasonal, and always ahead of market trends. It has grown into a local gathering place where conversations are had over dinner and memories are made with celebratory drinks in hand.
Having crafted an environment that can be described as upscale with a tavern twist, Marlow's Tavern encompasses both a luxury dining experience and a comfortable, welcoming environment. The restaurant feels like a neighborhood tavern with its dark wood, low lighting, and long L-shaped bar lined with a backdrop of various spirits. Flatscreens hang on the walls, allowing patrons to keep an eye on the score while they enjoy their meal. Outside, a large covered patio will be the perfect setting for the cool fall nights ahead. But don't mistake this as a typical sports bar or tavern. The menu elevates the experience with a rotating selection of seasonal dishes made expertly by the seasoned kitchen staff working hard behind the line.
Duluth's Marlow's Tavern is a testament to what a restaurant can be when the staff becomes its own little family. Many on the team have been around since the restaurant opened, including Market Partner Glenda Barta, Beverage Manager Tawny Albraham, and Alma De La Castro, who was originally hired as a dishwasher and has worked her way up the ranks to Chef de Cuisine, now running the well-oiled kitchen. In an industry known for its high turnover rate, the Marlow's experience is a breath of fresh air given the longstanding camaraderie found behind the scenes.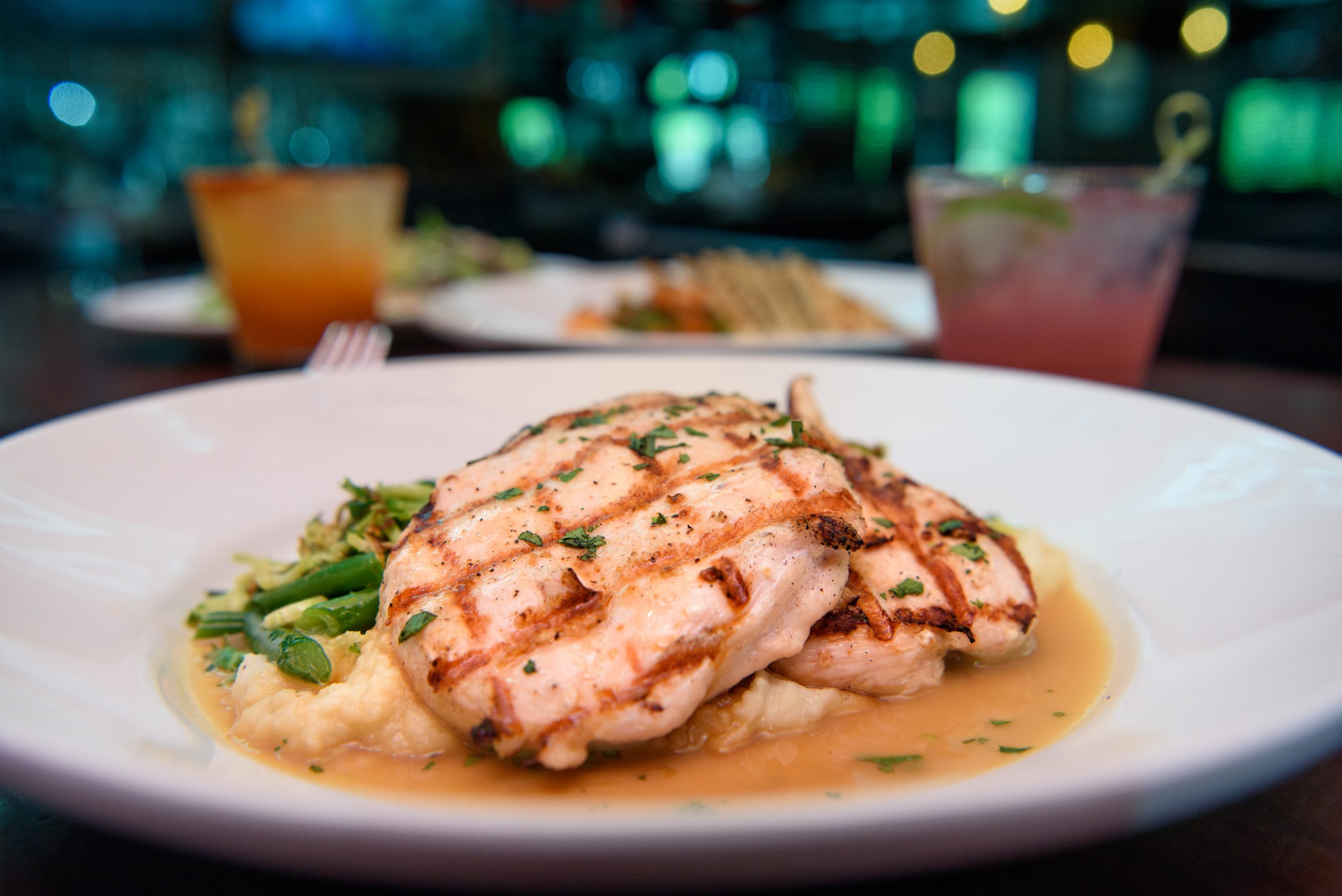 American Tavern Fare
The menu at Marlow's is classic American tavern fare that is elevated to give it a more contemporary feel. Start your meal with a classic cocktail like the visually stunning Blueberry Buck, made with Hanson vodka, lime juice, Reàl blueberry, and a splash of ginger beer. If you want something a little more spicy, try the Chili Blood Orange Margarita, featuring Olmeca Altos Reposado tequila, blood orange, chili honey syrup, lime, and agave nectar. There are a number of standouts on the menu, but the Tavern Hummus is a classic starter. The creamy hummus is served alongside crispy Brussels and cauliflower, harissa, toasty seasoned pita, and extra virgin olive oil. Must-try entreés include the Black and Blue Steak Salad, made with field greens, vine ripe tomato, crumbling gorgonzola, scallion, pickled red onion, and gorgonzola dressing topped with grilled bistro filet, and the Grilled Chicken Stack, which pairs grilled chicken with a cauliflower pureé, Brussels Sprouts, green beans, and shiitake with a roast chicken jus.
It's also important to note that Marlow's Crab Louie was named the winner of our 2023 Best Salad Contest. If you're craving something light and refreshing, this salad will certainly hit the spot with its lump crab meat, hard boiled egg, asparagus, French green beans, grape tomatoes, radish, avocado, lemon and a Green Goddess dressing.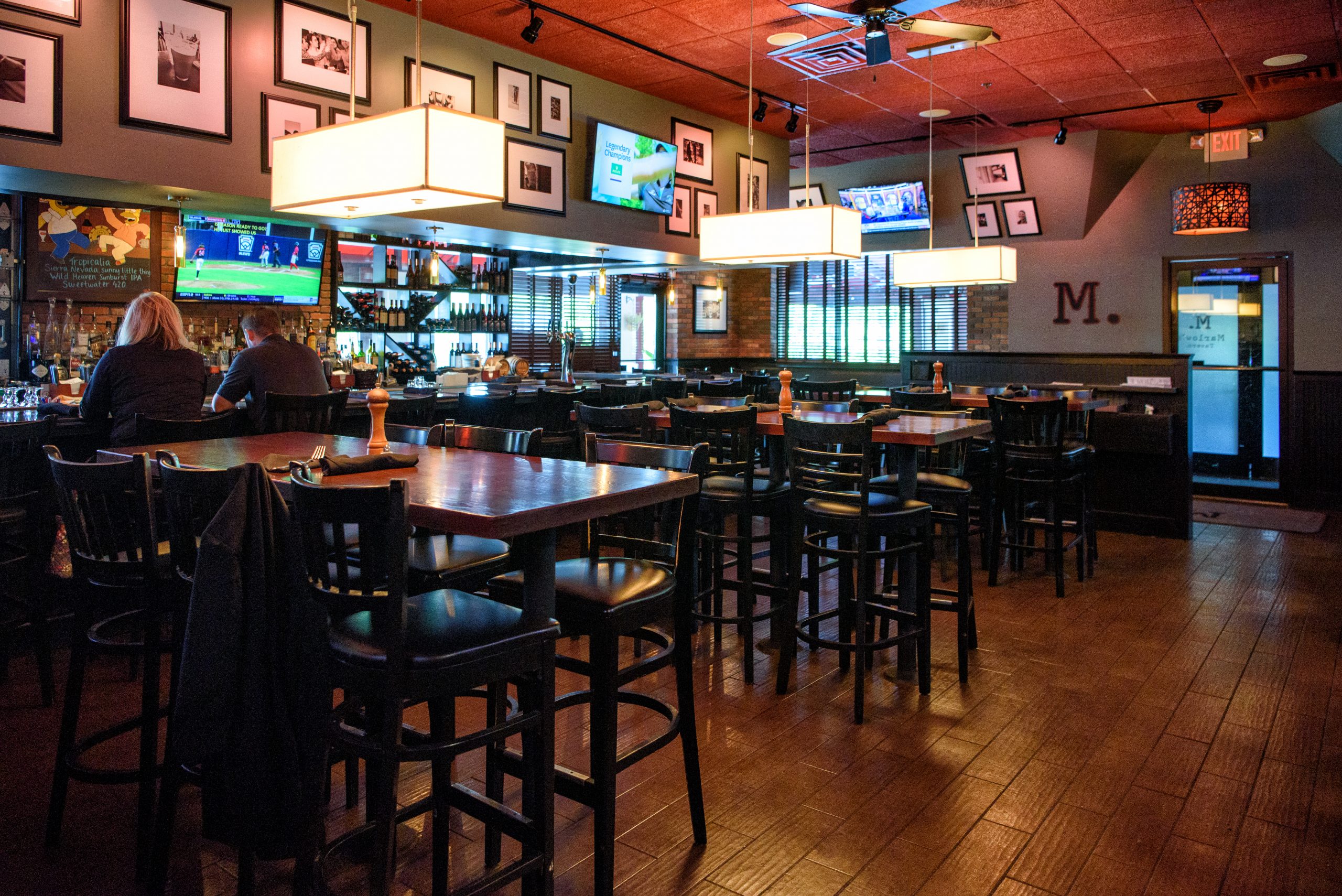 Community Builders
As much as Marlow's enjoys being a go-to neighborhood hangout, they also love to be a part of the community outside of the restaurant walls. From partnering with the Gwinnett Gladiators and Gwinnett Swarm to catering the Gwinnett Chamber, they always look for ways to immerse their delicious food into different events. If you were lucky enough to score VIP tickets to Suwanee Wine Fest this year, Marlow's will once again cater the VIP tent, serving a delicious menu that festival-goers have continued to enjoy year after year.
No matter the occasion that brings you together, Marlow's Tavern ensures that the meal will set the stage for an exceptional experience. Their commitment goes beyond simply serving a delicious meal; it's about creating a space where connections are deepened, laughter is shared, and memories are made.
Marlow's Tavern is located at 1950 Satellite Boulevard in Duluth. For more information call 770-622-2033 or visit MarlowsTavern.com.