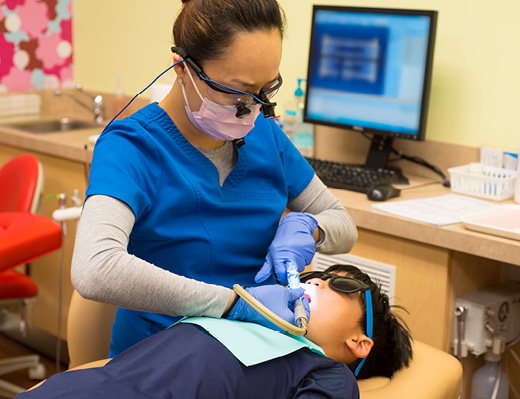 BY: RACHEL PILLOW / PHOTOS BY: KARL LAMB
Owner and Founder, Dr. Yoo Mee Kim, D.D.S., opened the doors of Mustard Seed Pediatric Dentistry in Suwanee six years ago. Her vision for the practice and meaning behind the name: "Just as the smallest mustard seed grows into a large tree, every child has so much potential. With love and care, we hope that we can be part of your child's development and growth – starting from his or her smile."
Before opening her own practice, Dr. Kim gained experience in a "corporate" pediatric dentist office where she saw anywhere from 70-100 kids a day. "It was hard to build personal relationships in a practice that large; I love knowing all my patients by name now and being on a more personal level with them," she said.
As a pediatric dentist, Dr. Kim is no stranger to dealing with children who are fearful of the dentist. But, from the moment patients are greeted by the friendly front desk staff to the excitement of selecting a prize from the "toy tower" when they're done, Mustard Seed Pediatric Dentistry has gone above and beyond to ensure the environment is safe, comfortable, warm and inviting. "The most important thing is establishing a relationship with the kids and their parents, so they know they can trust us," she said. Establishing that relationship with parents is paramount. "It all starts at home," she said, in regards to healthy dental habits. Most of the cavities they see in their office are from kids not flossing, so Dr. Kim takes great care in showing patients how to floss and brush properly at home.
With a heart for serving, Dr. Kim made her decision to go into pediatric dentistry, primarily because of her desire to serve patients with special needs. "I really have a heart for the marginalized pediatric population…we have to pay particular attention to those with special needs," she said. Dr. Kim specializes in treating patients with Cerebral Palsy, Autism, severe health issues, Down syndrome and other special needs. For more invasive oral issues, such as Cleft Palate surgery, she will coordinate directly with the hospital and specialists on a treatment plan.
Dr. Kim's heart to serve is also evident in the fact that she has traveled all over the world on dental mission trips. She has helped patients in Romania, Honduras, Mexico, South Africa and Kenya, where she and a team of doctors set up mobile dentist offices to serve people in impoverished or rural communities. "They are SO thankful," she said about providing dental care for those in need. "A lot of times we are providing immediate relief, which is great, but the Honduras trip in particular, changed the way I thought about healthcare in a mission setting because they were running a sustainable practice there with follow up care," she continued. "The main reason why I do missions is because I gain so much more out of it then I feel like I'm giving to them. We get so caught up in the details of our daily lives and to step outside of our bubble here, you really gain a sense of why you're doing the things you do. It certainly does remind me why I ended up going into pediatric dentistry: it's a service to the community," she said. But, whether she is oversees or serving patients within the community of Suwanee, her goal remains the same: to provide the highest quality dental care for your children and make each dental visit a positive experience.
For more information about Mustard Seed Pediatric Dentistry, visit mustardseeddentistry.com
Dr. Kim and her staff are dedicated to giving the best pediatric dental care during all stages of childhood development
Starting good oral hygiene habits early
The American Association of Pediatric Dentistry recommends children to have their first dental visit by the age of one. "Once the teeth first come in as babies, you should go ahead and start brushing them with a non-fluoride toothpaste and then we will tell you when it is okay to transfer to a toothpaste that contains fluoride," Dr. Kim
advised. "And leading up to the teething process, babies mouths can become irritated and they will drool a lot, so the best thing I've found is to put a clean, damp washcloth in the freezer for a few minutes and let them use that as a teething ring," she continued. If anybody ever has questions about how to care for their children's teeth, Dr. Kim will kindly offer her expertise and advice – because it is very important to start early to form good oral hygiene habits.