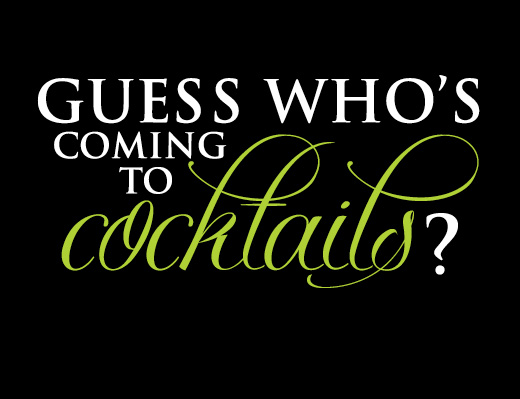 BY: ABBY WILKERSON
CITY OF SUWANEE PUBLIC INFORMATION OFFICER
Black-and-white, black-tie optional "Guess Who's Coming to Cocktails" event supports Suwanee public art initiative.
Reserve your tickets now for the Suwanee social event of 2016: Guess Who's Coming to Cocktails, hosted at Town Center March 5 from 6:30 – 10:00 PM. Join the swankiest, hippest, and best dressed of Suwanee at this black-and-white, black-tie optional event in support of the Suwanee public art initiative.
"Public art has become such a part of the fabric of our community," says Public Arts Commission member Cherie Heringer. "We wanted to create an annual event to celebrate the arts and to encourage residents to continue to support public art, not just financially but through involvement as well."
Party-goers can look forward to cocktails, hors d'oeuvres, music, and dancing, plus an opportunity to brush elbows with mystery guests, including prominent artists, actors, chefs, musicians, and athletes.
The City of Suwanee launched its public art initiative in 2008 with the creation of the Public Arts Commission, adopting a policy of encouraging developers to include public art in their projects and pledging the city to do the same. Since then, the city has commissioned and acquired numerous artworks for its City Hall and major parks, welcomed more than a half-dozen artworks placed by developers on their properties, and organized several rounds of SculpTour: a walkable outdoor exhibit of more than 25 temporary and permanent art pieces displayed throughout downtown.
"This event," says Heringer, "will give people an opportunity to get dressed up, enjoy an evening out, and meet some new, interesting people who are on board for a fun cause."
Tickets for this event can be purchased at suwaneeguesswhoscoming.com.