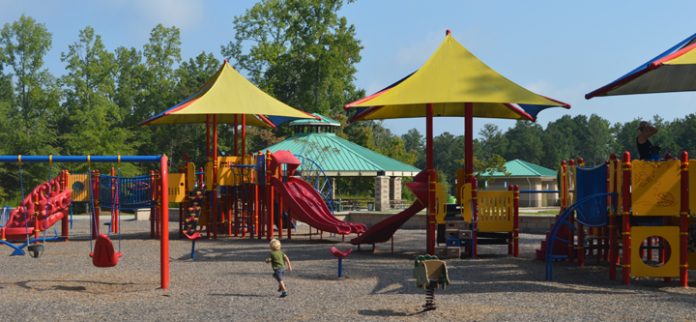 BY: Angela Veugeler
A little over eight years ago, my husband and I were expecting our first baby and wanted to move to a family-friendly area with lots of parks, playgrounds and trails. With my husband working in Norcross at the time, we explored many surrounding cities. But, after learning about Suwanee from a coworker, we decided to check it out and fell in love at first sight. We spent a couple hours exploring The Greenway and Town Center Park and just had a feeling that this was our new home. We moved to Suwanee as soon as we could.
Since that time it has been so fun and exciting seeing Suwanee grow, and discovering all of the playgrounds and parks that the area has to offer. The really cool thing is that everything in the City of Suwanee connects! Now, you can get from The Greenway to Town Center, go through the pedestrian tunnel and access Main St. (where the library and Playtown Suwanee are located). Recently, the County added a sidewalk from Peachtree Industrial Blvd. to Main St. along Lawrenceville-Suwanee Rd., to give residents even more access to travel by foot or bike. Now you can travel by foot from Sims Lake Park all the way to The Greenway. Check out some of my favorite area parks to see what they have to offer. If you haven't been to some of them, I encourage you to spend some time exploring!
1. Town Center Park
Town Center is known as the city of Suwanee's front yard and is a family and community favorite. When the Big Splash Interactive Fountain first opened, I couldn't wait to take our little one to it. All of our kids have loved it, as have countless other boys and girls. Town Center Park is a great place for people of all ages. Walk or jog, picnic, play catch, fly a kite, enjoy dinner at Mellow Mushroom, Friends or Ippolito's, do some shopping, attend a festival or concert, and more!
Located at the intersection of Buford Hwy and Lawrenceville-Suwanee Rd.
AMENITIES INCLUDE:
• More than 1 mile of
• Big Splash interactive fountain
• Open, unprogrammed recreational areas
• Stage and amphitheater
• Connection to Suwanee Creek Greenway
• Public art & restrooms
2. Playtown Suwanee
Also known for it's beautiful painted cow statues, Playtown Suwanee is one of our favorites. It's a huge playground, and all of my kids and their friends love it. The little ones loves the sandbox, bouncy bridges and the older ones love to run and play on the slides, monkey bars, castles and more. The coolest thing is that it was built by mom's, dad's and other volunteers in our community 10 years ago (in June of 2004), with about 1,200 volunteers coming together over the course of five days.
Located at 425 Main Street
AMENITIES INCLUDE:
• Playground
• Pavilion that may be reserved and rented
• Picnic tables
• Public art & restrooms
3. Suwanee Creek Greenway
Probably my personal favorite, the Suwanee Creek Greenway is a hard-surface, multipurpose trail that goes from Suwanee Creek Park to George Pierce Park with several access points along the way. The four-mile trail consists of wooded areas, wetlands and wildlife habitat. It is great for walking, jogging, or biking. Eventually the plan is to connect the Ivy Creek Trail in George Pierce Park to The Gwinnett Environmental & Heritage Center, which would add seven additional miles of trails that will be accessible from the Suwanee Creek Greenway.
4. Sims Lake Park
This popular park not only offers a beautiful and serene lake, but a great playground (with shade structures) and a 1.2-mile trail that winds through the woods great for walking, jogging or biking. It has some nice open areas as well as some of the SculpTour pieces.
Located at 4600 Suwanee Dam Road
AMENITIES INCLUDE:
• Playground
• A pavilion that is available on a first-come basis
• Picnic tables
• 1.2-mile trail
• Streamscape
• Outdoor classroom
• Public art & restrooms
4. George Pierce ark
featuring 304 acres, paved and soft surface wooded trails, marshes, and a pond, George Pierce has something for everyone. It's common to see deer and great park for bird watching. This park includes Prime Timers Pointe Community Recreation Center, outdoor basketball courts, playgrounds, soccer fields, football/multi-purpose field, baseball/softball fields, and pavilions, and connects to the Suwanee Creek Greenway.
Located at 55 Buford Highway
AMENITIES INCLUDE:
• Sports fields and leagues
• Pond stocked for fishing
• Playground
• Picnic areas
• 2.6 mile paved and 1.2 mile soft-surface multiuse trails
• Basketball courts
• Community recreation and senior center
• Public restrooms
5. Settles Bridge Park
Another one of our family's favorite parks, Settles Bridge offers 268 acres of beautiful wooded and paved trails great for hiking/walking or jogging, a nice playground, dog park and skate park.
Located at 380 Johson Road
AMENITIES INCLUDE:
• Dog park
• Skate complex
• Playground
• 1.6 mile paved and 2.9 mile soft-surface trails
• Basketball courts
• Pavilions
• Grills
• Public restrooms
4. EE Robinson Park
New to EE Robinson (and our family's favorite feature), is a giant covered playground. This park also is home to little league and softball fields, tennis courts, beach volleyball courts, pavilions and a jogging trail.
Located at 850 Level Creek Road
AMENITIES INCLUDE:
• 62-acre facility is setup for both passive and league recreation
• Softball fields with sports lighting
• Pavilions (one is handicap-accessible)
• Little league fields with sports lighting
• Tee ball fields with sports lighting
• Tennis courts with sports lighting
• Beach volleyball courts with sports lighting
• Concession stands, jogging trail
• Play areas for small children and an amphitheater
7. White Street Park
White Street Park features a butterfly garden, 2,500 gallon cistern and Georgia's largest organic community garden, Harvest Farm. There's consistently a waiting list for the garden's 76 plots. The plots were constructed in Spring of 2010 with the help of volunteers. The latest garden news, a calendar of events and educational classes (which are open to the community), plot information, educational resources, and ways to volunteer in the garden can be found online at harvestfarmsuwanee.com. COMING SOON: Harvest Farm (with the help of volunteers), will be adding an orchard filled with fruit bearing trees for the community to enjoy!
Located at 752 White Street
AMENITIES INCLUDE:
• A bright red barn that may be reserved and rented
• A natural amphitheater that may be reserved and rented
• Loop trail
• Fire pit
• Public restrooms
8. Suwanee Creek Park
Suwanee Creek Park offers some beautiful soft surface trails as well as paved trails. It has quite a few steep hills, and I have many fond memories of biking up those hills pulling our two oldest boys in the bike trailer. Definitely a character builder! It's also where the City of Suwanee hosts Trek-or-Treat, a fun Halloween celebration that will take place on October 25th this year. The 85-acre park has been left in its natural condition.
Located at 1170 Buford Highway
AMENITIES INCLUDE:
• Suwanee Greenway trailhead
• 18-hole disc golf course
• Two pavilions, which may be reserved and rented
• Picnic tables
• Outdoor classroom
• Public restrooms