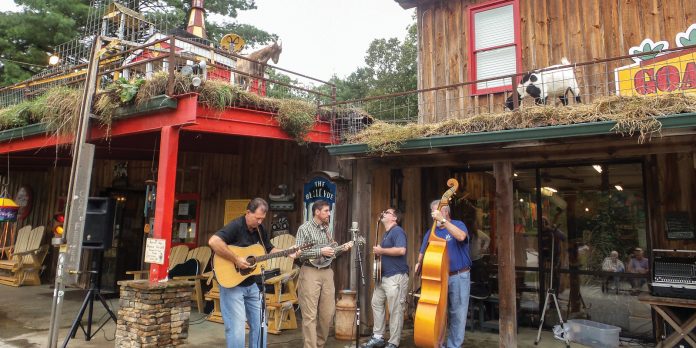 By Alicia Carter
During summer, there's nothing I love more than to take a long drive chasing an unknown destination — windows down, a carefully curated playlist setting the mood, and the warm sun sneaking in through the windows like a welcome shot of vitamin D for the soul. My favorite are the ones where you get lost in the drive itself, the roadmap of blue skies and wispy brushstroke clouds leading the way as you meander along the highway.
These days, however, those long drives tend to come in the form of added miles to my odometer while my youngest catches a cat nap in the back seat on our weekly trip to Target — but I'll take them. And I'm sure that's true for many of us. We've traded exploration for the comforts of adult life, and there's nothing wrong with that. But the road's siren call continues to get stronger as the days grow warmer. That's why, for this year's Travel & Adventure Guide, I wanted to load up the family to travel off the beaten path to a few lesser known roadside attractions throughout North Georgia. I wanted to "get lost" on the road again… all in the name of research. After all, sometimes the destination is less important than the journey, even if it leads to some pretty memorable photos — like the one of my 6 year old sitting atop an oversized rocking chair in the middle of nowhere.
If you're feeling up for a drive, and if you're growing tired of the same old day trip hotspots, I pulled together a list of five unusual roadside attractions throughout North Georgia. Some are more legit than others, like a folk art national treasure in the northwest corner of the state, but all of them are worth the drive in their own unique way. So fill up your tank, buckle up, and enjoy the ride.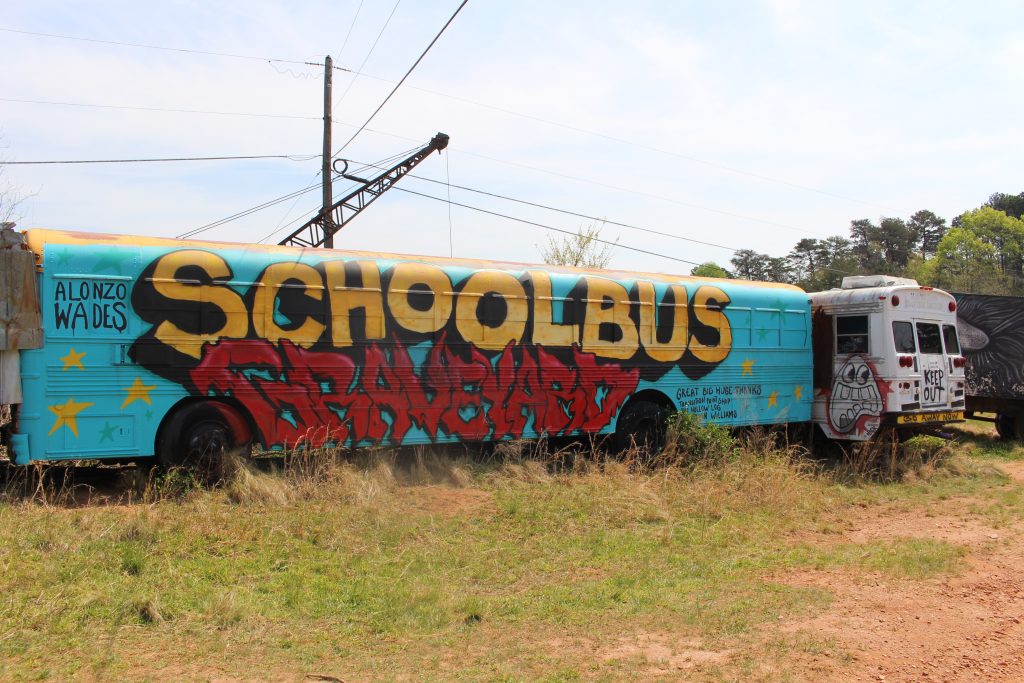 School Bus Graveyard
Alto, GA / Cornelia Highway and Crane Mill Road
Whenever I travel up 365 on my way to the mountains, I always pass a peculiar lot filled with broken-down, graffitied school buses. It's not the same kind of graffiti you'd see spray-painted on the side of trains. The School Bus Graveyard is more like a roadside art gallery where different artists leave their mark for passersby to enjoy. The murals are colorful and whimsical — there's no shortage of pop art backgrounds perfect for a unique family photo shoot or Instagram boomerang. During my recent visit we saw a pastel chameleon and a blue-eyed wolf hiding among the buses. There was a trippy wizard looking up toward the sky and a pink and purple opossum. Another bus was painted like the American flag. One of my personal favorites was a bus adorned with Jackson Pollock splatters from roof to tire.
The School Bus Graveyard is located next to an auto parts shop owned by Alonzo Wade, who uses the buses as a make-shift fence to deter thieves. Sometime around 2012, a team of artists known as Crispy Printz began painting the buses. Each year they invite other creatives to come and repaint the buses, leaving behind unconventional canvases of rotating artwork.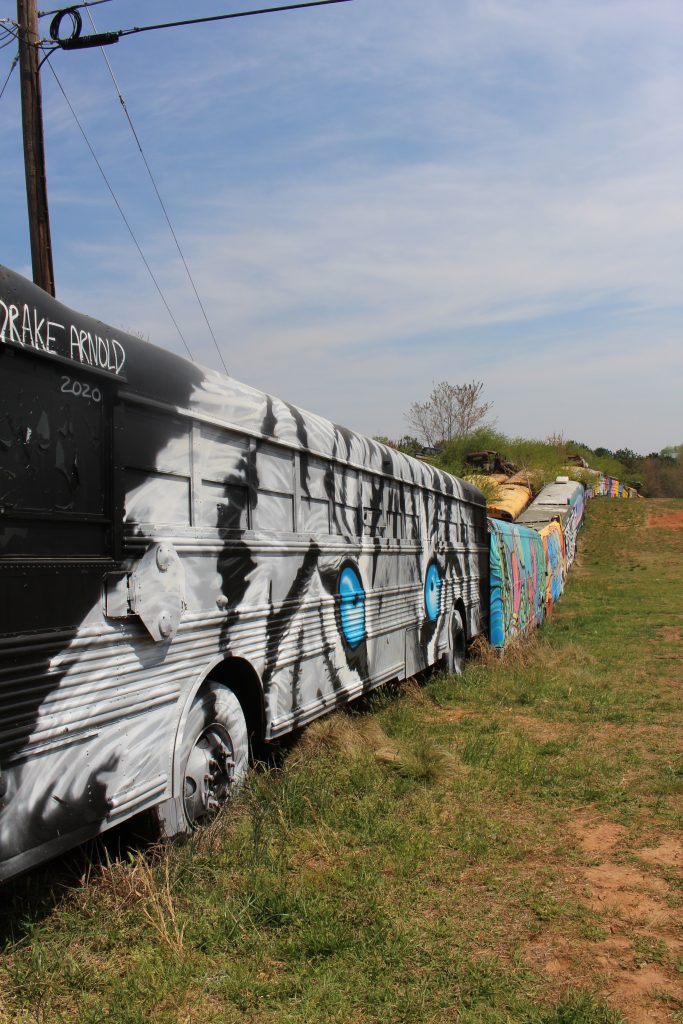 The buses are located on private property, so there are rules to follow when you visit. Visitors should park on the side of Crane Mill Road right off 365. Do not enter the yard of their home and business. Instead, walk back to 365 and turn left toward the nearby concrete spillway, then follow it up to the busses. (Trust me, it's a much better — and safer — path than the dirt trail up the side of the hill on Crane Mill Road.) Visitors are asked to be respectful of the rules painted on the signage dotting the path, which includes no climbing on or under any of the buses.
For the most part, you can be in and out in less than 30 minutes. On a bright and sunny day the buses make for some absolutely stellar photo backdrops. I snapped a bunch before the kids started to get cranky, then we packed up and made our way back to the car. It was worth it to see the artwork up close and take some fun photos.
Pro-tip: Head back south on 365 a couple miles to Jaemor Farms on your way home. Grab some fresh fruit and veggies, hot boiled peanuts, and an array of plants to make the trip extra worth it. Plus, the country candy options for the kids will make up for all those photos.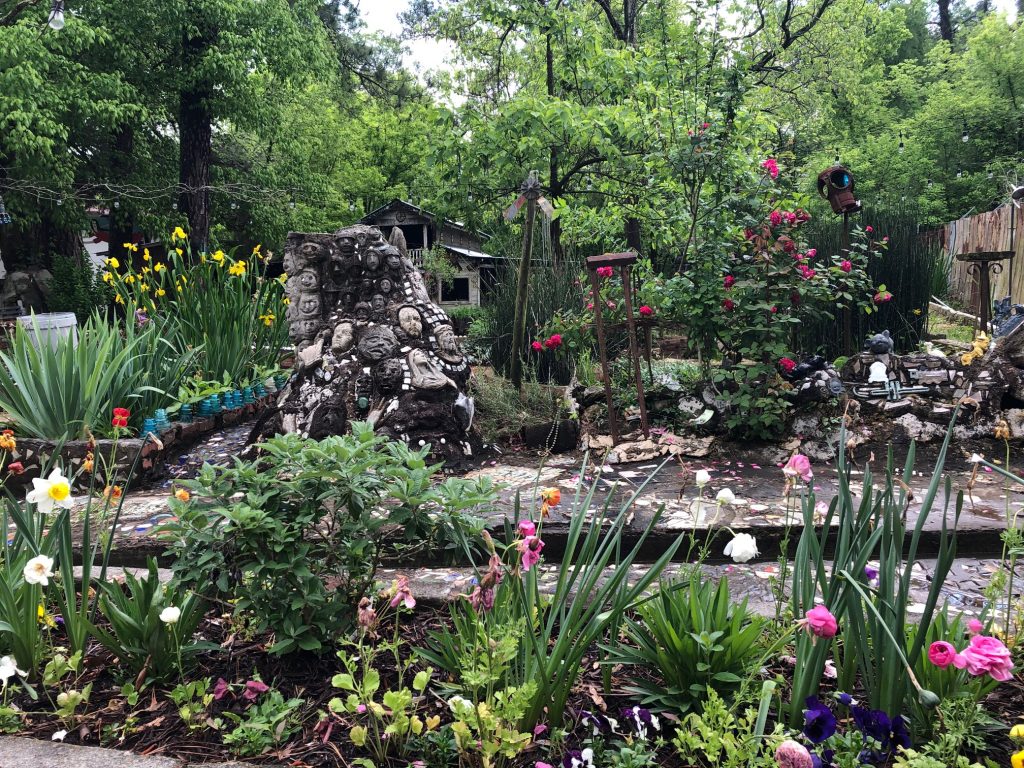 Howard Finster's Paradise Garden
Pennville, GA / 200 North Lewis St.
I learned a lot about Howard Finster during my time working at an alt-weekly publication in Atlanta. A revered folk artist, Finster was one of the leaders of the "outsider" art movement throughout the 1980s and '90s. Born in 1916, Finster was an evangelist and pastor until 1976, when he claimed to receive a vision from God to spread the gospel through his art. Finster went on to create more than 40,000 works of art before his death in 2001, all while unknowingly building a nationally recognized art environment that would go on to be listed on the National Register of Historic Places.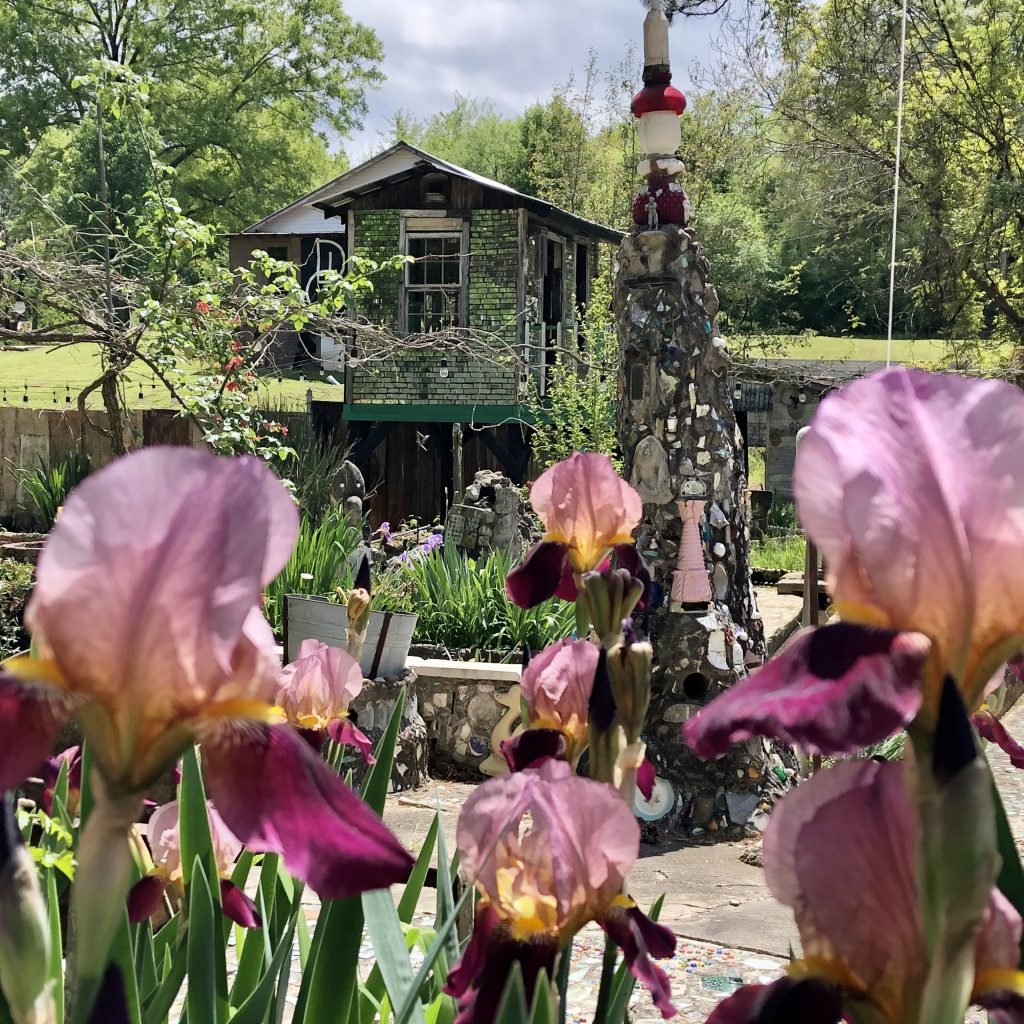 Finster, a self-taught artist, created works from recycled materials, broken glass, concrete, painted objects, rust and other discarded materials, all of which have biblical references. His work began to gain notoriety when an article published in Esquire Magazine dubbed his art environment "A Garden of Paradise." Finster's work was further thrust into the mainstream when it appeared on the album cover of R.E.M.'s Radio Free Europe in 1983. Talking Heads lead singer David Byrne commissioned a piece by Finster for the cover of their 1985 album Little Creatures, which Rolling Stone Magazine named Album Cover of the Year. No small feat for an outsider artist creating biblical art from a remote area in Georgia.
After Finster's death, his art environment, now known as Paradise Garden, began to dramatically decline. This led Chattooga County to purchase the property in 2012 and turn it over to the nonprofit Paradise Garden Foundation, who continues to run the property today. In fact, Howard Finster's Paradise Garden is now the No. 1 tourist attraction in Chattooga County.
When visiting Paradise Garden, guests can stroll through 2-and-a-half acres of antiques, rock formations, paintings, recycled glass, mosaic walls, towers, and sculptures. Pack a lunch and make a day of it, then visit the gift shop to pick up a goodie to bring home. There are even Airbnbs on the property where you can stay the night and get the full experience of the garden and all of Finster's artwork. It's a must-see for art lovers or anyone who is looking to discover their inner outsider.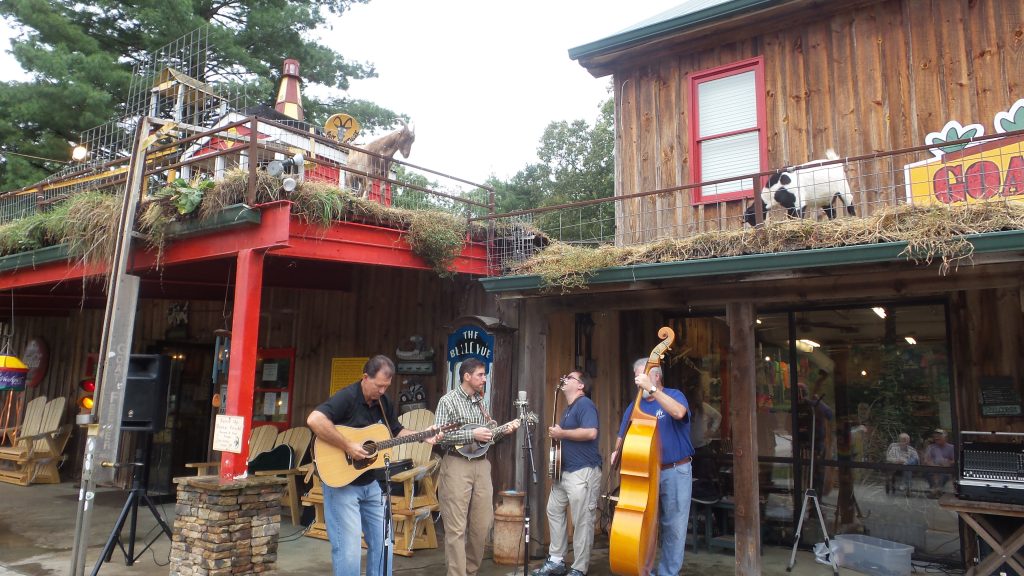 Goats on the Roof
Tiger, GA / 3026 US-441
The next stop combines some of my favorite road trip essentials: animals, ice cream and cheesy souvenirs! Bypass the traditional roadside petting zoos and head north to Tiger, Georgia, to Goats on the Roof. After all, who doesn't love goats? The ice cream slash souvenir shop slash petting zoo is a big hit with the kiddos and gives the family ample opportunity to get out and stretch their legs while indulging in some goodies.
Since 2007, the "family fun stop" has continued to draw a crowd thanks to a number of attractions, including a large gift shop, rock and candy store, award-winning homemade ice cream, homemade fudge, gem mining and, of course, the titular goats who can be found hanging out on the roof! Kids can feed the goats by purchasing food via a fun contraption that delivers it right up to the roof. Kiddos can even become official Goat Rangers! Win-win.
Goats on the Roof is a fun stop if you have kids — or if you're indulging your inner kid. You can snap photos of the goats and pick up some provisions for the rest of your trip. There's even a playground where the kids can get out some of their pent-up energy! Stop by Thursday-Monday from 10 a.m.-5:30 p.m. After Labor Day their hours change to Wednesday- Monday, 10 a.m.-6 p.m.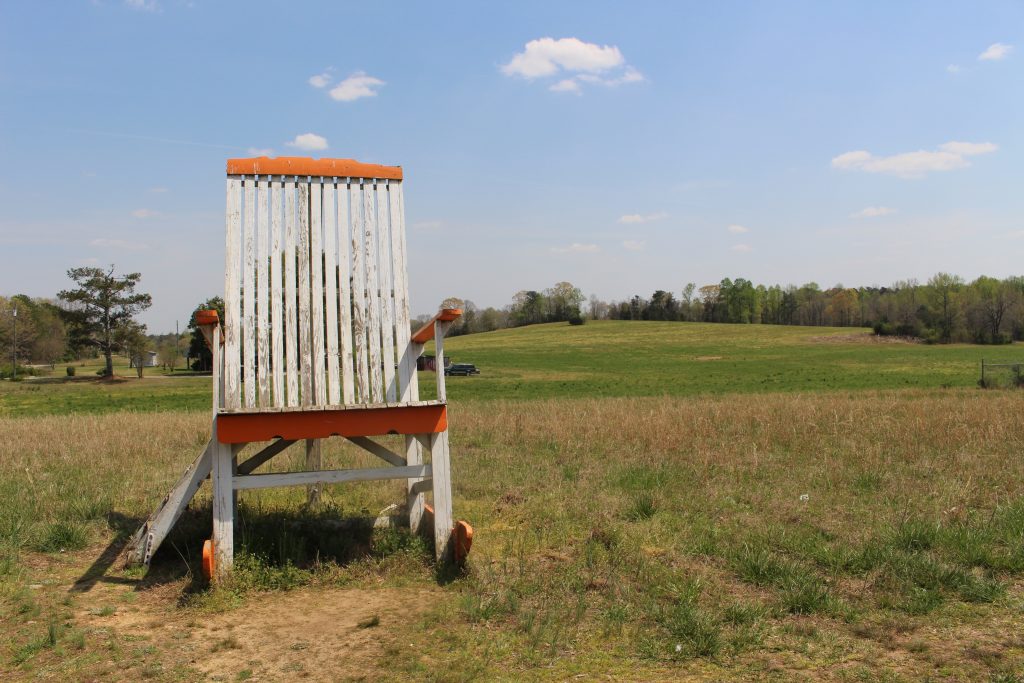 Lula Rocking Chair
Lula, GA / Lula Road and Persimmon Tree Road
The Lula Rocking Chair is an oversized piece of furniture, which has seen better days after years of direct sunlight, that is quite literally in the middle of nowhere. I may not have the best sense of direction, but it took me a while to find this one, since the only directions I had were that it's located in a field at the corner of Lula Road and Persimmon Tree Road.
Once we found it, though, I was happy we made the trip. The backdrop is exactly what you'd expect on a random country road. The chair is accessible by a small ladder that leads up to the seat. My daughter was the first to climb up and throw her legs over the side. She looked like a miniature doll sitting atop the giant chair and was quite tickled by how she looked in the photos.
It's a fun pit stop if you're on your way to another nearby destination (it's a quick drive from the School Bus Graveyard if you'd like to knock two off your list in one day). Passing cars will give you a honk as they ride by — probably locals who like seeing people enjoy their unique photo op. It's weird, but it's kind of cool, too.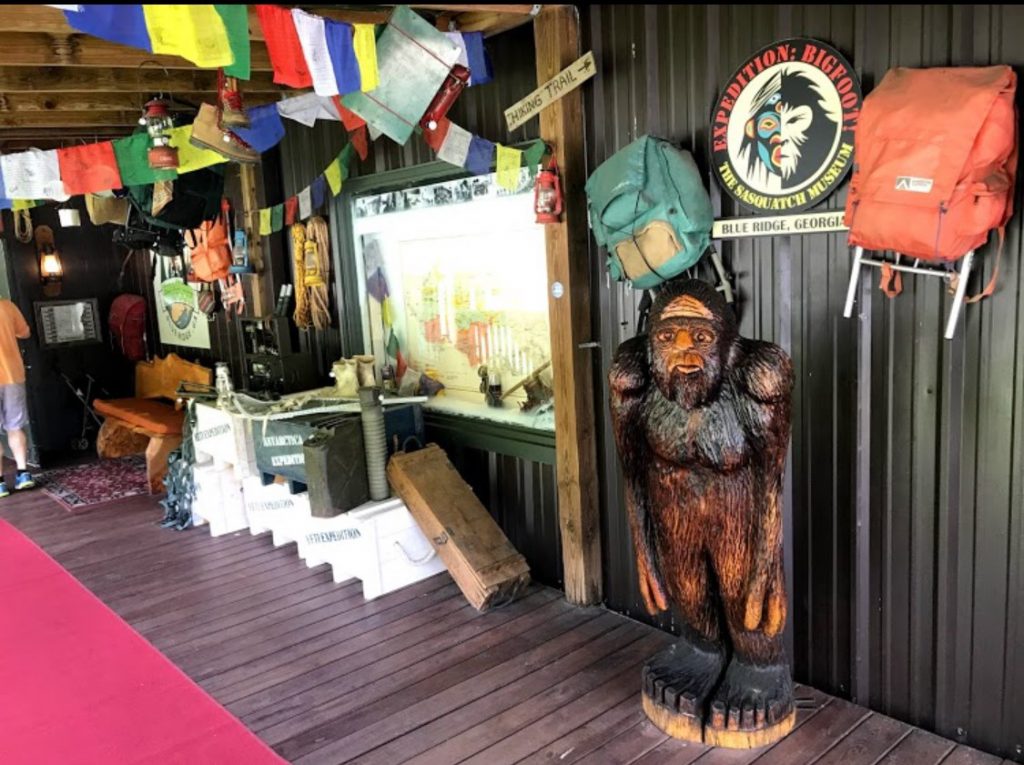 Expedition Bigfoot
Cherry Log, GA / 1934 Hwy. 515
Ever wonder what Bigfoot sounds like? Make the drive to Expedition Bigfoot in Cherry Log, Georgia, to find out. The 6,500-square-foot museum is dedicated to all things Sasquatch and boasts a curated collection that includes life-size dioramas, Bigfoot and Abominable Snowman artifacts, a theater, videos, photos, and witness testimonies, as well as Bigfoot growls caught on tape! Slip on some headphones to hear recordings of the elusive creatures speaking in their native language as well as Bigfoot howls captured from all over the world.
"Expedition Bigfoot was a combination of a much needed family attraction in our area, and a lifelong fascination with Bigfoot," says Expedition Bigfoot curator David Baraka. "I toyed with the idea of making a traveling museum from a retired bus, but realized it could never hold enough of what I wanted to display because there is so much good evidence out there. It was just a matter of bringing some of it together in one place. Expedition Bigfoot took five years to complete as more evidence poured in after we opened."
Expedition Bigfoot is a great place to discover the explorer in all of us — and it's a fun time for the kids, too! The museum is open seven days a week, 10 a.m.-5 p.m. It's a bargain with admission at only $8 for adults and $6 for kids (kids 5 and younger get in free).