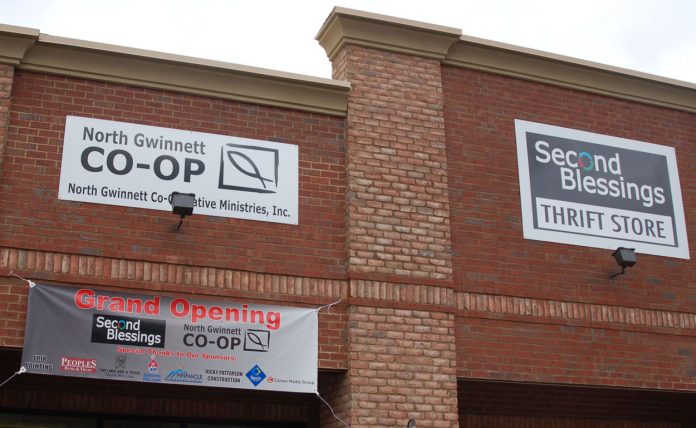 Community helps Co-op help others
The 2006 movie "The Pursuit of Happyness" starring Will Smith and his son Jaden, is based on a true story that chronicles a father, Chris Gardner, and his son, Christopher, who live paycheck to paycheck, shelter to shelter, hotel to hotel, until Gardner finally lands the job that propels him to success. The story doesn't take place in Suwanee, or even in Gwinnett. It takes place in San Francisco in 1981. But the stark reality is, poverty and homelessness knows no particular location, and even Gwinnett County is not immune.
According to www.GwinnettHelpline.org, 2010 Census data shows Georgia as having the third highest poverty rate in the country with 14 percent of Gwinnett County's population living below poverty.

Maureen Kornowa, executive director of North Gwinnett Cooperative Ministries Inc., has seen this firsthand.
Kornowa said she first started volunteering at the North Gwinnett Co-op about nine years ago when she dropped off a donation, fell in love with the place and its mission and never left. A couple of years later she stepped in as executive director and took on that challenge with a big heart and a lot of gusto.
After spending about four years in the old Buford Board of Education Building that had been graciously donated by the city of Buford, the organization has now moved into its new location at 4395 Commerce Drive.
Kornowa said it was a great opportunity for the organization to move into the new facility and everything just lined up.
"It has been God's hand over this mission from the very beginning," Kornowa said. "Every door has been opened. There have been no obstacles. We're doing what we're supposed to be doing and we're getting settled."
In early October the group held a grand opening and ribbon cutting to celebrate the new facility.
Kornowa said that support from the community is what helped everything come together.
"It was just people coming together to say yes I get it, yes we love what you do, we want you to keep doing it and we're here to support you."
According to Kornowa, the organization is striving to find ways to do things better to bridge critical gaps for families in need during a time of crisis. They are hoping the new facility will help them do just that.
Gwinnett County Stats   www.familypromisegwinnett.org/homeless-facts.html

The Gwinnett County School System accommodated 2,246 homeless students during the 2011-2012 school year.
In 2011 there were 25,904 evictions and 22,784 foreclosures in Gwinnett County. At the average family size of 2.5 that equals approximately 121,720 family members that lost housing in 2011.
The National Center on Family Homelessness reports that 1-in-50 children in America are homeless each year. According to this statistic, Gwinnett County has an estimated 6,000 homeless children each year.
It is estimated that 60% of the homeless family population in Gwinnett County are children and 50% of the children are under the age of six.
Among many of the services the organization offers, it helps North Gwinnett residents in Buford, Sugar Hill and Suwanee, from senior citizens at or below poverty to school-aged children in need of school clothes and school supplies to families that just need a helping hand to get through a rough patch.
While the holidays bring to mind a time of joy and merriment, as many realize, the holidays can be a difficult time, especially for those in need.
Last year the organization helped more than 458 families through the Thanksgiving and Christmas holiday meal program. Through the program, the North Gwinnett Co-op provides everything people need to make a holiday meal at home along with a $15 gift certificate to Publix or Kroger for a turkey or ham. Kornowa said she expects to help the about the same number of families this year.
Amazingly, all the help and services offered through the North Gwinnett Co-op, from the food pantry to the holiday meals, is done through generous donations from folks in and around the community.
Kornowa said the organization strives to help every person it can.
"We listen to each story," she said. "The goal here is to make every person feel better for having been through our doors and ask for help. It's not a place of shame. We want people to feel good for having been here."
For more information about the North Gwinnett Co-operative Ministries, volunteer opportunities, guidelines and more, visit the website at northgwinnettcoop.org.
BY: Tana Christian Suggs
tana@suwaneemagazine.com