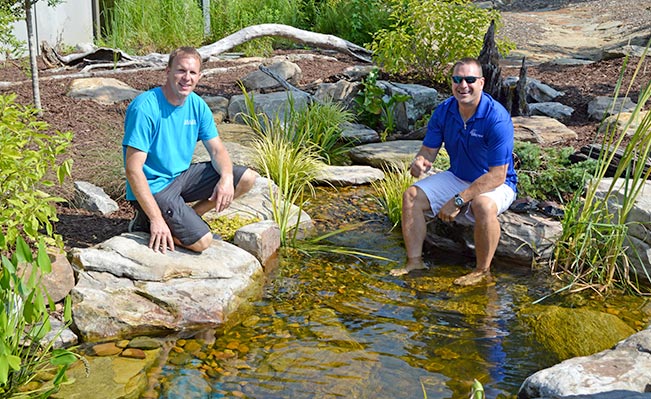 BY: Rachel Fasig
Jeff Krenner, Master Certified Pond Installer and owner of Paradise Ponds and Waterfalls in Suwanee, never saw himself as one to be in the spotlight. But, that is exactly where he will be when NatGeo Wild's new reality TV 'Pond Stars' airs on September 9th at 10pm EST. 
Pond Stars is a new reality television show that follows founder of Aquascape, Gregg Wittstock "The Boss", and his team Ed Beaulieu "The Scientist", Brian Helfrich "The Foreman" and handpicked certified Aquascape Contractors as they travel across the US to transform barren landscapes into beautiful ponds, waterfalls and backyard oasis'. When a television producer accidentally stumbled upon Aquascape's YouTube channel with over 5 million views, the first pond-related TV show, 'Pond Stars' came to fruition.
 Aquascape is the industry leader in water landscaping; and of its database of Master Certified Contractors, Krenner is only one of two in the state of Georgia. He feels honored to have been chosen as a featured pond installer for the first season, let alone the premiere episode. "We made the premiere which is awesome…because you know that's especially when they want to put their best foot forward," Krenner said. 
For the premiere episode, Krenner is showcasing two local projects: an eco-friendly turtle rescue pond at Gwinnett Environmental & Heritage Center (Gwinnett EHC) and a "disappearing waterfall" at a Hamilton Mill Community home. The pond at the entrance to Gwinnett EHC is home to seven turtles, including the infamous red- eared slider Bubba who was rescued seven years ago and named Bubba long before staff realized she was a female. Before Krenner and his team built what the Center calls "a living classroom", Bubba lived in a 4×2 foot aquarium indoors. "Bubba has really come to life since we moved her to the pond," said Steve Cannon, Executive Director of Gwinnett EHC. "Our turtles now have a natural home, as they should," he continued. 
But, "the true testament of this design is how it fits into the surrounding environment and looks as if it's always been here…how a man-built feature can fit into a natural environment." Cannon stated. In fact, nature and surrounding plants play a large role in the pond's filtration process, and at the Gwinnett EHC students are able to see the delicate balance of our eco-system through that. "This truly is a living and breathing classroom…it is one of the best design projects here thus far because it incorporates the curriculum side of learning with habitat development," Cannon said of Krenner's pond.
Jeff Krenner is used to working alongside turtles and koi fish, not camera crews and flashing lights. He has come a long way since his humble beginnings as a fifteen-year- old who simply created a pond so that his pet goldfish could move from inside to outside. He is self-made and self-taught, turning his passion and hobby into an 18+ year career in fish, filtration and ecosystems. He worked at a few pet shops early on, working with aquarium fish and filtration. He then started volunteering at a local zoo which lead to him being hired to open up a new aquarium at the Mall of America in Minnesota where he worked for a few years. After helping open public aquariums in Denver and Minnesota, he was hired by the Georgia Aquarium about a year and a half before they opened. During that pre- opening time he worked at a temporary facility building filtration systems and caring for the fish. He traveled the world collecting and transporting a diverse collection of fish, including the whale sharks that are the star attraction at the Georgia Aquarium. In fact, he traveled to Taiwan on three separate occasions to care for the sharks prior to their transport to Georgia.
Jeff stayed on at the aquarium as Associate Curator of Fish and Invertebrates for nine years but, in June 2013 he decided to leave the aquarium and create a business from his hobby of building ponds. "I really enjoy changing peoples lifestyles by creating a personal paradise for them," he said.
Paradise Ponds has built about 40 ponds and water features in the Suwanee area and also services hundreds of ponds in the area.
Be on the lookout for Suwanee resident, Jeff Krenner and the Aquascape crew on NatGeo Wild's Season Premiere of Pond Stars, set to air at 10pm EST on September 9th. For more information on creating your own tranquil paradise, contact Jeff at 404-519-8870 or visit paradisepondsandwaterfalls.com.