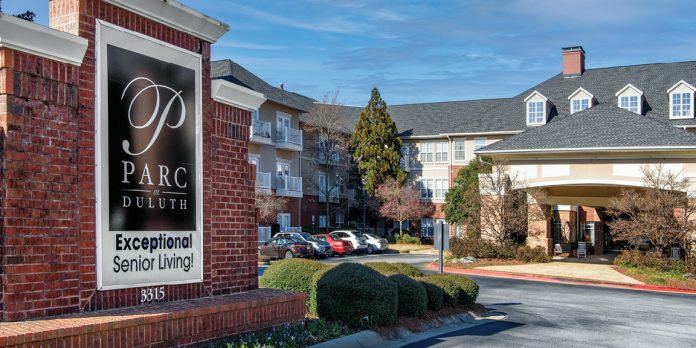 For almost two decades, Parc at Duluth has set the standard for senior living in the metro area, offering a warm and elegant home perfect for the golden years of life.
By Alicia Carter | Photos by Karl Lamb
Maybe it's the warm wood finishes or the plump hydrangeas that greet you as you step into the two-story foyer, but something feels different at Parc at Duluth — it feels like home. Not one of those sleek, overtly modern homes with all-white-everything, but the elegant and stately great-grandfather clock version of home that feels comfortable and familiar. On a particularly quiet winter morning, the grand crystal chandelier reflects multicolored beams of light throughout the lobby. Tiny rainbows dance across the walls and furniture, a happy welcome to visitors and residents alike, who now have a home befitting this next chapter of their lives.
Since 2003, Parc at Duluth's residents have found comfort in this warm embrace of luxury. The independent living community has set the standard for senior living in the metro area, offering nearly 200,000 square feet of space that houses 170 apartments, a dining room and lounge, library, activity rooms, fitness facility, media center, and a large pool overlooking a beautiful courtyard. It's a handsome building; its grandeur somewhat hidden from passersby driving down Peachtree Industrial Boulevard, which only adds to its charm.
General Manager Tori Bowen-Smith, who oversees the day-to-day operations, greets residents by name as she leads guests down the hallway and up the elevator. This type of resident and employee familiarity should be the standard for all senior living communities, and it feels natural here, like longtime friends greeting each other in passing.
"Trusting a community with your loved one or making the decision to move into a senior living community can be very difficult, but our mission is to break down that barrier and serve our community," Bowen-Smith says. "We want families to know that they are not in this alone. There's a lot of life to be lived, and you can really maximize these golden years by being in a community that offers enriching programs and a family environment."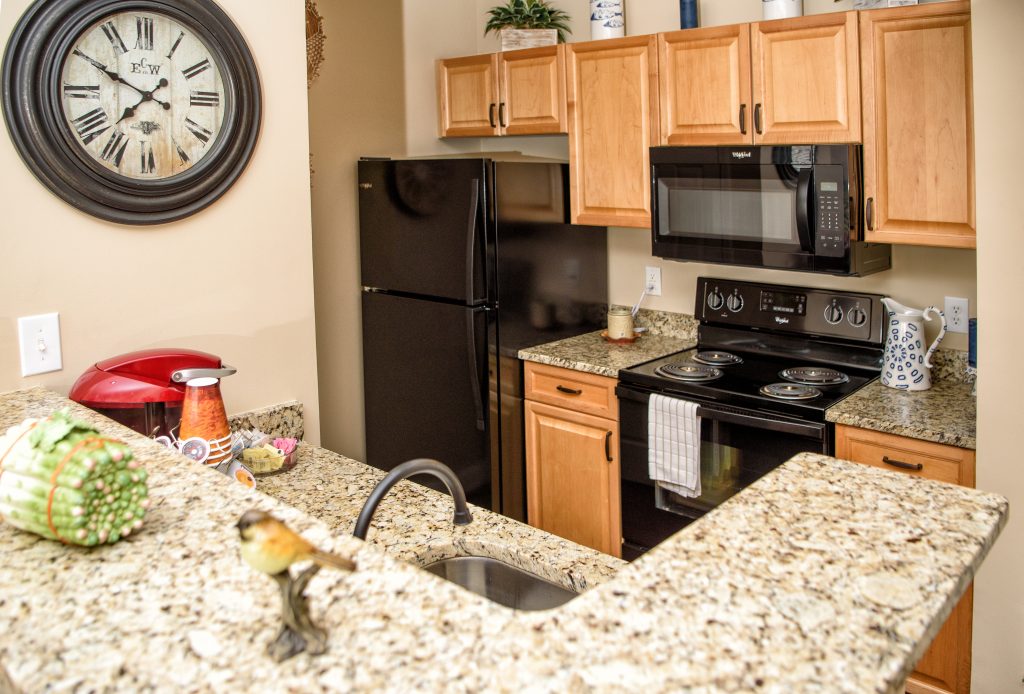 A Culture of Caring
Parc at Duluth offers two types of living options for its residents: independent living and assisted living. Independent living is for those residents who need little to no care. These are the residents who enjoy life in their apartment and are able to take advantage of Parc's many amenities, such as enjoying meals in the dining room, taking part in activities like movie night and bingo, as well as perks such as housekeeping services.
"Assisted living has the same options, so they have the opportunity to do the same things, but we also have care in place," Bowen-Smith says. "We have a 24-hour nurse that is on site who assists with medication management, as well as nurses who are here 24/7 to assist with activities of daily living, such as helping residents get dressed, making sure that they're taking their medicine on time, that they're eating, and also making sure residents get out of their apartments and socialize."
Residents of Parc at Duluth enjoy all the comforts of home, while also experiencing the safety, security, and peace of mind that senior living communities provide. The roomy one- and two-bedroom apartments include full kitchens, a washer and dryer, spacious closets, and sound- resistant construction. In addition to the well-appointed apartment homes, residents are also surrounded by amenities that are similar to a luxury community or vacation resort. "We want to empower our residents to live better — that's our mission," Bowen-Smith says. "We want this season of life to be invigorating; we want it to be exciting and fulfilling. A lot of the time, residents are at home and they're by themselves. They don't have the opportunity to socialize. They don't have the opportunity to get out there, and there's so much fun to be had."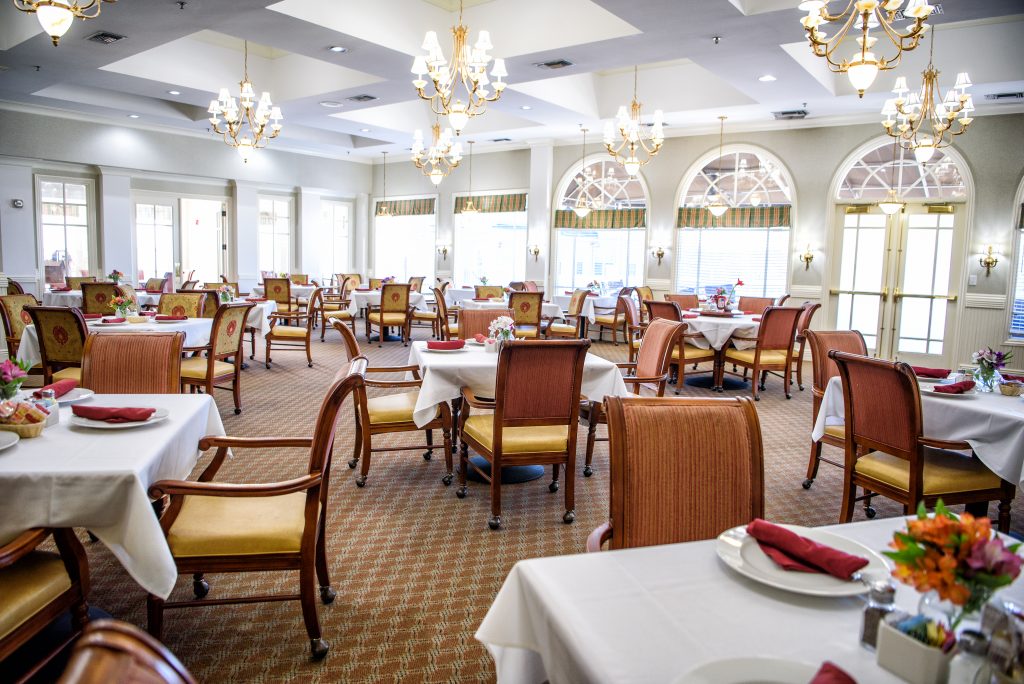 Enriching Amenities
Parc at Duluth features a number of amenities for its residents, including a media room, library, salon and fitness center. The most frequented, however, is the community's regal dining room. The elegant space features a full-service, white tablecloth dining experience complete with a balcony overlooking the courtyard where residents can enjoy a chef-driven menu al fresco on a warm day. Across from the dining room there is a fashionable lounge with a bar and game-top tables where residents can relax with a drink and socialize before their meal. Separating the dining room and lounge is a beautiful grand piano that hosts live music on Fridays.
In addition to the four-star dining experience, residents are also able to partake in fitness and wellness activities that are tailored to their individual level of ability, skill and goals. A standout feature of the community is the covered, heated pool, where residents can enjoy a water aerobics class during the warm months.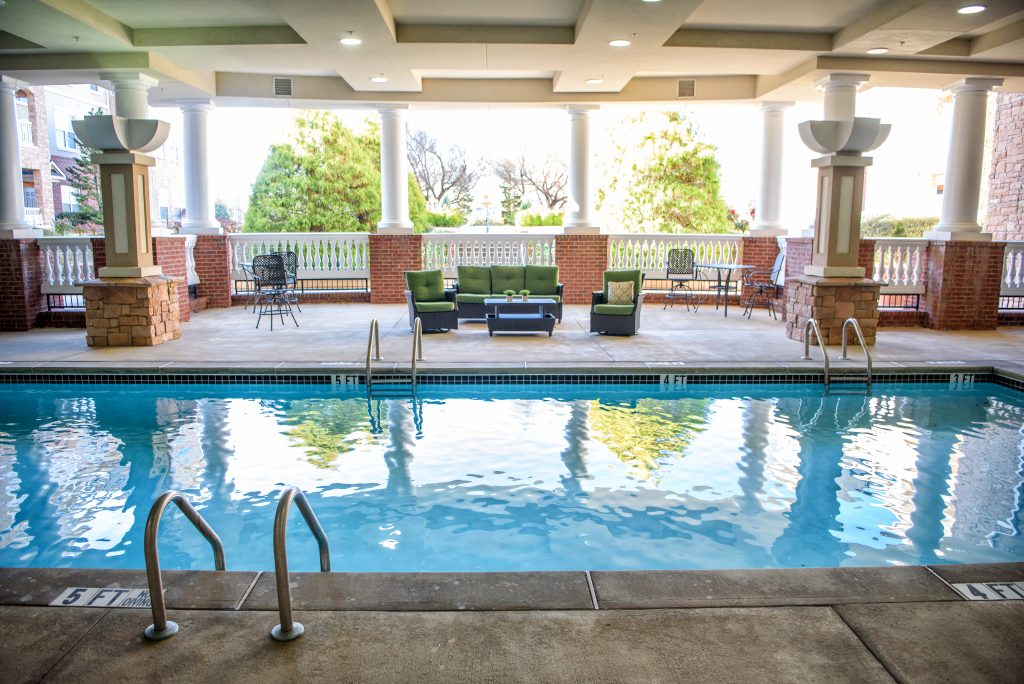 "Our residents also enjoy outings, such as frequenting the restaurants in the Duluth area," Bowen-Smith says. "They like watching movies and playing bingo. Aside from that, they really enjoy the family atmosphere. They like the fact that we know their kids by name and that they can bring their dog by my office for a treat – it's just really a warm family atmosphere. And I think that's what makes the difference at Parc at Duluth. Yes, we have a beautiful building, but that's not what people remember. They remember that our staff is so loving and so caring to them. That's what makes the difference."
The staff at Parc at Duluth goes above and beyond to make sure residents feel at home. By providing the highest level of service and care, they help families take comfort in the decision to trust them with their loved ones, while residents are able to truly enjoy this next phase of life. The golden years really are much brighter at Parc at Duluth.
Parc at Duluth is located at 3315 Peachtree Industrial Blvd. in Duluth. For more information, call 770-622-6880 or visit ParcAtDuluth.com.