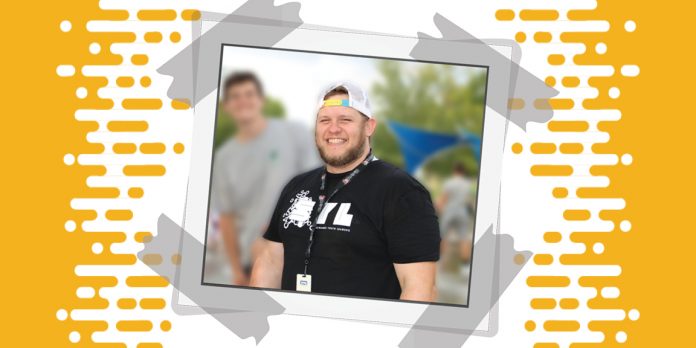 Honoring the memory of Adam Edge by spreading kindness and giving back.
By Alicia Carter
On April 1, 2022, the community will celebrate the second anniversary of Cheers Day, a day dedicated to participating in random acts of kindness in memory of Adam Edge, who we sadly lost to cancer in 2020. Adam was a dear friend to many and a beloved member of our community who served as Suwanee's Downtown Development Manager. Famous for his booming laugh, friends and family want to honor Adam's memory each year on his birthday, April 1, by filling the day with as much kindness as possible — a legacy fit for someone as special as Adam.
Ways to Show Your Support
Participation in Cheers Day is simple. The easiest way to show your support is to perform a random act of kindness on April 1. Perhaps it's by purchasing coffee for the driver behind you in line at Starbucks. Or maybe it's picking up a box of doughnuts for your co-workers on your way to the office. Plan ahead and clean out your closet and cabinets and then take a donation to North Gwinnett Co-op or another organization in need. It can even be as simple as calling a friend you haven't spoken to in a while or opening the door for a stranger. Simple acts of kindness like these can add up to make a big difference in our community. And that's the point: Cheers Day is meant to add a little cheer to someone who might be in need.
If you'd like to go a step further, consider giving $40 for 40. This year, in honor of what would have been Adam's 40th birthday, Cheers Day organizers are asking for a $40 donation to one of a few worthy organizations that meant a lot to Adam, including:
Georgia College & State University Scholarship
Adam was a proud first-generation college student who earned two degrees from Georgia College & State University. Georgia College was a special place for Adam, and his name will now forever hold a spot at his alma mater through this fund. Your donation will help future GCSU students fund their college education.
Suwanee Youth Leaders
Adam was a dedicated public servant, most recently serving as the Downtown Development Manager for the City of Suwanee. In this role, he was most known for his work mentoring high school sophomores and juniors through the Suwanee Youth Leaders program, which he helped create. Adam touched the lives of more than 300 students over the course of six years. Your donation will help fund an SYL project that will provide hands-on leadership experience for future generations.
HomeFirst Gwinnett
HomeFirst Gwinnett is a nonprofit headed by Adam's good friend Matt Elder, which seeks to develop a strategic, coordinated approach to addressing homelessness in Gwinnett County. Adam was so proud of the work that his friend was accomplishing in his adopted community. Your donation will help provide a variety of resources to those who are unsheltered.
Suwanee Elementary School
Adam loved to laugh and loved kids, and was a regular participant in the Gwinnett County Public Schools' Principal for a Day program. He became a good friend and supporter of the work being done by Dr. Mary Taylor and her staff. Your donation will help fund a project for some really incredible kindergarten through fifth grade students.
Whatever course you take, be sure to spread the love on social media on April 1 by sharing your random acts of kindness and encouraging others to do the same with the hashtags #CheersDay and #CheerstoAdam. To learn more about Cheers Day and to make a donation to the $40 for 40 organizations, visit CheersDay.org.