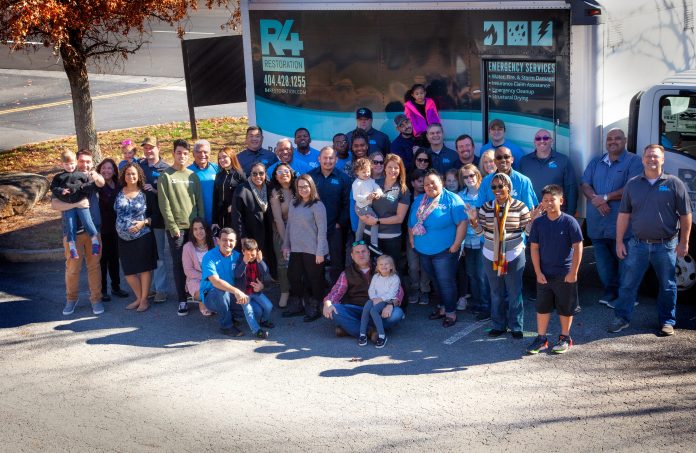 Following in the footsteps of three generations of craftsmen, carpenters and home builders, Jeremy Brimer has grown R4 Restoration from a one-man operation into a thriving full-service construction and restoration company with multiple crews around the metro area. The Suwanee-based company specializes in water mitigation, fire damage, mold remediation and disinfection, and takes immense pride in working to ensure our community is a healthier, safer place.
"We love to help the community and try to give back whenever we can," R4 stated in a press release. "We've spent thousands of hours over the past years in voluntary building work for disaster relief areas and community building projects. We've traveled from Georgia to New York to Florida and even South America to do various voluntary work. We also frequently help out local low-income households and work with homeowners to make sure they get the best possible service, regardless of budget."
Uniquely positioned during the ongoing COVID-19 pandemic, R4 Restoration provides disinfection services using the EPA registered technology SteraMist. This treatment is applied using a fog/mist and has an efficacy of 99.9999% against viruses, bacteria and spores, including MRSA, C Diff, H1N1 and coronavirus, among others. R4 Restoration is the exclusive source for the SteraMist products and process in Georgia.
There are many benefits to the application of SteraMist, including: it's bleach and chlorine-free; requires no wiping or rinsing and is residue-free; has a lower risk of cross contamination than wipes; and also acts as a mold control and mold inhibitor. In addition, the process is quick and effective, requiring only five seconds per square foot to disinfect.
As local businesses begin to reopen their doors to the public, R4 wants to help make sure they are following proper protocol. In this spirit, R4 is offering some of its services for free to local Suwanee businesses. Whether it be a consultation to discuss proper protocol and EPA-approved products or to act as a local resource to help guide businesses in reopening safely, R4's ultimate goal is to help educate and inform.
R4 is also offering Suwanee businesses up to 1,000 square feet of SteraMist treatment to high-touch areas for free. For many of our local food and retail businesses, this amount of treatment could be enough to disinfect their entire storefront. R4's offer to help local businesses is just another example of our community rallying together to help each other during this difficult time.
Brimer says he's not only helping out local businesses because it's the right thing to do, but also because as a community member himself, he has a vested interest is ensuring Suwanee remains safe for his family, friends and the community at large. 
If you are interested in a free consultation or SteraMist service with R4 Restoration, call them at 404-428-1255 and let them know you read about them in Suwanee Magazine. For more information about R4 and SteraMist, visit R4Restoration.com.